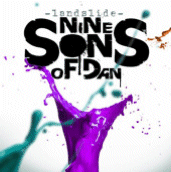 In 25 words or less: Hook infested pop with a hefty dose of rock crunch and blistering guitar solos!
With a name like Nine Sons Of Dan, it's not something you are going to forget in a hurry, right?  So it wouldn't surprise if a whole bunch of you reading this are already familiar with these Gold Coast rockers, at least by virtue of their name, if not by their hookified pop rock crunch with one of the most added songs on Australian radio right now, their second single, She's So Fine?  Since originating back in 2008, the band have built up their live chops, playing festivals such as the Big Day Out, supported Good Charlotte as well as the likes of The Screaming Jets, Kisschasy and BlueJuice, not to mention their own headline shows touring around the country.  The super catchiness and infectiousness of this 5 track EP is undeniable, but Nine Sons of Dan are a bit more rockin' than your average pop rock band, with a hint of an alternative flavour thrown in.  These guys can seriously play and for example aren't afraid to throw in some blistering guitar solo's, which you need look no further than the EP's lead singles Cities and She's So Fine.  The Gold Coast via California vocal styling's and delivery by front man Jay Bainbridge add another distinct flavour to the bands sound to elevate them well above just delivering highly disposable pop rock…look no further than the EP's title track, Landslide.  Musically sitting somewhere in the midst of the likes of Thirsty Merc, The Click Five and Kisschasy, Nine Sons Of Dan deliver a brand of hookinfested rock that is musically mature enough to be enjoyed by 30yo something rock dogs like myself, all the way through to the teen generation that they are bound to attract.  Nine Sons Of Dan….expect to be hearing a hell of a lot more of that name during 2012.
Check out our interview with Nine Sons Of Dan right here…
Essential Information
For fans of: Pop with a hefty dose of hooks and rock crunch!
Release date: Landslide EP (November 2010, Australia)  January 16 2012, North America
Label: Independent
Produced by: Matthew Bartlem (Dead Letter Circus, Sunk Loto, Avalon Drive)
Website: www.ninesonsofdan.com
Track listing:
1. Cities
2. She's So Fine
3. Took My Heart
4. Speedial
5. Landslide