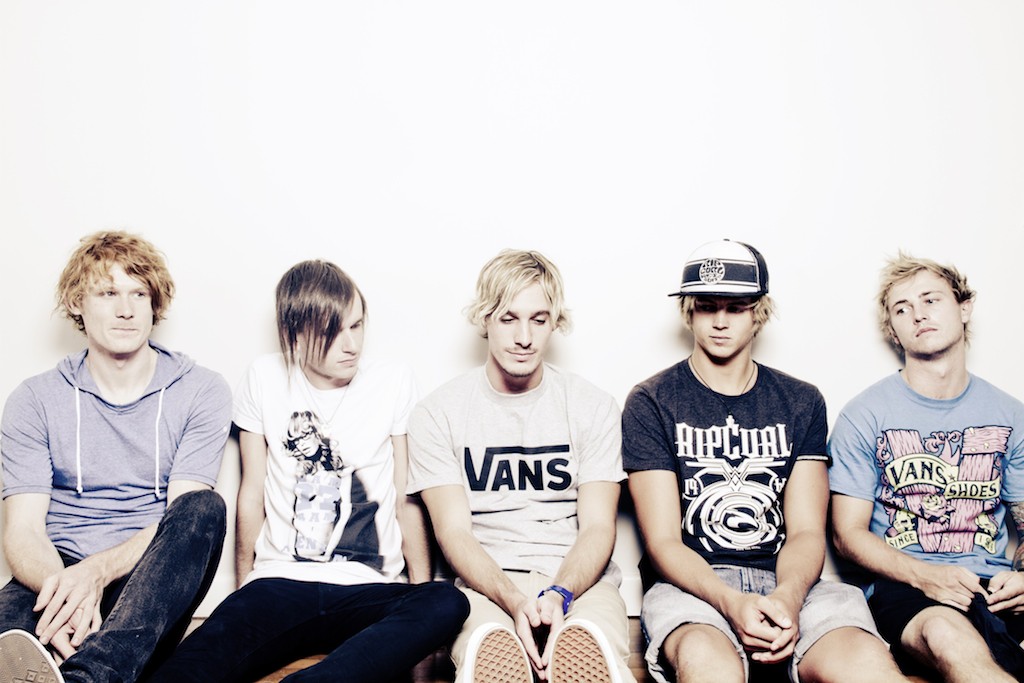 Official Bio (www.ninesonsofdan.com):
"Fun, young and full of passion, Gold Coast, Australia rockers Nine Sons Of Dan have emerged from the masses, hailed by local radio stations as the "next big thing". The praise from E-guide even goes as far as proclaiming these sons as the future of Australian rock.
Forming in 2008 in the name of good times and an exclusive group of friends, Nine Sons Of Dan unleashed their debut EP Landslide in 2010 alongside first single "Cities", complete with a slick video. Backing up, single two is the charming "She's So Fine" featuring Paramore guitarist Justin York.
The band has recently entered the studio to record their follow up EP due for release mid-2012 with US music producer J.R. McNeal (Anberlin/Paramore/Emery/Underoath) behind the helm.  The band's first single from the release will drop in the first quarter of 2012.
The band have capped off a bumper 2011 having opened the year performing at the Gold Coast Big Day Out, two national tours of their own, performing at the Gold Coast 600 and closing out the year supporting Good Charlotte on their only Brisbane show.
Keep an eye out for "She's So Fine" as an exclusive iTunes bundle on Friday January 6 2012 packaging the single, the official video clip and a bonus never before released acoustic version of the track.  The five-piece will also release their debut EP "Landslide" to radio and retail in North America on January 16 2012."
Drummer, "Flakey" kindly shares more insight about the band in our interview below…
Let's start with the basics first, in your own words, how would you describe what Nine Sons Of Dan are all about musically?
Musically, we are about playing music we love and doing it the best we can!  Our members each come from a few different musical backgrounds, from punk rock, to glam, to pop, so that's showing up in our songs as we write them.  I'm afraid you'll just have to have a listen to get the best picture!
Now the question I am sure you have been asked many times before….what's the story behind the band name?
Haha…It's actually pretty funny; while the band was looking for a title, we Alex (rhythm guitar) and myself (Flakey, drums) were at university and hung out with a bunch of students from abroad, we had this tight little group of friends to hang with, nine of us to be exact.  We would always swing by Dan Murphy's liquor store, which was located just next to our university.  One day, our roommate literally said out of nowhere, why don't you call yourselves "Nine Sons Of Dan".  And there you go!
Can you introduce each member of the band and give us a rock 'n' roll fact or myth about each?
Jay Bainbridge, vocals; owns every pair of shoe that Vans has ever manufactured. Every one. Fact.
Wil Edgar, bass guitar; once jumped from a two storey building to rescue someone being beaten up on the street. Fact!
Alex Pidgey, rhythm guitar; can't physically become hungover. Really! Fact.
Daniel Cox, lead guitar; eats the necks of old Gibson guitars for sustenance. Fact?
Flakey, drums; during the last two NSOD of 2011, broke as many crash cymbals in half. Fact
You have twenty seconds in an elevator to try and convince someone to listen to your EP 'Landslide', what do you tell them?
I just finished a tuna and mayonnaise sandwich, and if you don't put this earphone in and listen to my demo, I'm going to burp right on your head.
Your latest single 'She's So Fine' has stormed radio in the last few weeks…whilst it features Justin York from Paramore playing some guitar and Miss Universe Australia in the film clip, what I want to know is what inspired that song?
The song is about looking out at that beautiful girl across the room, the girl you never think you have a chance with, the crazy ways they can make us feel, I think it's something that a lot of us can relate to! Having Jesinta there in the clip physically brought to life what the song's narrative was really all about!
Your EP 'Landslide' came out in late 2010 and I believe you are now working on your debut album, how is the album coming along and when are we likely to be able to hear it?
Well, it's actually at this point going to be another EP, but will still have plenty of material on it; it's going really well! We have our first single done and dusted for it and have been working super hard on the rest of it.  It has a lot of new and exciting sounds and styles within it so we hope people love it as much as we love making it!
Comparing where the band was at around the time you recorded your EP during 2010, to where you are now at the end of 2011, what do you think have been some of the biggest changes, learning's and developments in the band?
I couldn't describe what we have learnt in that time, this industry is so enormous and constantly evolving that with every day we are learning something new.
Our two biggest changes have been the addition of our bassist, Wil Edgar, who has absolutely changed (for the better!) the dynamic and feel of the band; and being picked up by our amazing manager, Mr. Marc Mancini, who has helped our band go places never thought we would see!
In terms of your song writing, what do you consider to be the most important ingredients that need to feature in a Nine Sons Of Dan song?
Jay is one the hardest working vocalist's I have ever known, he puts in so much effort and his sound has become an integral and unique part of our band.   Behind that, has been the bright, fast and loud sound of our band, and together I think these are the two contrasting components, which will always make up every Nine Sons Of Dan song.
What or who are some of the greatest influences on your music, in both a lyrical and musical sense?
Lyrically Jay is really in to Brandon Boyd but I know he has a lot of different writers he loves as well.  Musically, this last EP and a fair part of the new tracks have been influenced by Paramore, Relient K, Foo Fighters and Anberlin, we are really digging an open, clear and strong drum tone and cleaner guitars,
Whilst we are talking about influences, how diverse are the musical influences from band member to band member?
Very different, but honestly how different is one group from another? They tune their lower string to a D?  They have a live keyboard player?  We all love different music but whether it's heavy metal or folk, music that is honest and made by the people playing it will always be influential to every member of our band.  And we have definitely rubbed off on each other! After a van ride with Daniel I found myself listening to Mr. Big on repeat at home haha!

In your home state you have played the Big Day Out in 2011 and recently supported Good Charlotte, can you share some thoughts on both of those experiences!
Big Day Out was obviously massive for us, one of the bigger crowds we have the pleasure of playing to, and overall a great learning experience for the festival circuit.
Good Charlotte was may be one of the best shows we have ever played, a sold out crowd and amazing production. and we had a roadie!  Woo!  In all seriousness though, was pretty cool to see the hype surrounding such a well known act, and most definitely surreal being placed on a bill with a band you listened to your whole teenage life!
What is it that you think distinguishes Nine Sons Of Dan from other rock bands out there in Australia at the moment?
There are a lot of very good acts in Australia at the moment, and honestly we have just been ourselves for the last few years. And that's what will make us, and each act different.  A lot of underground acts that we play with have shunned away from acceptance from radio, and vice versa with more pop-style acts, which I think is insane.  We have always wanted to play music because it's a blessing, no matter what the scenario, so maybe that's what sets us apart from a lot of bands, who don't seem to be enjoying it as much as us! Plus our singer has a funny American accent.
Taking that last question one step further, how would you describe the current music scene in Australia, have you generally found people seem to get what you deliver with Nine Sons Of Dan?
Now that's a hard question! Let me begin my answer with my favourite quote from a fellow band we performed with once; "Wow, when I saw you guys had blonde hair, I thought you guys were going to be shit, because you were surfers or something, but that was really cool."  Apart from that funny little event, we have been very fortunate in people accepting us for who we are and letting us do what we love doing.  Australia's music scene gets better every day and it's a beautiful place to play music! Each genre is gaining more and more support, so I think more and more different kinds of acts are going to be flourishing in the future.
With 2011 all but over, here's a chance to gaze into your crystal ball.  By the end of 2012, Nine Sons Of Dan will have:
1.Released a brand new EP with tasty new tunes.
2.Travelled across the globe for face-melting adventures.
3.Most likely lost a member to caffeine overdose.
Essential Information
From: Gold Coast, Australia
Sounds like: Pop, rock 'n' roll
Band members: Jay Bainbridge – Vocals, Daniel Cox – Lead Guitar, Alex Pundyk – Rhythm Guitar, Morgan Blake – Drums, Wil Edgar – Bass
Latest release: Landslide EP (2010).
Website: www.ninesonsofdan.com