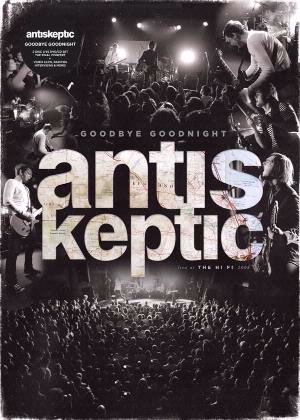 For the considerable fanbase, both nationally and internationally of Melbourne rockers Antiskeptic, 2011 sure has been a big year of developments.  Having played their last show back in 2008 at The Hi Fi in Melbourne, a few months back we finally saw the official DVD/CD release of this show, however not long after, we were also greeted with the news that Antiskeptic were back, back to not only play a bunch of shows in early 2012, but to also be an active band in a writing and recording sense.  Recognising the explosion in social media in the years following this "last" show and with it, no doubt a bunch of new fans and curious onlookers, let us first have a very brief history lesson on Antiskeptic….  Over 10 years, the trio of Andrew Kitchen, Nick Coppin and Sean Daley played over 1,000 shows nationally and internationally with bands such as Jimmy Eat World, Unwritten Law, Millencolin, MxPx, Jebediah, Pacifier, Missy Higgins, Motor Ace, Bodyjar, Midnight Oil and Eskimo Joe, played Vans Warped Tour, Homebake and Falls Festival and released a bunch of self financed an independent EP and CD releases.
Recorded on September 20th, 2008, this sold-out hometown show was professionally recorded, as opposed to the footage being taken from an opportune fan or band recording.  Multi-camera angels feature all the action and emotion of the show, from both up on stage with the band and in amongst the crowd alike.  19 songs and over 80 minutes of live footage, it's certainly a huge set, but as their last ever show, would you expect anything less?  The show also comes with the option of an audio commentary, which can always be a bit hit and miss when it comes to watching over a live concert…but in the circumstances of this Antiskeptic show, the audio commentary gives an awesome insight into the anticipation, anxiety, excitement and rollercoaster of emotions the band experienced throughout the show.
Not that you really needed any other extra incentive to buy the DVD, but as an added bonus, comes the 60 minute + documentary chronicling the history of the band Memoirs of a Common Band.  In candid interviews with messrs Kitchen, Daley and Coppin, it details the evolution of the band, with the guys chatting about everything from their "stage wears" the background behind the making of video clips for songs such as 60% Intentional, through to the influence of the bands religious faith on it's music and the bands legacy as experienced by others.  Plus of course there is plenty of footage such as the bands appearance on Rove Live as the house band.
But wait, there's more…the DVD also comes with an audio version of the gig, that's what!!
Sooo, stating the bleeding obvious, this DVD is essential for any Antiskeptic fan, so if you haven't picked it up already, then do so right now, stop reading this review and go get.  And whilst you are at it, make sure you also have your tickets for the Back In The Game Tour…
Check out our interview with Andrew Kitchen right here…
Essential Information
From: Melbourne, Australia
Band members (2012): Andrew Kitchen, Nick Coppin, Ryan McLerie, Tavis Wardlaw
Latest release: Goodbye, Goodnight (2011, El Shaddai Records)
Website: www.antiskeptic.com.au
Tour dates:
Catch Antiskeptic on their first tour in over 3 years titled the Back In The Game Tour. With Very Special Guests: Move To Strike (SA) & Emperors (WA).  Proudly presented by killyourstereo.com & theAUreview.com
SATURDAY 11TH FEBRUARY
NORTHCOTE SOCIAL CLUB
301 HIGH STREET, NORTHCOTE, VIC
Ticket enquiries ph: (03) 9486 1677,
via Corner Box Office (57 Swan St, Richmond)
or www.northcotesocialclub.com
SATURDAY 18TH FEBRUARY
ENIGMA BAR
173 HINDLEY STREET, ADELAIDE, SA
Tickets through: www.moshtix.com.au
SATURDAY 25TH FEBRUARY
METRO THEATRE (THE LAIR)
624 GEORGE STREET, SYDNEY, NSW
Tickets through: www.metrotheatre.com.au
FRIDAY 30 MARCH
ESPLANADE HOTEL, ST KILDA, VIC
BODYJAR w/ ONE DOLLAR SHORT, ANTISKEPTIC, GAME OVER, FOR AMUSEMENT ONLY, STRATHMORE, SECONDS, THE UNION PACIFIC & DJ Stu Harvey (JJJ's 'Short, Fast, Loud')
Tix on sale Friday 16th Dec www.espy.com.au, www.oztix.com.au, Espy Bottleshop, Polyester, Greville St Records & 1300 762 545
SATURDAY 31 MARCH W/Bodyjar
CORNER HOTEL – SOLD OUT
Watch 'Called' from the newly released 'Goodbye Goodnight Live at The HiFi 2008' DVD/CD: