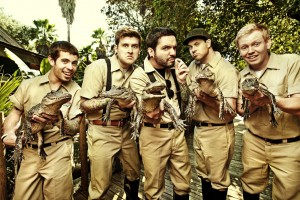 There is a new wave of artists that are constantly evolving and pushing the boundaries. A DAY REMEMBER are at the forefront of this uprising redefining a genre that was desperately seeking creativity,
2011 has been a monstrous year for the Florida quintet. From topping billboard charts and being crowned MTV's breakthrough artist of 2011 to selling out arena's across the globe, propelling A DAY TO REMEMBER to unprecedented heights.  Their new album ' What separates me from you' showcases the band at their unrelenting best with alternative press proclaiming "Whether it's crafting a pop-punk anthem or delivering a sonic beatdown, A DAY TO REMEMBER do it better than everyone, and for the rest of us, that's where the separation lies." – Alternative Press
THE USED have been a main stay in a genre that has seen many of their contemporary's come and go. On their most recent outing their 4th full length 'Artwork' THE USED once again push the boundaries of a genre they helped pioneer with Absolutpunk.net declaring, "THE USED could possibly be the biggest post-hardcore band of the past decade, and if they aren't already, they will be with this record".
Known for their notoriously adrenalized live sets, YOU ME AT SIX have cemented their growing reputation as one of the world's most electrifying bands and they "are going further up in the world every single day, the question is; is there really any stopping them?" – Change The Record.  YOU ME AT SIX return in support of their critically acclaimed new album 'Sinners Never Sleep'.
Check out our interview with The Used earlier this year…
——————————————————————————————————-
TICKETS ON SALE FRIDAY 23 DECEMBER, 9AM
 MONDAY 27 FEBRUARY  BRISBANE, EATONS HILL HOTEL – Licensed A/A
www.oztix.com.au136 100 
TUESDAY 28 FEBRUARY SYDNEY, UNSW ROUNDHOUSE– Licensed A/A
www.ticketek.com.au 132 849