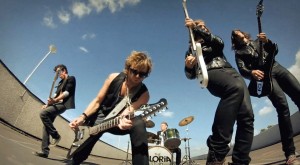 Official Bio: "The Gloria Story celebrates an era when bands used to dress up before they went on stage – to make sure the visual experience was as entertaining and jaw dropping as the music.  Also, The Gloria Story's lack of self respect is obvious – they stop at nothing to pull off one of the most entertaining shows in rock-bizz today!  If they feel like waving their asses, pouting their lips, performing highflying split jumps or pretend that they f**k their instruments – they'll just do it!  The concept of combining great music with good looks and high energy stage performances has made The Gloria Story into one of Scandinavia's most popular and active live acts with an impressive tour history of over 100 shows on some of Scandinavia's biggest festivals and best known rock-clubs.
The band released their debut album "SHADES OF WHITE" in June 2011.  It features 10 old school rock songs designed to put a smile on your face, make your ears ring and probably get you laid in the process.  The album was produced by Anders "Boba Fett" Lindström of The Hellacopters.  It became an instant hit in Sweden peaking at #1 on the official hard rock chart and landing the band two radio-singles and loads interviews in both TV, magazines and radio.
The Gloria Story's mission is simple – to bring back school rock with a boom! Sights are set on international touring in 2012.  So get ready for rock and roll liberty, electric justice and melodic truth – The Gloria Story is coming to see you! www.thegloriastory.com"
Lead singer and guitarist Filip was kind enough to answer our "hard hitting" questions…
Let's start with the basics first, when did the band first get together and what is the background to your band name?
We're basically a couple of old friends from a small Swedish town, playing the music we love.  We grew up listening to Kiss, Thin Lizzy, Cheap Trick, Stones and bands like that. We're not trying to copy any of them, but they are huge influences for all of us.  We wanted to do something that is "real". We wanted to do 'back to basics rock and roll' instead of all that contemporary, modern shit. We wanna serve you meat and potatoes – old school hard rock! We grew tired of our various, previous sleepy small town bands and instead we put together a professional unit – a band of brothers aiming at the very top of the music-bizz. And that's what we did!
Gloria Story was actually the name of one of Bob Dylan's girlfriends, back in his New York-days. Our music has very little to do with his, even though we respect him for his wonderful work over the years.  However, we thought that Gloria Story is a beautiful name.  By adding "The" we also added a more band-like vibe to it. I like band-names that awake different images and questions in your mind – like: "Who is Gloria", "Is it a Glorious Story", "Is it the story of the band?"
For the benefit of our readers who have not yet heard the band, how would you describe the style of music that The Gloria Story play?
We love 70's rock, and that's what we celebrate in our songs and in our performances.  I guess we sound like hard rock did back in the days before the term heavy metal was introduced.  What we're doing is cheerful and fun.  Our album is a good soundtrack to your party.  We will put a smile on you face, make you wanna dance and probably get you laid on the process.
Can you introduce each member of the band and give us a fun rock 'n' roll fact or myth about each?
– Filip is one out of two lead singers in the group.  He also plays some guitar.  But it's mostly for show, 'cause he's pretty terrible at it. (but damn proud of that Paul Stanley-signature guitar of his)
– Kid is the other lead vocalist of the group, and also the lead guitarist.  He has a severe case of "restless legs".  You won't find him standing still for more than a few minutes.  Always on the move.
– Jocke Ståhl is backing vocalist and bass-player of the group.  He is pretty much the skinniest man in Sweden despite him also being a huge talent at drinking loads of beer.
– Carl Ahlander, rhythm guitar, eats hamburgers at almost every meal. He is also scared to death of cheese. Melted cheese is his main phobia in life.
– Henrik Siberg, drums. The new kid on the block.  Used to wear a suit and a red-striped tie in his previous band. It's safe to say he looks way better now.
There are a lot of awesome bands that originate from Sweden, in creating The Gloria Story, what did you feel you could bring to music world that you might have felt was missing?
Many new Swedish rock bands are so damn angry.  Like scared, barking dogs – trying to intimidate people, or show just how big and bad they are.  The Gloria Story on the other hand is a bunch of funny, cheerful, happy and energetic guys. Not that we're clowns or anything.  We just like to celebrate life – in our songs, and on stage.  Life is a bumpy ride.  We like to think of it as a rollercoaster as opposed to a funeral.  Old school rock is supposed to be fun.  It dares to challenge sexual orientation.  It dares to be ridiculous at times, and rough when needed. It's based on melody rather than aggressive power.  The words in themselves "rock and roll" means f**k, you know.  It's supposed to be rhythmic, sexy and flirty.  A good Gloria Story song should be like making love.  Many new bands are just focusing on sounding heavy, aggressive, bad ass and masculine.  How sexy is that?  Not very confident if you ask me.  We represent a more FUN alternative.
Your album "Shades Of White" was released earlier this year, which I very much enjoy.  How has the reaction to this album been from fans around the world?
In terms of numbers we have sold a couple of 1000 CD's and we're still waiting for the reports on the online-sales.  More importantly the CD has received great reviews worldwide and we have reached loads of new fans!  Seems like the album is very popular in Germany, Greece, Australia and the USA to mention a few places where most reviews have been awesome and where most fan-letters come from!  Seems like many people have been waiting for something like The Gloria Story to come along.  There's also lot of people who compares us with The Darkness – and to us that is very flattering. We are very happy that people are enjoying what we do. It's a very rewarding feeling and we are forever grateful for all nice words coming our way these days.
In terms of your song writing, what do you consider to be the most important things that need to feature in a The Gloria Story song to give you your trademark sound?
Most songs are written on guitar, by singer/guitarist Kid. So I guess Kid's guitar playing is one of our main ingredients.  It's playful and smooth or filled with attitude and power when needed and he is very good at creating unique guitar riffs.  Also Jockes "Simmons-like" bass playing together with Sibergs straight forward drumming is a big part of our sound.  I guess most of the magic evolves when we plug in and play together as a band.
What inspires and influences your music the most, in both a lyrical and musical sense?
Most lyrics are about everyday life – like unhappy love, road trips with friends or even problems with money.  The attitude in our music is "screw all problems – and let's live for today".  We are always trying to look at the bright side of things. And, as I said earlier, we love 70's rock.  We listen to a lot of stuff from back then. And I guess that's what's influenced us the most.
Listening to songs on the album, it certainly conveys a real fun and upbeat kind of vibe…but tell me, did you guys have as much fun recording the album as some of us no doubt have had listening to it?
Yeah! It was the best of times!  It was more or less a rock and roll party in the studio from day one.  Laughs, beer drinking, good friends coming by the studio, great atmosphere.  Everything added to that fun, cheerful attitude of the album. Most of the songs were basically recorded live which gives them a unique vibe and analogue feeling and we are really happy about the result.
You had Anders "Boba Fett" Lindström from The Hellacopters produce the album, what kind of sound were you looking for with your production?
We love The Hellacopters and Boba was always our favourite character, with that laidback attitude of his.  We also like a lot of songs that he's written for both The Hellacopters and bands like The Soundtrack of Our lives.  To us Boba seemed like a guy who could appreciate and understand what we were trying to create – a genuinely good, old school hard rock album.  I guess we picked the right guy!
Your music to me almost has a real "soundtrack" type of feel to it.  What kind of movie do you think your music would be best suited to and why?
Have you seen the movies Dazed and Confused or Detroit Rock City? They are basically two fun movies about being young in the 70's.  I think our songs would have made a good soundtrack to any of those movies.  Or maybe our songs would be suiting for a road movie – with the main character cruising thru the Nevada dessert, listening to our song Highway on 10. Something like that.
How would you describe The Gloria Story as a live band, legend has it that you have been known to destroy musical instruments on stage?
Yeah! I've smashed a few guitars over the years.  The visual experience is as important as the music for us! You won't ever find us going up on stage dressed in shorts like some other bands.  Also we have NO self-respect whatsoever.  If I feel like waving my ass, pouting my lips, doing split jumps and pretend that I have sex with my guitar – I'll just do it!  It's all about entertainment and energy. When we are not on tour we spend 5-6 days a week in the gym, making sure we're always in good shape and ready to deliver a powerful show.  The Gloria Story mixes flamboyant posing, happy music and explosive energy.  We get off on the audience – and the audience gets off on us.  Like making love.
The Gloria Story has a very strong visual image, what are the biggest influences on this?
We try to look good and dress in cool clothes at all times, even when we're not playing with the band.  But in our private lives we all have different styles. For the band we wanted a unified look.  But we didn't want to make it extreme like Kiss or The Hives.  We wanted to show our different personalities, but without overdoing it.  We looked at guys like Keith Richards, Johnny Thunders, Paul Stanley and Joey Ramone.  I guess we based our style on all of them.  We have the fur-collars of Paul Stanley, and the skinny jeans of Joey matched with all the jewellery of Richards and since we are in good shape, we're never afraid of showing some skin.  A leather jacket always looks best when you're not wearing anything under it.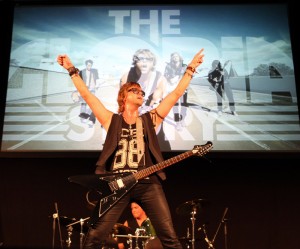 How diverse are the musical influences in the band from band member to band member?
We all have our favourites. I (Filip) am the big KISS-FAN of the group, while bass-player Jocke is more into Stones.  Kid listens to everything that comes his way, while Carl is only into one band at a time.  Right now he ONLY listens to The Hellacopters (a couple of months ago it was all about Iron Maiden).   I guess our drummer is the one with the more contemporary taste in music. He is more radio-oriented and takes in pretty much anything that's hot at the moment. On the other hand he is also a huge Thin Lizzy-fan for life.
Given I keep a pretty close eye on the Swedish music scene, I am aware you recently played a few shows with Ted Poley from Danger Danger.  How did those shows go and what other touring plans do you have on the horizon, have you played many shows on mainland Europe as yet?
We had some great times with Ted! He is a wonderful guy and one of my childhood heroes.  He is very inspirational.  Very energetic.  We even wrote some songs with him in between shows. The shows were great, Ted's still got it!  At 50 years old he is in the best shape of his life.  Even in terms of vocal ability.  There's definitely talk of touring with him again.  Or even with Danger Danger.  Another guy we had the pleasure of meeting and playing with is Gilby Clarke (ex Guns and Roses).  He is also a great guy, very down to earth and fun to be around – and boy could he tell stories of Axl and the grand old days!
We are making big plans for international touring in 2012.  This far it's been all about Sweden for us.  But sights are set on a massive tour of Europe in the near future. We will probably release some new songs and head south sometime in the late spring, next year (April/May). We are also negotiating with some big International headliners. But we can't reveal anything yet.
Here's a chance to gaze into your crystal ball.  In the next 6 months The Gloria Story will have:
1. Completed a tour of Europe, and looking forward to play some of the big festivals in Sweden.
2. Released an EP or maybe a special edition of Shades of White with some bonus tracks on it.
3. Begun pre-production of a new, full length album – release autumn 2012.
Check out our review of Shades Of White right here…
Essential Information
From: Sweden
Sounds like: 70's glam rock n roll
Band members: Filip Rapp, Jocke Ståhl, Carl Ahlander, Joan Sallrot, Henrik Siberg
Website: www.thegloriastory.com
Latest release: Shades Of White (2011, Sound Pollution)