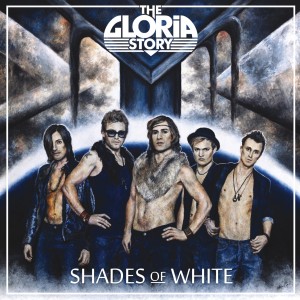 In 25 words or less: Shades Of White is easily one of the most enjoyable albums I have heard all year
With a swag of influences that firmly rest in the era of 70's glam and rock & roll both visually and musically, it has to be stated right up front that Shades Of White is easily one of the most enjoyable albums I have heard all year.  When an album is over before it barely seems like I have pressed play…that's a damn good sign, at least for me anyways.  The Gloria Story are influenced by 70's glam rock & roll and the songs certainly sound like vintage 70's glam rock & roll, right down to the production which comes courtesy of Anders "Boba Fett" Lindström of The Hellacopters fame.
Valentino serves as a perfect introduction to what The Gloria Story is all about, duelling harmony guitar lead's, thumping bass lines, glorious harmonies and a real undeniable 10 toe tapping swagger…sounds a bit familiar, like a Thin Lizzy familiar?  Well this track is about as Thin Lizzy sounding as you can get.  These charismatic Swede's make no apologies for their flamboyant image and get up and whilst this obviously visually doesn't come through the speakers when listening to the album, but on Total Stranger and When Hearts Cease To Bloom, the feel good glam factor is upped to the max and in my imagination all I see is spandex and jumping high kicks!
COWBELL is delivered in spades on the sultry That 70's Night and if you are a regular reader of my reviews, you know how I love me some good cowbell.  Baby Let The Good Times Roll, in a lyrical sense has that real story telling vibe of Thin Lizzy, in fact, every song on this album is a story unto itself, as opposed to just being a jumble of words for the sake of words.  There will no doubt be some people out there that won't be able to get past the fact that The Gloria Story so proudly display their influences throughout their songs and also down to their fur collars, but songs like I Can Make You Run show the band do indeed have their own musical identity.
Shades Of White has certainly been one of those uncovered treasures in 2011 for me.  Even if you just have a casual liking for bands such as Kiss, T-Rex, Thin Lizzy and 70's glam rock in general, then The Gloria Story could just be one of the best things you've never heard.
Check out our interview with The Glory Story right here…
Essential Information
Check it out if you like: 70's glam rock
Release date: Out now
Record label: Sound Pollution
Produced by: Anders "Boba Fett" Lindström
Website: www.thegloriastory.com