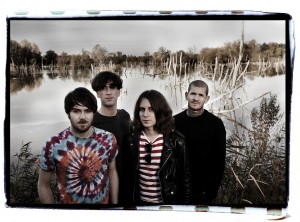 Sophomore release has "bigger balls", says guitarist.
Pulled Apart By Horses are the British rock band worth getting wood for.
Their self-titled 2010 debut was a sonic maelstrom of screamo and hard disco riffage; here was heavy music that you could shake a tail feather to, pop music at its most corrupted. Dance music played by wiry punk weirdos.
But things move fast. Pulled Apart By Horses have already moved way beyond those early days. The Leeds quartet have put meat on the brittle musical bones of their debut and with second album Tough Love created a monster. It's a much more muscular creature than its kid brother, one that could go toe-to-toe with titans like AC/DC, Nirvana or Queens Of The Stone Age and still come out looking pretty after twelve rounds.
At the production helm was Gil Norton, who has previously shaped sound for the likes of The Pixies and Foo Fighters. Gil located to Leeds to help the band deconstruct and re-build their new batch of music. Without tinkering too much with the alchemy, he has helped fashion a swaggering collection. Fierce, sexy, galvanised. – this mutha's about to blow.
"Our debut was powerful, but it was done in no time at all," says Lee Vincent. "Really it was an attempt to capture the energy and chaos of our live show. Tough Love is still raw, but it's a proper album. It's got more balls too. Bigger balls."
Initially fuelled by a love of classic rock, punk and post-hardcore band like At The Drive-In, Blood Brothers and Rage Against The Machine, Pulled Apart By Horses formed at the tail-end of 2007. Their early years saw a reputation for chaos and physical harm quickly earned. Pile-driving out of Leeds they toured with The Bronx, Muse, Biffy Clyro and Glassjaw and accrued many an injury along the way; their early press coverage can be measured not in column inches, but pints of spilled blood.
Pulled Apart By Horses are that once-in-a-blue-moon band, one who sound primed to make the leap from underground heroes to transcendental rock greatness.  Tough Love is here.
Click the single cover for V.E.N.O.M below for a taste of what's to come!