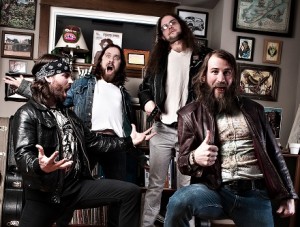 Official bio courtesy www.ilovemonstertruck.com: "There's something comforting about a band name that delivers exactly what you are expecting to hear…
In 2009, these four Canadians came together as Monster Truck, as somewhat of a side project for their other more serious bands (The Reason, Saint Alvia), but their original plans of getting wasted and playing sloppy rock got twisted into something new entirely.
Everyone's influences gelled in a cohesive and exciting new take on classic rock and show offers suddenly started piling up.  And now with the arrival of the band's second EP, that cohesion is snowballing into something a side project should never become…the main attraction!
'The Brown EP' contains not only a firm grasp of classic rock riffs but also hints of sludgey grunge and snotty punk influences.
The band's intoxicating riffs piqued the attention of Alexisonfire vocalist George Pettit and he soon found himself contributing to bonus track Sworded Beest.  Not even Canadian rock royalty can resist the rhythmic ruckus of Monster Truck."
Guitarist Jeremy Widerman takes the Monster Truck story further in our interview below…
Let's start with the basics first, when did the band first get together and what is the background to choosing Monster Truck as your band name?
The band was formed in 2009 literally 24 hours after I came up with the band name.  We were all hanging out at a party and were all in other bands that were quite serious at the time.  I had been tossing around the idea of starting a drunken stoner riff rock side project but had yet to tell anyone about it.   I was kinda just off in the corner by myself and it hit me that it should be called Monster Truck and as soon as I had the name I asked all the current members (Jon, Brandon and Steve) if they were interested in being in such a project.  Everyone hopped on board immediately as they all knew exactly what a band called Monster Truck should sound like.  Songs emerged so quickly and easily that we knew we had something more than just a drunken side-project on our hands and we've been just been rollin' ever since.  It's always funny to me that the band name not only inspired me to get my ass in gear but it also laid easy ground work for all the other members to contribute amazing ideas right from the get go.  It really is how I always wanted a band to be.  Collaborative, Exciting and Simple.
For the benefit of our readers who would have not yet heard Monster Truck, how would you describe your music?
I always like to say that it sounds exactly like you would expect a band called MT to sound like, because that's what people always say after hearing us for the first time.  I think a lot of people get ideas in their mind about what they think certain bands are gonna sound like and are constantly thrown off by the reality of it when they finally do hear it.  So I'm happy to say that never happens with us.  You get powerful heavy riffage, with giant pounding drums, a vibey grinding organ and classic rock n' roll vocals.
Can you introduce each member of the band and give us a fun rock 'n' roll fact or myth about each?
Jon Harvey – Lead Vocals/Bass – Jon is currently the Prince of Hamilton,ON.  He is patiently waiting for his chance to be king but we have a lot of ground to cover before he can take the throne.
Brandon Bliss – Organ/Vocals – Brandon Bliss is a man of many talents, he records bands here in Hamilton, he plays Banjo in a country band called the Dinner Belles (who are awesome!) and he is generally just a well rounded and talented musician who can do it all.  He also trains bears and rebuilds jet engines for commercial use.
Jeremy Widerman – Guitar/Vocals – Jeremy is half Man/ half Beest.  Known as the Wildebeest here in Hamilton he does most of the graphic/web design for the band as well as killing small prey to save money on food for tour.
Steve Kiely – Drums/Vocals – Steve is a fuckin' burly man.  He swings an axe, builds your house and generally can overcome any injury or foe.  He can throw lightening bolts with his eyes and tame small tornadoes with his hands.  Chuck Norris, watch out.
You have recently released your 2nd EP which is titled "The Brown EP", here's your chance to tell everyone why they should go out and buy it?
I'm not sure I can say that.  I will say that anyone/everyone who likes classic rock but also isn't looking for a straight up revival should check us out.  I feel like we bring a new flavour to some classic ideas so if that sounds enticing to you I would recommend at least previewing some songs. It's real fuckin' rock n' roll music!
Looking back on the experience of recording your very first EP, what were some of your biggest learning experiences that you really think you capitalised on when making your 2nd EP?
Using a real Leslie Amp/Speaker for the Organ is the only option.  We had to use some pro tools plugins for the first EP because we blew up the studios Leslie on the first take!  The simulated tone just didn't even come close to sounding like the real deal and we've never looked back since.
In terms of your song writing, what do you consider to be the most important things that need to feature in a Monster Truck song to give you your trademark sound?
I guess our sound really just comes from the combination of the 4 members so we don't really have to worry about it or concentrate on it at all.  As far as song writing goes we know we have a great new song when it comes together in about a half hour.  As soon as we start second guessing and taking all night to work a tune out we know we probably need to just trash it.  I think that's only happened a handful of times though in 2 years.  The songs almost always come together in a flash.
What inspires and influences Monster Truck the most, in both a musical and lyrical sense?
I can't really speak for the other guys by for me its just a feeling. I get pretty riled up sometimes and it really just comes from not being able to calm down.  Pretty hard to put into words really but my songwriting really just comes from a feeling of frustration about music these days and the lack of truly authentic rock n' roll.  I just really want to get people excited about rock and roll again.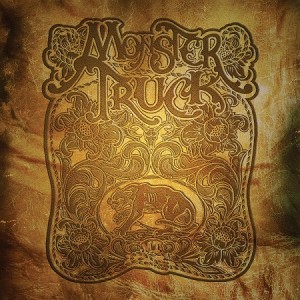 As far as the style of rock that Monster Truck plays, what's happening over in Canada at the moment – is there a thriving scene of similar styled bands that you guys might call your peers, or do the echo's of Nickleback and Simple Plan still reign supreme?
Man, I don't even know anymore.  Sometimes we end up in meetings with the powers that be and they start listing off labels and bands and I seriously have no clue.  I guess partly because I'm not paying attention and partly because there is a real lack of exciting music these days.  The Sheepdogs are a great example of a band that we love and respect here in Canada.  They've blown us off the stage a few times now and I love it because it just pushes us to develop even more.  I think overseas Graveyard is a band that's doing everything right.  They just rock so fucking hard and are such good players.  I can't wait to see them live.
Whilst your EP has only just been released, the good word has obviously spread to the far reaches of Australia…are there any concrete plans being discussed yet for world domination?
That's all I think about!  All I want to do is get out of Canada for a bit.  I love our country but I have never been overseas before and I'm really hoping this band has the chance to explore.  Gotta play the game here for a bit longer I think and get everything in order but I can't see a reason we won't come to Australia this next year.
If you had the opportunity to contribute your music to a movie soundtrack, what kind of movie do you think your music would be best suited to and why?
Hockey!  Yes we are stereotypical Canadians and we just LOVE hockey.  I want our tunes in the arena's so badly.  A couple of our songs just have that chanting arena vibe and I think it would just work out great.  As for movies I'd have to say anything action packed.  Jets, Racing, Boxing, Shooting, Arm Wrestling, you name it!
If you were a person in the crowd at one of your gigs, what five words would you walk away using to describe the performance you just witnessed?
Holy fuck, finally! Need Beer.
Here's a chance to gaze into your crystal ball.  In the next 6 months Monster Truck will have:
1. A Full Length Record
2. No day jobs!
3. An endless supply of righteous smoke
Thanks for the interview! Hope to see you soon!
Essential Information
From: Canada
Sounds like: A monster truck meets classic rock meets stoner rock!
Band members: Jon – Bass and Vocals, Brandon – Keys and Vocals, Steve – Drums and Vocals, Jer – Guitar and Vocals
Website: www.ilovemonstertruck.com
Latest release: The Brown EP (2011)