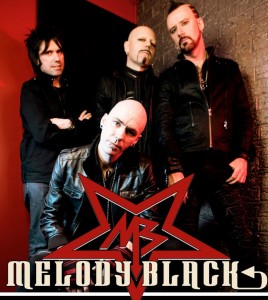 The name Melody Black may not be familiar to the majority of you, which incidentally is why we are featuring Melody Black as one of our "best things you've never heard", however those who have kept even just a casual interest in the hard rock scene in Australia over the last 20 odd years will certainly be familiar with bands such as Candy Harlots, Ink, Jerk and Killing Time.  The relevance of those bands you ask, well their former members make up the Sydney based hard rock band, Melody Black.  If ever there was a band name that was a fitting description of their music, it's Melody Black, a raw concoction of hard rock, 70's glam rock, melody a healthy dose of punk and sheen of darkness.  In October, their debut album Love Your Demons hit the street and the video for lead track Pretty Ugly has been doing the rounds on MTV here in Australia.
We recently chatted with Leeno Dee, Melody Black bass player and songwriter…
Let's start with the basics first, you have all previously played together in various other bands, but what led to Melody Black coming into existence?
Well I'm not sure if you are aware of the history, but John and I were in Jerk together.  Whilst we were in Jerk I was writing a lot of material but there was a bunch of stuff that just wasn't right for what Jerk was doing.  I threw myself into that band as I loved it, it's still probably my favourite band I've ever been in, anyways I was writing this stuff and always kind of thought I could always do a little side project as an outlet for the material, I suppose that Slipknot/Stone Sour/Murderdolls kind of thing where there's side projects going on.  Tubby Wadsworth, originally a Melbourne guy who was in Killing Time he's a really dear old friend of mine and when I played him the material way back when, he had decided he really wanted to be a part of it.  He and I just kept demoing stuff over the years and then when Jerk broke up, John and I got Ink going along with Charles the guitarist in Jerk.  Ink took up a few years, but when it looked like winding down I called up Tubby and said now is the time, we are going to do this.  That was a bit over a year ago now, July last year.
What s the inspiration behind the band name?
Well, the absolute truth on that is that I've had the band name now for so long and I've never used it.  It's one of those things that's been scribbled in my notebooks as I go through notebooks in my life, that name gets scribbled in the inside cover.  It comes from an Alice Cooper song from 1970, from Alice's first major label album, there's a song in there called Black Juju which is like this 8 and a half minute, black magic, really evil sounding thing and when I was a kid and heard that song it used to scare me because it's so dark.  Laying in bed at night at 8 years old, the term Melody Black came out which Alice sings in one of the lines, I just loved it and it's been in my head ever since.  I thought I'm going to call a band that one day and this was the right band for it.
You played your first show back in August 2010 and we now have your album released in October this year, was it a particularly lengthy process to write and record?
Well we had a stockpile of songs, I actually had a stack of stuff written.  I think when it came to putting the lineup of the band together, I pretty much chose material that I thought hung together best and the songs that tell a story together.  The original idea was lets get together and do some shows and record this stuff properly with this lineup.  What happened was we played our first gig and it actually felt so good that we made a decision as a band to go in and record ASAP, let's not labour this, lets catch this right now how it feels.  So we went in and pretty much tracked the album live in the studio and went back and added some extra guitars and vocals and overdubs.  I think all in all, probably about 3 days recording.
The album has a real raw and live feel to it, was it largely recorded live in the studio?
We tracked everything, guitar, bass and drums at once, with John doing guides and I think we might have actually kept some of his guides because they just worked.  We just played everything together as a band, we tracked basically 3 takes of each song, twice with a click track and once without, then in 8 out of 9 instances we went with the ones without a click as they had this real kind of spark to them and swung a bit better.  That was what we were after, a statement of where we were at, right then and there.  Whether we do it again that way we will see, but I don't see why not, it felt really comfortable and quick, so I think that's the best way to do it, record an album rather than make an album.
For those reading this who are familiar with your work in other bands such as Candy Harlots, Ink and Jerk, how would you musically describe what Melody Black is all about?
I think it's a pretty good mix of all three of those.  It's certainly got the aggression and borders on the heaviness of what Jerk was about and got kind of the darkness of Jerk.  I guess then it's got the Candy Harlots influence at least from the stuff I wrote, which was influenced from those classic British bands like The Sweet, Slade and T- Rex so it's like a melding of those few things, the melodic 3 and a half minute powerpop songs and then the heavy execution and played heavy like a Nine Inch Nails or Manson.
Both lyrically and musically, what or who inspires/influences your music the most?
A lot of it is stuff that's happening to me, or stuff I see happening to other people, real situations.  You obviously don't write things verbatim as you see them, I try and find a cool way to state things.  I try and take a leaf out of the writers that have inspired my over the years.  As a little kid the first band that really struck me and blew me out of my socks was The Sweet, all their stuff initially was written by Mike Chapman and Nicky Chinn, to me a song like Ballroom Blitz is the perfect hard rock/pop song.  Then when they started writing their own stuff they obviously had learned, songs like Fox On The Run.  I really loved the writing in the early Alice Cooper days, Nikki Sixx has also written some great stuff.  Cheap Trick is another one, their earliest albums, really dark lyrical matter, but musically really poppy stuff.  I've always really liked that.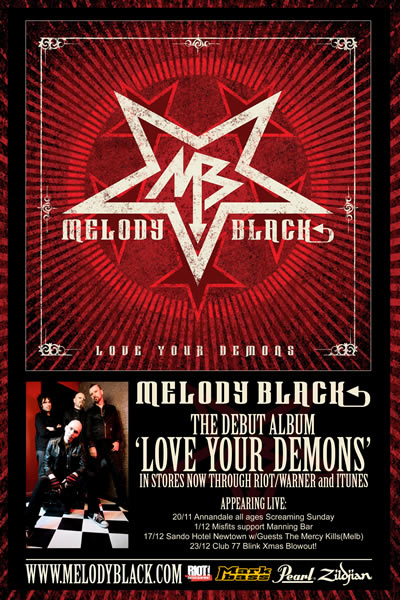 How have you found the response to Love Your Demons here in Australia?
The response has been fantastic.  The one thing I wanted to do with this band, was to do something that is going to make me feel good and the three other guys in the band feel the same way.  Everybody in this band has to be happy with what it is, before we worry about what anyone else thinks of it.  We actually had some major label interest before we put this thing out, although even though we've had good major label experiences in the past, there's always that thing of if they put money into you, you owe something, which usually means you have to listen to what they say and you have to go along with things as you owe them that, which is fair enough.  But with this, we ended up thinking, screw it, let's do this ourselves, we've got a good team over at Riot! that want to put it out and it's being distributed by a major anyway, Warner's, so it's going to get into the stores.  We went in and did the album, there was nobody looking over our shoulders, nobody telling us you can't dress like this, you can't look like this, you've to change this, you've got to change that…  So we just thought so long as we are happy with it, that's all that matters.  So long as other people get it and like it, fantastic.  At the end of the day, if nobody likes it and it doesn't work, I can go to bed at night knowing I made an album I was happy with.
I have seen your video for Pretty Ugly has been aired on MTV here in OZ and your album is released locally by Riot!, however has there been any discussions about world domination being planned as yet?
We have been looking into it and we are kind of in a good position because of the things we've done in the past, we've left a good taste in people's mouths individually over the years.  We've built up some good relationships with people in Europe, the UK and the US and have had a bunch of those people saying get us a copy of this as we want to try and put it in front of the right people.  There's nothing definite as such right now, but there's definitely a door open to getting over there and having some stuff released.
For those that haven't yet seen you perform live, what can people expect from one of your live shows?
My favourite band of all time and I don't care what anyone thinks is still KISS.  I first saw them when I was about 12 and I've seen them about 7 or 8 times since then and they have never, ever, ever, ever let me down.  Every time I go to one of their shows, I walk away thinking that was awesome.  I don't care about all the bad stuff and what a lot of people have to say about them, at the end of the day, if you are going to see a live rock show, they can't be beaten.  So for me, anyone offering less than that, they better have something really good going on in the song department, because you really want to be excited.  Obviously we don't have the budget for pyro and fireworks and I don't know we would be that kind of band anyway, but for me it's a long tradition of really visual and theatrical artists, whether the show is just in the band themselves or all the added stuff that they have, but it's got to be more than just standing in stage in a flannel shirt and army pants and singing about how miserable you are.
So what's on the horizon for the next 6 months or so…
In our first 12 months of existence we averaged about a show a month, and since the album came out, up until the end of this year, we will have done about another dozen.  Obviously it's ramped up a bit since the record came out and the shows been going well and we are definitely a live band.  But, we're not going to be waiting around waiting for something to happen and we are pretty realistic about stuff and I would say we will probably be starting on the second album around the middle of next year.  That's the beauty of today, you don't need to plan releases with mega budgets and stuff, it's pretty easy to make a pro sounding record these day and get it out and if you've got the material, then why not!
Essential Information
From: Sydney, Australia
Sounds like: Rock infused with equal parts melody and darkness
Band members: Johnathan Devoy – Vocals, Leeno Dee – Bass, Phil Bowley – Guitar, Tubby Wadsworth – Drums
Website: www.melodyblack.com
Latest release: Love Your Demons (2011, Riot! Entertainment)
Melody Black have the following shows confirmed up until the end of 2011…
20/11 – Annandale all ages
1/12 – Misfits support, Manning Bar
17/12 – Sando Hotel with The Mercy Kills (Melbourne)
23/12 – Club 77 Blink XMAS Blowout