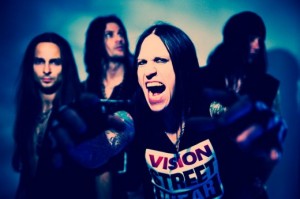 Having existed for well over a decade now, when it comes to the Swedish "sleaze" scene, few bands are bigger than Gothenburg natives, Hardcore Superstar, who have blazed the trail since the year 2000 for the cavalcade of bands that have since followed.  Their year 2000 release Bad Sneakers & A Pina Colada brought the band to worldwide prominence with the single Someone Special, in a time when bands such as Creed ruled the airwaves.  The two albums that followed saw the band gradually push further into a more British and punk fuelled sound, however it took a much needed 6 months break from each other during 2004/2005 after burnout from years of relentless touring, to be the bands defining moment.  The moral of the story…the band hit back in the best way possible in November 2005 with the release of their self titled or "Black" album with instantly classic songs such as We Don't Celebrate Sundays. Wildboys, My Good Reputation and Standing On The Verge that set about truly defining the bands sound.  "Street metal" as the band affectionately refer to it as, a blending of thrash metal and sleaze rock. Dreamin' In A Casket and then Beg For It followed and their 2010 release Split Your Lip is arguably the bands finest moment.
With the prospect of a new studio album not likely to be released until April 2013, Hardcore Superstar have just released a "compilation" featuring songs over the course of their history.  The Party Ain't Over Till We Say So… features 20 tracks, including one brand new track, the insanely catchy We Don't Need A Cure.  Chatting with bass player Martin Sandvik this week, we talk over some of the key moments in the history of the band…
Hey Martin, thanks for taking the time to chat today!  So you have just released your greatest hits album The Party Ain't Over Till We Say So…why was the time right now to release a Greatest Hits CD?
It was actually the record company who asked us if we would be interested.  They were like, you have been recording albums for 10 years now, wouldn't it be like a perfect time to release a compilation album, more than a Greatest Hits they said.  Its great as it gives us a year or so to write for the next album and it's good to sum up what we have been doing for the last ten years.  We were like yes it's a great idea, but we hadn't thought about it initially as a band.
How difficult was it for you guys to come up with the track listing for the album, I can't imagine that would have been easy?
It was really funny, we were like let's meet up in the rehearsal room and work out what songs should be on it.  It took like 5 minutes and we were already in this big argument, almost fighting on the floor.  Everybody has their special songs that they think are more important to them than the other guys in the band, so in the end we said lets ask the record company. They can give us a track listing that they think is really good and so they came up with a list of 20 songs and we switched a couple of them we didn't want on it.
You have a new track on the album, We Don't Need A Cure, what can you tell us about where that song came from, was that a brand new written song, or a leftover from the last album or so?
It was specifically written for this album, as we wanted something new on it.  We had this jam we had been playing at sound checks and in the dressing room before the shows and it was a pretty good melody and we were like it would be good to do a proper song because that jam has been around for a few years, since Vic joined the band actually.  So we recorded it and its now specially on this album.
And with those lalalalalalala's, it certainly is a very catchy song once that you get stuck in your head!
People are almost pissed off with "that fucking song" haha.  It gets played on radio a lot in Sweden and people are like, I just can't get that song out of my head.  Which is a good thing I guess!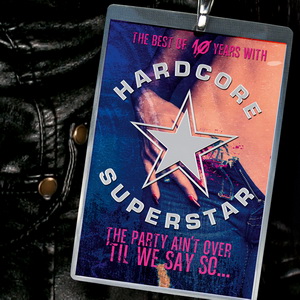 Split Your Lip I would have to say is my favourite Hardcore Superstar album which has been out now for many months.  Have you been happy with the response to that album?
It's been fantastic.  Beg For It, I think was a very good album, but it was very much like a studio album with lots of production that we can't really do live.  When we went in to write the Split Your Lip album, we were like let's keep it simple and keep it to the core of some really good rock n roll music that is possible to perform live just as it is.  It's more or less a live album in the studio, a lot of the songs, even the lead vocal was put down at the same time as the drum and the bass and guitar.  Our fans really dig it and our live show has been fantastic with some of these new songs.  From the first gig we did playing songs off that album it worked immediately, so it's been good.
Where are you guys at with the follow up to Split Your Lip, have you started doing much writing new material yet for the new album?
We have a couple of ideas so far, Adde and I have been writing a few things and sharing ideas, but there's nothing complete yet.  Do you know about the guy James Durbin from American Idol?  Well his management got in contact with ours and said that he is a really big Hardcore Superstar fan and wanted us to write some songs for him.  So we actually wrote 4 songs and sent them to him and he ended up with one of those songs on his debut album and they got Mick Mars to play guitar on that song.  So we now have the remaining 3 songs that will be Hardcore Superstar songs.  We are looking to go into the studio around this time next year and hopefully have the album out around April 2013?
Now that you have released a compilation/greatest hits CD, has there ever been any discussions about releasing a live DVD?
Actually, we have only just decided that the last gig we are doing on our upcoming tour which is in Gothenburg our hometown, we decided that we are going to release that as a DVD and hopefully that will be out in March/April of next year?
I know this won't be an easy question, but do you think there is one song or at least one album that defines what HCSS is all about?
I would say Split Your Lip actually and I think Moonshine is a good example for a song.  It's pretty much a rock n roll song, but it doesn't sound like a rock n roll song.  It fits in amongst the real rock songs like Guestlist and Last Call For Alcohol and it's a fantastic album to play live as well and pretty funny to play bass on!
Musically, that self titled album seemed to have been the defining moment for the band stamping your true Hardcore Superstar sound which you are now best known…what was the catalyst for that change?
We had toured a lot and had just returned from America and we landed at the airport in Gothenburg and we were really, really tired of each other and we said let's have a couple of months break.  When I left the airport in the taxi, I wasn't sure if Hardcore Superstar still existed.  We were all tired and had been playing around 200 gigs a year and some really small shows at places like pizza parlours and it was really, really hard touring.  It took about 4 or 5 weeks and Adde and I started writing again and we were like shit these are really, really good songs.  So for 6 months we were writing songs and then we called up Silver and Jocke and we said, ok let's do another album.  As soon as we started rehearsing the songs, immediately it was like, shit we are really good at playing this style of music.  I think with that album we found our way, so that's a really important album for Hardcore Superstar.
I saw you at Sweden Rock Festival this year which was awesome to see you perform that self titled album in it's entirety, so given what you said about the importance of that album for the band, is that the background to why you chose to perform it in it's entirety, which I see you are doing again in a couple of days in Stockholm!
Yes, yes, after Sweden Rock everybody has been asking us to do it again and perform it in a smaller club.  So we are doing it at Stockholm and it's a perfect venue for it.  So we will be playing the whole "black album" and then doing an encore with another 10 to 15 songs so it's a really long set.
How about the pouring rain at Sweden Rock Festival, which was there for the first half of your set, was there any danger that you guys may not have played?
As long as the safety was ok with the electricity and stuff, we were ok.  Sometimes it can be pretty special when it rains that much and the audience is still standing and watching the show.  I was really happy with that show, it was a really special night.
Crashdiet were just out here in Australia last week and played to some great crowds.  What were your memories of your time in Australia a few years ago?
It was really surprisingly good.  The first time you come to new countries, it was a bit scary as you are like, will there only be like 3 people in the audience?  It was almost like in Japan, smallish crowds, but really nice venues with proper stages and a P.A system.  We've been talking so much to the Agency about it, saying you've got to book more gigs in Australia.  It sounds like there was something really starting to get going down in Australia.
Well, I think you'll find now that there is a lot stronger interest down here in bands such as Hardcore Superstar, Crashdiet, Crazy Lixx etc.  Even the amount of people wearing Hardcore Superstar shirts at the recent Crashdiet gigs…
That's perfect, I'm going to tell the booking agency immediately!
As far as international interest, what part of the world would you say has the biggest fan base for the band outside of Sweden?
Japan, Italy and Spain have always been fantastic for us.  I have to say with the last album, Germany has really grown too.
Whilst you have played with many great bands, such as AC/DC and played the biggest rock festivals in the world, I have to ask about your very first tour which was with Motorhead.  How much of a learning experience was that tour for you?
Actually the first tour was with Motörhead.  Mikkey Dee their drummer is from the same town as us, so we had known him before the shows.  They took really good care of us and it was a perfect band to open up for.  They were almost like Dads to us haha!
And speaking of "dads", AC/DC is another band I know you have played with a few times over your history.
Yes we have, even this summer we opened up for them in Stockholm.  It was so good as we were the only opening act and we got to play an hour show and the stadium was packed.  During the show I was playing along and I looked over at the side of the stage and there was Angus and Malcolm standing there smoking and watching the show.  I was like a little kid again, AC/DC is standing here watching our show, it was pretty good.  They are so cool, they are like the biggest band in the world and they are coming along and asking if anyone wants a beer or a cigarette, they're not rock star at all, they're really good guys.
Knowing that Gothenburg musically is renowned for heavier bands such as In Flames and The Haunted, how difficult has it been for Hardcore Superstar over the years to exist in that scene, particularly in the very early days?
In the beginning, everybody would be like, "oh you are from Gothenburg, so you have that Gothenburg sound".  We were like no, we are not anything like that sound.  It hasn't really been that hard as a band like In Flames, we have always been friends with them and known them since we were kids and stuff.  They've always been really cool and helped us out and we've opened up for them on a lot of their European tours, so we've never really had any problems fitting in.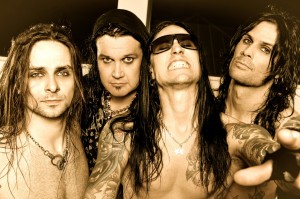 With the exception of Vic Zino who replaced your original guitarist Silver, the other three of you have been together as a band for about 15 years, touring the world and having released 7 albums, that's a pretty amazing achievement for the band that I first heard when Bad Sneakers and a Pina Colada was released over 10 years ago….
We've known each other for so long, right back when we were kids.  Jocke and Adde and our old guitar player Silver went to the same school and I've been friends with them since I was about 14 or 15.  We are such good friends and know each other so well that we can go into this big argument and get on each other without any major consequences or big egos getting in the way.  We are like a family I guess and Vic has really fitted in well since he joined.  He's a bit younger and has a big drive.  We tend to rehearse a lot and work really hard and he gets stuck right into it and fitted in immediately.  He started off as a substitute for our Australian tour, his first gig was in Sydney and we hadn't decided which guitarist was going to take Silvers spot.  Immediately when we played Australia and Japan we almost immediately said this is working so fucking good.  We actually asked him in Japan if he wanted to join the band.  He's a songwriter as well, which is good.  Before it was almost me and Adde who wrote every song, so it's a new side of Hardcore Superstar with Vic writing songs as well.
Well Martin, I know you have some more interviews to do today and we are out of time, so many thanks for your time and hopefully we will see you out here in Australia again one day!
Well thankyou very much, I am going to pass on that update about Australia to the agency and let them know.  It's been great talking with you!
Check out our review of The Party Ain't Over Til We Say So….
Essential Information
From: Gothenburg, Sweden
Band members: Jocke Berg – vocals, Vic Zino – guitar, Martin Sandvik – Bass, Magnus "ADDE" Andreasson – Drums
Website: www.hardcoresuperstar.com
Latest release: The Party Ain't Over Till We Say So….  (October 28th, 2011, Nuclear Blast/Riot! Entertainment Australia).
Track listing:
01. We Don't Need A Cure
02. We Don't Celebrate Sundays
03. Moonshine
04. My Good Reputation
05. Wild Boys
06. Someone Special
07. Dreamin' In A Casket
08. Into Debauchery
09. Here Comes That Sick Bitch
10. Last Call For Alcohol
11. Beg For It
12. Liberation
13. Bastards
14. Medicate Me
15. Standin' On The Verge
16. Still I'm Glad
17. Have You Been Around
18. Shame
19. Honey Tongue
20. Run To Your Mama