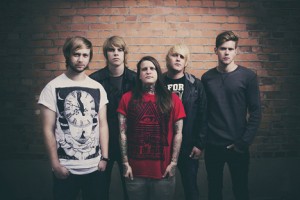 From Official Bio: "From a country with an existing and strong metal identity the young innovators – the band's mode age is still only 23 – Adept have taken Swedish fans and metal itself into the future. Since the early days, the sound has tightened as their pool of influence has broadened incorporating and weaving in elements of modern US hardcore, new British metal, post-hardcore and Sweden's own metal-scene.
While many bands are delivering formulaic post-metalcore with heavy verses and pop choruses, Adept have a clear vision of that while at the cutting-edge, is unsullied by ephemeral trends.  And it's working. Europe has already woken up to the band: mainstage performances at Sonisphere and Metaltown in Sweden, as well as performances Pukkelpop, Graspop, Summer Breeze, Nova Rock, Vainstream and many more in Belgium, Germany, Holland etc all proving the band deserve big stages. Further travel has taken the band as far a field as Russia, and all over Europe supporting the likes of Bring Me The Horizon, A Day To Remember, Architects, Raised Fist, Caliban and Underoath. In December 2011 the band is embarking on their first headline tour on the new Death Dealers album, The Lost Boys Tour together with More Than A Thousand and Walking With Strangers.
Most heavy metal cloaks itself in darkness, albeit panto-esque and corny. But Adept have combine worldly observation, insightful cynicism with overriding philanthropy and positivity: not only is the music driving and energetic but the sentiments carried within reflect the bands upbeat demeanours.
"On 'Another Year of Disaster' band wrote about things they experienced themselves, but on the new album 'Death Dealers' is more more about observations: watching other people live their lives – without being judgemental – and giving an opinion.
So as the band continue to take their heavy and brutal party-core metal to the masses, they're determined to never lose sight of why the band exists and what the band stands for."  www.adeptofficial.com
Hey guys, thanks for taking the time to do this interview! First things first, Adept may not yet be familiar to a bunch of our readers, so let's start with the basics first, in your own words, how would you describe the music of Adept?
We are a melodic hardcore/metal band from the outback of Sweden. Since we are from Scandinavia we are always up for party and mayhem. Musically we tend to build our songs up in a fast-forward brutality kind of way just to break them down in the most beautiful way possible. We are putting melody and honest lyrics in focus.
Can you introduce each member of the band and give us a rock 'n' roll fact or myth about each? 
My name is Robert Ljung and I am the singer in the band!  My rock n roll moment is when I actually saw Cliff Burtons last performance alive together with Metallica in Stockholm 1986.  My older brother was babysitting me, but desperately wanted to go to the show so he brought me with him. I don't remember anything though. I was three years old. But it's always something to brag about. And speaking of Metallica – we got to open up for them back in 2009 and slit the ligament in my knee off so I feel to the ground like an idiot in front of 15 000 people. An embarrassing moment.
Jerry Repo plays guitar in the band. He has his arse completely covered in tattoos. Everytime he passes out we bring the gear out and start tattooing his arse. He now has a big gay flower as a tramp-stamp. It's hilarious. He has all kinds of names and things on it. Another fact is that Jerry has actually passed out during our shows. A couple of times we have seen him walking back to the drums and fall asleep. He can't handle his liqour.
Filip Brandelius plays bass. He started with us back in 2009. On his first show with us he managed to steal booze from the bar, get really drunk and use the fire extinguisher on the promotors of the show. Needless to say we got kicked out, and are now banned to play that particular venue in Berlin, Germany. Nice first show for that dude! Keeping the standard up!
Gabriel Hellmark plays drums. He drinks and forgets everything that has to do with drumming and performing.  We played this show where Gabriel was supposed to put our intro on via the backtracks. He struggles to get to the drums and puts on Kill 'Em All album by Metallica. We play our entire set with that album leaking out from the speakers. Must have sounded amazing. We should have noticed this but we were equally wasted.
Gustav Lithammer is our newest addition to the band. He started playing with us just a couple of months ago. Don't really think I have anything on him yet, cause it's so recent. I need to dig a bit deeper and get back to you.
You have twenty seconds in an elevator to try and convince someone to listen to your new album "Death Dealers", without resorting to threats or violence, what do you tell them?
Without threats!? Oh dear. I would say that Death Dealers is a well-crafted metal album with honest lyrics and loads of partying vibes to it. I would recommend it at parties, weddings and even funerals. I would also lie and say that Mick Jagger was my dad – which must make him interested in our music.
"Death Dealers" is your second album, what do you feel have been some of the biggest changes in the band between your first album "Another Year Of Disaster" and your second album "Death Dealers"?
We have taken a bit more heavier path on this new album. I also feel that we have matured a lot during the last couple of years and written bigger songs, with less child-ish lyrics. I guess the difference between the two is that the heavier parts became heavier and the melodic parts was reduced a bit in singing-wise, but music-wise we have developed a bigger depth. Think the intro music in Twin Peaks but with heavy drums.
What or who inspires and influences your music the most, in both a lyrical and musical sense?
We love bands like Hopesfall and Life in your way who combine such beautiful melodies with spoken words and heavy metal parts. We love the contrast to go from really heavy to big sing-a-long choruses. For me that is what makes music interesting. To be able to go from one type of music to another without sounding forced.
In terms of your song writing, what do you consider to be the most important things that need to feature in an Adept song?
That it is from the heart. That the music captures the essence of the lyrics. It also need to be beautiful and heavy at the same time. When I listen to a song I need to hear a hook I can sing along to, a guitar-riff I can hum along to. That is what we are trying to achieve here.
Having gone through the process of writing and recording two albums as well as playing a bunch of live shows and major festivals, I have to ask, what's the most rewarding aspect of being in Adept?
We have been blessed to play a lot of great festivals in front of thousands of people which is so surreal for us – a bunch of nobodies from the outback. And on top of that we have been fortunate enough to tour with great bands like A Day to Remember, Underoath, Bring Me the horizon, As I Lay Dying to name a few. So I would definitely say that it's the traveling with the band, and seeing unfamiliar faces singing their hearts out to our songs is the most rewarding!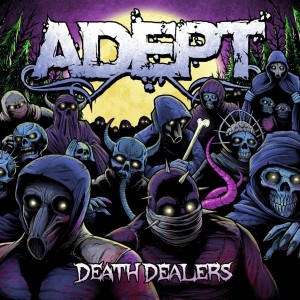 One of my personal favourite bands is Crashdiet who just toured Australia last week, what led you to doing a cover of "Riot In Everyone" for the Panic & Action Compilation CD?
Haha, yeah it's a bit weird choice really. Well first of all we are not that keen to do cover songs. It's just not our thing, but when our label planned to put this compilation cd out every band on our label was doing it. We didn't want to be that "difficult" band on the label to say no to this, but we didn't want to sell out and do a cover of typical famous radio songs.  We grew up listening to a lot of Skid Row, Mötley Crüe and Crashdiet. And as they are fellow Swedes we wanted to make this tribute to them because we love their music. Of course this brings up a bit of emotions when a band from our genre covers their songs. But all in all I think it came out pretty sweet. They seemed to like it.
For those reading this in galaxies far, far away, what do you have to say about the Swedish metal scene at the moment, are there many bands playing the style of music that you play?
It is growing by the day. There are a lot of new bands popping up that sounds amazing. I also feel that we have great promoters and bookers over here that work hard to put up shows for all the bands to play. There is always a lot of tours going on and kids are really eager to go to shows. So yeah, I feel that the music scene in Sweden is growing strong.
How would you describe Adept as a live band? Do you prefer playing the stages of larger festivals which you have done lots of in 2011, or do you prefer smaller club type shows?
I prefer smaller venues, really. I mean I don't mind standing on big stages in front of thousands of people, but I love the intimate feeling you get at small venues. I love playing live and it's something we get better at every time. We did have big problems with alcohol before where we could drink a lot before the shows just because we wanted to party as hard as the audience. But nowadays we realize that kids actually pay a lot of money to see us and who are we then to make fool of ourselves on stage. We are definitely becoming better at keeping ourselves fresh before shows.
You are about to head out on your own headline tour of Europe in a few weeks, have you toured many of those countries before?
Yeah, I think we have played almost every country on that tour before. This is actually our 4th European tour only this year. We have put a lot of focus on Europe, because it's our home continent and we love it here. We want to build us a name here in Europe and fight for the big stages.
Do you know whether there is a lot of interest in the band in countries such as Australia and the USA, has there been any discussions of touring somewhere like Australia?
Yeah, well you can tell on our facebook page that a lot of kids is demanding us to play US and AUS. We are working hard to get on solid tours and festival but it's hard for us since we are not that well known over there. Hopefully we can get on both Soundwave and Warped tour. But the competition for the spots are hard, and we can only keep our fingers crossed.
Here's a chance to gaze into your crystal ball. In the next 6 months Adept will have:
1. Written a new album
2. Released one new music video
3. Toured both Australia and the US.
Check out our review of Death Dealers right here….
Essential Information
From: Sweden
Sounds like: Hardcore, metal
Band members: Robert Ljung – Vocals, Jerry Repo – Guitar, Gustav Lithammer – Guitar, Filip Brandelius – Bass, Gabriel Hellmark – Drums
Website: www.adeptofficial.com
Latest release: Death Dealers (2011, Panic & Action)
Comments
comments