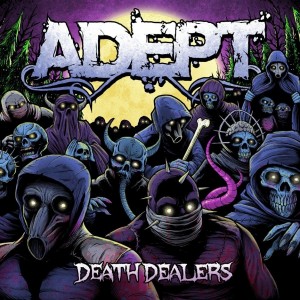 Whilst having grown up as a teenager in the late 80's on a staple of traditional hard rock and heavy metal, I am by no means a one-trick pony when it comes to music, with my musical listening, likes and knowledge being incredibly eclectic.  So what then does that statement have to do with Death Dealers, the second album from Swedish party metal core band Adept?  Well nothing specifically, other than giving some context as to why this album might have appealed to me far more than a lot of the other post-this, post-that, something-core releases that seem to be have come through May The Rock Be With You in major abundance in 2011.  For me, Adept deliver songs with big shout out choruses and some fine shredding metal guitar riffs, yes there's your typical hardcore and metalcore vocals and brutal riffs, but it's a nice balance.
On this their second album, Adept have stated they have gone for a heavier sound and First Round, First Minute opens up with probably one of the most brutal tracks on the CD.  The big shouting chorus opening of The Lost Boys and some melodic pop punk moments through the chorus, make this one of my album highlights.  No Guts, No Glory, no it's not an Airbourne tribute, but certainly kicks off with some tasty lead guitar breaks, which for that matter as does This Could Be Home, which is a very similar sounding track to it's predecessor. 
Clocking in at 4.22minutes, At The End Of The World is one of the albums longer songs and acts a bit of a showcase of the bands musical prowess.  By the time you get to the 50 second, mostly instrumental track, By The Wrath Of Akakabuto, if you haven't been convinced by Adept and Death Dealers on the opening 6 tracks, then the remaining 6 aren't going to convince you otherwise, which deliver a very similar style and sound.  On the flipside, if you dig the album, then you are obviously not going to be complaining that's for sure!
Death Dealers isn't a new album, having originally been released back in early 2011, so for those fans  looking for some new material from the band, make sure you check out the latest Panic & Action compilation where the guys have recorded a cover of Riot In Everyone from their fellow Swede's, sleaze rockers Crashdiet!
If you haven't heard Adept and this review hasn't swayed you one way or another to check them out, then check out the video for The Ivory Tower below and make up your mind…
Check out our interview with Adept right here…
Esssential information
Check it out if you like: Melodic hardcore
Release date: Out now
Record label: Panic & Action
Website: www.adeptofficial.com
Tracklist:
01. First Round, First Minute
02. The Lost Boys
03. No Guts, No Glory
04. This Could Be Home
05. At World's End
06. By The Wrath of Akakabuto
07. If I'm A Failure, You're A Tragedy
08. Hope
09. Death Dealers
10. The Ivory Tower
11. From The Depths of Hell
12. This Ends Tonight