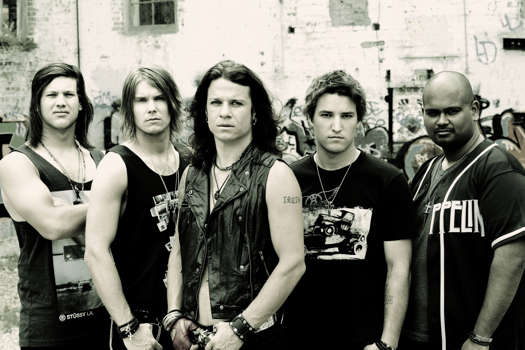 Hailing from Sydney, Australia, Sunset Riot have spent the last few years forging their reputation as an explosive live act with an arsenal of big riffs and even bigger ambitions.  But unlike many who crash and burn, these ambitions in Sunset Riot's case are matched with an ability to deliver some kick ass ROCK and a work ethic that has just seen them return from a 3 month tour of the USA!
Coming up this week is a support slot on the Sydney leg of the Australian tour for Swedish rockers Crashdiet.  We checked in with the guys to get the lowdown on their 3 month USA adventure.  If you want to find out more about Sunset Riot…then click here to go check out an interview we did earlier in the year!
Hey guys, welcome back to Australia and congratulations on conquering America on your Mama Said tour! How are you adjusting to being back in Australia and not living life out of an RV haha?
Thank you! We had a blast being on tour.  Its awesome being home but it's a bit hard adjusting to slotting back into 'normal life'.
Reflecting on the tour, what are some of the biggest differences would you say between the rock scene here in Australia versus the USA?
The rock scene in the USA is very alive.  We had a great reception all the way across the country, especially in the small towns.  I think a major difference between the 2 countries is the 'hype' factor.  Americans really love to hype things up which works in our favour.
Spending 3 months in each others pockets and with all the experiences, good and bad you no doubt shared, what were a couple of the key learning experiences you walked away with collectively as a band?
I think we learned a lot about each other.  How to read each other and what makes everyone tick, as a band I feel like we've grown a lot, especially communication-wise.  I think one of the biggest things we walked away with collectively is how much we want to do this for as long as we're physically capable.
Playing the RockJam Festival alongside artists such as Meatloaf, Sebastian Bach, Fuel, Twisted Sister, Godsmack, that must have been a cool experience and of course we have to ask, did you get to meet any of the above?
Rockjam was an amazing experience being able to play alongside such big name artists.  Our bassist (Jazz) met and spoke with Meatloaf backstage which was pretty cool.
In L.A you got to play the hallowed rock clubs of the Viper Room and Whisky A Go-Go, what can you share about these particular gigs and experiences?
Both are great venues, such a blessing to be able to say that we started our tour at the Viper and ended at the Whisky.  We even got an encore at the Whisky!!
So that's the infamous rock clubs covered, now what about a couple of the more unique venues or shows you played at?
We played in front of over 500 people at Red9 in Lincoln NE which was very cool. The stage had an awning that looked like part of the Sydney Opera House.
For any other Aussie rock bands thinking of doing the same kind of tour of the USA, what would you say are the biggest 5 pieces of advice you can share based on your experiences….such as, are Walmart car parks really the best place to park!
1. Do it cause you love it
2.Practice really hard cause there are a lot of talented musicians and bands out there
3. Don't be afraid to take risks
4. Clothing is really cheap in the USA
5. And yes, Walmart car parks are GREAT places to park!  Plus they let you use their restrooms
So whilst you had called it the "Mama Said" tour initially…what do you think would be an appropriate tour "slogan" now after the event to sum up your 3 months?
"Go hard or go home"
On October 20th up in Sydney you will be supporting Crashdiet from Sweden, what kind of influence does Crashdiet or their style of sleaze rock have on your band?
We're really excited about playing with Crashdiet.  It' always an honour to be able to support international acts, especially when they are as big in the underground scene as Crashdiet.  I think they have been one of the major influences on sleaze/glam/hard rock making a comeback.
Aside from months of touring, you have also been busy demo'ing some new tracks. Musically, how would you compare these to those on your debut EP, you didn't pick up a strong country twang whilst in Nashville did you haha?
Haha, there is A LOT of musical talent in Nashville.  We have all been inspired by our time in the USA including Nashville.  I think the new songs will show a much more cohesive Sunset Riot.  We've all been working very hard at improving ourselves individually as well as exposing ourselves to new music for inspiration. Look for a new record early next year. We're also working on demos for a third record which will hopefully be in the not too distant future.
So what's the Sunset Riot battle plan for the next 6 months or so, do you think we can expect to hear a new EP by then, plenty more shows around Australia?
New EP
More overseas touring
Brand new show
Our major focus is on writing new material and being able to record and release as well as continuing to build on the impact we made on the USA.
Essential Information
From: Sydney, Australia
Sounds Like: "Party Rock, if you like a little swagger, a little tongue in cheek and a lot of guitar hero."
Band: Del – Vocals, JP – Guitar, Ziggy Scott – Guitar, Resh – Drums, Jazz – Bass
Website: www.sunsetriot.com
Latest Release: Sunset Riot (EP)