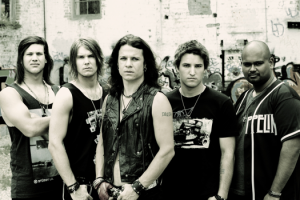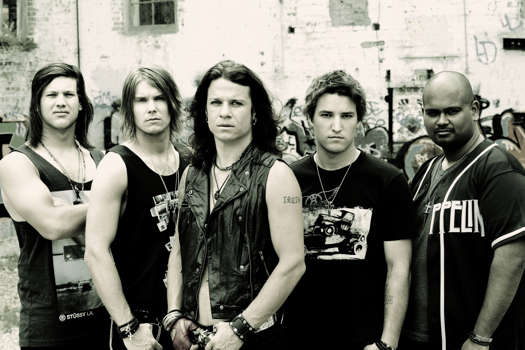 Hailing from Sydney, Australia, Sunset Riot are the latest Aussie rock band to blast onto the scene trying to forge their reputation as a live act with an arsenal of big riffs and even bigger ambitions.  But unlike many who crash and burn, these ambitions in Sunset Riot's case are matched with an ability to deliver some kick ass ROCK!
The band's EP released in the latter months of last year, certianly caught our attention.  Lead track 'Rattlesnake' with it's bass heavy riff and swaggering style rock is a song that will crawl into your senses with repeated listens, a rocking blend of the hard rock of the 80's and a healthy dose of 70's classic rock.  For anyone familiar with the band Diamond Nights from a few years back, that's a neat little comparison.  A stomping riff announces 'Trash vs Class' which given the title, expectedly is a sleazy style rocker that to these ears has a distinctly Australian flavor in the vein of The Screaming Jets.  'Moonshine' and 'New Day' display the bands ability to write a kick ass and memorable rock song, whilst still retaining the EP's rawness and live feel..  They are the EP's highlights and perfect showcases for the unique vocals of Del Rio and the bands shit hot musicianship.
Having first come to our attention with the EP late last year, it was about high time we found out more about these up and coming rockers and the bands lead singer Del was the man in the firing line of the usual hard hitting questions haha….  Make sure you check out the bands website for all the latest tour dates, which there are many all over Australia and even the USA for that matter!!!!
Let's start with the basics first – what brought the band together and what is the inspiration behind the band name?
JP (lead guitar) decided to form a band several years ago. Most of us joined thru ads in the newspaper and online. Apart from the band we literally are just 5 random dudes who love to play music. The name is derived from the last few moments Jesus Christ had on earth. When He died on the cross there was an eclipse and a bunch of dead people came back to life. Sunset Riot is completely out of control chaos that somehow manages to find its way to the ultimate destination.
You have twenty seconds in an elevator to try and convince someone to listen to your music, what do you tell them?
We're just fun rock n roll. Party rock if you like. A little swagger, a little tongue in cheek and alot of guitar hero 😉
Can you introduce each member of your band and give us a rock "n" roll fact or myth about each of them?
JP – He plays lead guitar like no other guitarist I've ever seen. Rock n roll myth/fact: The idea for the band and the band name came to him in a vision while he was in the shower
Ziggy Scott – Best rhythm guitarist on the scene at the moment. Rock n roll myth/fact: He was actually shortlisted to play Johnny Rzeznik (Goo Goo Dolls frontman) in a film about the evolution of the New York music scene
Resh – Most complete drummer I've ever played with. Plays a variety of styles and always consistent with time. Rock n roll myth/fact: Turned down a stint as drum tech for Whitesnake to join Sunset Riot.
Jazz – Bassist with a keen ear for chord structure and very complete grasp of key. Rock n roll myth/fact: Met his Finnish girlfriend while standing on a table performing during a show.
Del – Frontman. Rock n roll myth/fact: Once watched Metal Skool (now Steel Panther) from side of stage with Ron Jeremy and Eddie Van Halen.
You have released an EP with some cracking rock songs such as 'Moonshine' which is a particular favourite of mine.  Can you give us an insight into that song and also how long you spent writing and recording for the EP?
Moonshine is about that moment of choice when you are in your deepest pain. We all reach out for something. Sometimes its the 'moonshine' beside the bed sometimes its the light at the end of the tunnel. JP wrote the song long before I joined the band but its a song that I can easily relate to and a song that connects with me on a heart level.
The bulk of the writing for the EP was done in amongst gigging. We're very much a live band in that we write all the time and try out songs live before we record them. All the songs that we record have been played in some format before we lay them down. The whole recording process only took a week but there was alot of prep that went in beforehand.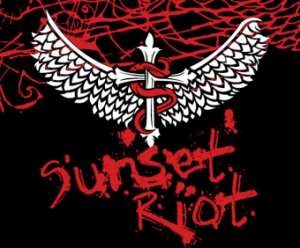 When can we expect more awesome rock music from you to be released such as an album or another EP?
We've already been back in the studio to begin work on a follow up but we haven't decided what format that will take yet. We've got 8 or 9 songs that we play live that could be recorded and another 7-10 unfinished songs on the shelf so the material is there its just a matter of funding and decided what we want to release.
In terms of your songwriting, what do you consider to be the most important ingredients that make up a Sunset Riot song?
The first key ingredient is energy. If the song doesn't have the right energy it won't work. I think for our music as well it has to have an element of mystery, whether thru the music or the lyrics, and a good beat. We are a very multi layered band with plenty going on lyrically and musically on many levels but at the end of the day we are also just a good old party rock n roll band. People need to be able to dance and have fun to our music first and then explore it later…perhaps our songs are like a parfait, they've got layers 😉
What or who inspires/influences your music the most?
We all come from very different backgrounds but some of our collective influences would be Aerosmith, Guns N Roses, Metallica, U2, Bon Jovi, Live, Velvet Revolver, Goo Goo Dolls, Disturbed, Led Zeppelin, Matchbox Twenty, The Beatles, Iron Maiden, Parkway Drive, Audioslave, Electric Mary, ACDC, and thats just a scratch on the surface!!!
What bands did you grow up listening to and how did they help create the style of music that can now be heard throughout your music?
I actually grew up listening to alot of the folk inspired music from the 60's (James Taylor, Carole King etc) but moved on to the grunge and post grunge movements of the mid-late 90's (Rage Against the Machine, Matchbox Twenty, Live, Soundgarden, Pearl Jam, Alice in Chains) before landing somewhere in the middle with my love of glam/sleaze and good old 4×4 rock n roll (Aerosmith, Bon Jovi, Guns N Roses, Velvet Revolver, Alterbridge, Audioslave, Electric Mary, Crashdiet). I learned a lot about lyrical arrangement, story telling and harmony from the folk era but have been really captured by the force and power of the later styles. I'd like to think that within Sunset Riot we can capture both a well told story and a powerful picture.
What kind of movie do you think your music would be best suited to and why?
A sci-fi epic (Think the Matrix meets Terminator 2) or a an action thriller like Crank or Fast and the Furious. We're energetic and fun, what else needs to be said?
For those reading this who haven't yet had the pleasure, how would you describe 45 minutes spent at a Sunset Riot live show?
Sweat-soaked, exhuberantly energetic, fast-paced, out-of-control madness with double and triple shots of guitar hero moments and sing along choruses. A swaggering circus of rock n roll that will catch you completely off guard and leave you breathlessly smiling.
You have a bunch of shows coming up in the USA in June, how did these come about and what are you looking forward to most about your trip to the USA?
Our USA Tour talks started after we signed up with Delaware based Mama Trash Promotions (69 Eyes, Acey Slade and the Dark Party, Dope Stars Inc, Lord of the Lost). We are the only Australian based band on her roster so we started talking about doing some shows with some of her international artists. She's putting on a festival in Philadelphia which will include performances by Trash Gallery (Can), Acey Slade (USA) and Sunset Riot as well as a few other bands from around the globe. The rest of our tour has grown around that. I'm probably most looking forward to play in front of so many different people every night. I am an Aussie through and through but we have vast distances between our major population centres so it will be cool to drive less and play more.
You hail from Sydney, for those reading this in galaxies far, far away, what do you have to say about the rock scene from which you originate?
The best word for the Sydney rock scene is 'growing'. We've seen a distinct rise in the number and quality of rock bands in Sydney even in the 2 years we've been playing. The rock scene is still very much underground but its rising rapidly. Don't be surprised if you see quite a few international exports over the next 5 years.
Of the gigs you have played so far, is there one that stands out from amongst the rest?
Either the time we played in front of 3,000 to 5,000 on a floating stage on Darling Harbour for the FIFA FanFest or playing front of 350 people at our local pub the Fitz. Totally different rush with each one, although I do have to admit that I much prefer intimate, packed, sweaty pubs because we can get up close and personal with the fans.
With 2011 already a few months down, here's a chance to gaze into your crystal ball.  In 2011, Sunset Riot will have:
1. Our very first music video
2. Our first international tour
3. A new recording to release
Essential Information
From: Sydney, Australia
Sounds Like: "Party Rock, if you like a little swagger, a little tongue in cheek and a lot of guitar hero."
Band: Del – Vocals, JP – Guitar, Ziggy Scott – Guitar, Resh – Drums, Jazz – Bass
Website: www.sunsetriot.com.au
Latest Release: Sunset Riot (EP)