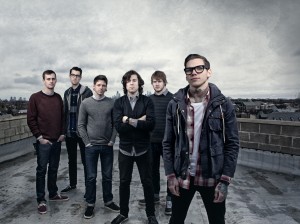 "We are very aware of expressionism and its foundational role in music, and when we play shows we aim to express the emotions that make the songs."
The Devil Wears Prada in their six year career have released four albums, a DVD and an EP and have risen to the top of the Hardcore genre of music.   Their fourth, and newest album 'Dead Throne' is being touted as their best yet and there is no sign of them slowing down.  Currently on tour in Australia, singer Mike Hranica was cool enough to answer a few questions for us about the new album and touring.
Mike…
Your newest album Dead Throne has just been released, whats the reaction been to it so far?
We've been really pleased with the reaction. Not to sound monotonous or redundant, but it's truly wonderful to put insane amounts of time and effort into something and receive positive feedback.
In regards to the album, how did the idea of covering Idols as the main theme on Dead Throne come about?
It was just something very natural to me: I knew it was something I could write about (very easily) and I felt it was a subject needing to be thoroughly covered.
So how did the songs come together for this album, was it an easy process?
I wouldn't say easy, because there was endless amounts of time that went into making the songs. I can say that we mesh pretty well together when it comes to writing. Of course there is disagreement and arguments, but we're pretty used to it by now.
I love the cover art, who came up with that?
The idea itself was Chris, the colors and sort of materializing was me, and Dan Seagrave painted the cover.
This new album is so heavy that it's ridiculous, it certainly woke me up this morning, was the intention to absolutely turn the volume up to 11 on this one?
Yeah I suppose so. Obviously there are always higher expectations when making new music, and for Dead Throne that was coupled with the fact that we really had an idea of what we wanted to do.
You also took a turn away from the past where previously there was the inclusion of funny song titles, but steered away from that on this new album, was that a conscious decision?
Yeah absolutely. We did goofy song titles because we didn't want to put the time into serious ones, and with the growth of the band and what it has become with our band, now is the time to put the effort in. I'm most pleased with the decision.
You worked with Adam Dutkiewicz as producer on this new record, why was he the right choice and did he bring anything to the table that blew you away?
Most certainly the right choice and Adam's abilities definitely blew me away. To put it plainly, I consider Adam a mastermind in working in heavy music. Unparalleled talent.
 You are heading back to Australia in Rocktober to kick off your new tour, are you pumped to get out there and play the new material?
Definitely, we just landed in Australia today and I'm so excited to be playing shows again, as well as the chance to be back in Australia.
What can fans in Australia expect this time around compared to previous visits?
I usually just say wholeheartedness. We are very aware of expressionism and its foundational role in music, and when we play shows we aim to express the emotions that make the songs.
How long do you plan on being out on the road in support of Dead Throne?
Ah it's really impossible to tell.
Earlier this year you played the main stage at the Download festival in the UK, how was that experience?
It was our second time playing Download, and we were very happy to have the opportunity. The set went over really well and we'll happily be back to play Download again sometime soon.
In the five years since your first album, how do you feel you've grown as a band?
To entirely answer that question, it would necessitate me writing a novel. Progression is massive to us, and we always look to encompass that with each release and within all of our endeavors.
What do you hope to get across to people with the music of The Devil Wears Prada?
Our message of faith is most important, but we also look to bring anything positive. Anything to help folks better their lives, as plain as that might sound.
Lastly, do you have a message for your Australian fans?
Thanks for continuous support, and we're very excited to be back! Hope to see all of you guys soon on Dead Throne Australia Tour.
Essential Information
From: USA
Band members: Mike Hranica – Vocals/Lyrics, Chris Rubey – Guitars, Jeremy DePoyster – Guitars / Vocals, James Baney – Keys, Daniel Williams – Drums, Andy Trick – Bass
Website: http://www.tdwpband.com/
Latest release: Dead Throne (2011, Roadrunner Records)
Check out our review of 'Dead Throne' here…
Tour Dates
Oct 22 Billboard Melbourne, Australia
Oct 23 Billboard Melbourne, Australia
Oct 24 NSW University Roundhouse Sydney, Australia
Oct 26 The HIFI Brisbane, Australia
Oct 27 The HIFI Brisbane, Australia