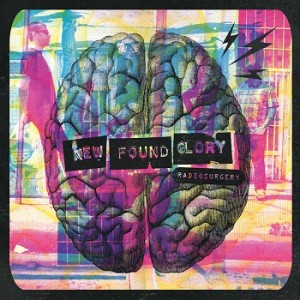 In anticipation of the September 30 release of their new album, Radiosurgery, beloved pop punkers New Found Glory are unleashing a new video for the record's title track.
The video clip for "Radiosurgery" is a hilarious, high-energy homage to the classic Ramones' video for "I Wanna Be Sedated."
The video features New Found Glory performing their song in an unremarkable hallway as an increasingly Felliniesque parade of riff raff, including celebrities, politicians and strippers, commit acts of joyful debauchery around the seemingly unaffected band.
Radiosurgery is a fresh take on the melodic and highly energetic musical trajectory that New Found Glory embraces, while also paying tribute to the bands that inspired them to first pick up their instruments as teenagers. The band was aided by producer Neal Avron, who worked on New Found Glory's 2002 album Sticks and Stones and 2004 album Catalyst (both certified Gold Albums), as well with artists such as Fall Out Boy and Linkin Park. The new record's sound possesses the signature New Found Glory mix of guitar fueled pop hooks and rousing vocal choruses that are sure to appeal to both diehard fans and new converts alike.
Check out our interview with NFG vocalist Jordan Pundik right here…
Essential Information
From: USA
Band members: Chad Gilbert, Jordan Pundik, Cyrus Bolooki, Ian Grushka, Steve Klein
Website: www.newfoundglorystuff.com
Latest release: Radiosurgery (September 30, 2011, Epitaph Records)