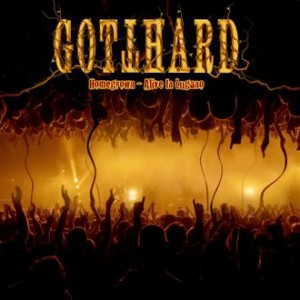 In 25 words or less: For me, there is no singer I love to hear sing a "ballad" more than Steve Lee
Gotthard may not exactly be a massively well known entity outside of their native Switzerland, but that sure isn't a reflection of their exceptional musical quality.  When it comes to delivering classic hard rock, very few have done it consistently better than Gotthard.  In vocalist Steve Lee, Gotthard possess(ed) one of the greatest voices in rock, something I personally have no hesitation in stating.  With my wavering use of possess and possessed, it's still somewhat hard to accept that tragically on the 5th of October 2010, Steve Lee died during a motorbike trip through the USA.  It therefore comes with some tragic irony that this upcoming release Homegrown: Alive In Lugano captures one of Steve's last ever performances, at an event in their hometown organized by Harley Davidson bikers on the 17th of July 2010.  In front of 20,000 people, the concert held particular significance to the band, with all Gotthard band members being enthusiastic bikers themselves and with a history of performing at similar types of events.
Delivering a setlist covering the span of Gotthard's 20 years, it seamlessly blends together classic tracks such as the cover of Hush off the band's very first release way back in 1992, through to newer tracks off their phenomenal 2009 release, Need To Believe such as Unconditional Faith complete with a choir of bagpipes.  For me, there is no singer I love to hear sing a "ballad" more than Steve Lee and the acoustic medley which contains Angel and One Life, One Soul is magical, but the performance of Heaven will surely bring a tear to any Gotthard fans eye?
The little moment of vocal versus guitar of Leo Leoni improv on the other hand displays the raw, sheer power of Lee's voice, while the crowd sing along to Lift U Up hints at the connection between band and crowd that night.  Whilst no live audio recording could ever truly give the perspective of the intensity of a live show, guitarist Freddy Scherer provides his memories of this particular performance…" Steve was warmer and more cheerful than he had been in a long time.  The chemistry between him and the audience couldn't have been more intense, despite the fact that there were more than 20,000 people standing on the piazza.  It is a stroke of good luck that we recorded this memorable concert, for unfortunately it was one of the last ones with Steve."
Alas, the promo version of this release that has been sent for review only contains the audio CD, the package that will be available from September 30th also contains a DVD featuring a gig Gotthard performed in Lugano on the 31st of December 1999, which welcomed in the new millennium.  Also on the DVD release comes interviews with the remaining members of the band, packaged as an up market high-end digipak version full of live pictures amongst the artwork.
This release, along  with the inclusion on the CD of the previously unreleased studio track The Train, closes one chapter in the history of Gotthard, with the band currently searching for a new lead singer.  As one of the most underrated and undervalued hard rock bands in the world outside of their native Switzerland, may the legacy of Steve Lee and this chapter of Gotthard live strong.
PS: Made In Switzerland is another Gotthard live release that demands your purchase if you haven't yet got it!
Check out our interview with Hena Habbegger back in 2009…
Essential Information
Release date: September 30, 2011
Label: Nuclear Blast/Riot! Entertainment (Australia)
Website: www.gotthard.com
CD track listing:
1. Intro
2. Unspoken Words
3. Gone Too Far
4. Top Of The World
5. Need To Believe
6. Hush
7. Unconditional Faith
8. Acoustic Medley 2010
9. Shangri La
10. I Don't Mind
11. Heaven
12. The Oscar Goes To…
13. Lift U Up
14. Leo vs. Steve (guitar- / -vocal solo
15. Sister Moon
16. Anytime Anywhere
17. The Train (unreleased studio track)