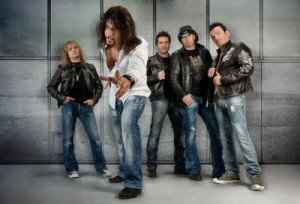 If you are reading this interview and are scratching your head thinking "who the hell are Gotthard", then you can be forgiven. If this world was perfect, then Gotthard would be known as Switzerland's most famous export, rather than a couple of tennis players, Toblerone and Swatch watches.
Switzerland's most popular ever rock band, Gotthard are about to release undoubtedly their best album ever with "Need To Believe" on September 4th. Full of exceptional quality classic melodic rock that is equal to ANYTHING released by ANY band on an international scale, it is destined to be the album that breaks the band on a global scale.
Already with over 2 million sales worldwide during their 18 year career and with "Need To Believe" poised to be the bands 12th consecutive #1 album in their home country, drummer Hena Habegger called in to talk about the pending release and what's in store for fans of Gotthard in the coming months!
Hey Hena, thankyou for calling in, how are things going in Switzerland right now?
Hello Scott, Switzerland is very hot today, 35 degrees celsius and everybody is sweating! But, the promo for the new album is about to go wild. We just did some promo for the Italian press. Everybody is really excited right now about the release in 2 weeks time.
Congratulations on "Need To Believe", in my view it's destined to be one of the best rock albums released this year. With 2 weeks to go before the album is released, are you getting ready to celebrate yet another #1 album release in Switzerland?
Well I am glad to hear your comments, it makes us happy to get that great feedback. We think we should get another #1 album, however that depends if Michael Jackson still has 10 albums in the Top 10, so we shall see. We are glad that the album didn't come out a few weeks ago or we wouldn't of reached #1. But I think we will reach it, we will do it!
Can you give us a bit of background into the recording of the album, was it in your home City in Switzerland?
Yes it was, recorded in Leo's home studio. We opened up the whole house and put microphones in all the rooms etc. The studio is in the basement, but then we had a huge room to record the drums and open space to record all the other instruments.  We spent about 9 months on pre-production and songwriting, but the recording ended up being very quick. Our producer Richard Chycki brought in some ideas for arrangements during the recording process which was great. We ended up with about 20-25 songs and ideas and then we ended up choosing the best ones.  We also recorded this album during the Spring, whereas "Domino Effect" was during winter so that's why that album was a bit depressing haha!
You mentioned Richard Chycki who has previously mixed/engineered/produced for the likes of Rush, Aerosmith, Mick Jagger, Simple Plan, Pink, P. Diddy and Shawn Colvin. How did you come to work with Richard for "Need To Believe".
We decided this time we wanted a producer for the album so we don't have the stress and so we could concentrate on playing our instruments and take the pressure away a little bit. We were trying out a few producers and we flew Richard in, in September to have a try. We produced a demo, but it was obvious that the chemistry was there from the first moment.  It took a while for us to adjust to not being in control of the production ourselves, but it was like a democracy and we really were still in control. It was a very good connection between us all. In the end we were very glad we did it this way.
The album is titled "Need To Believe" and the cover portrays a hand squeezing water out of stone. Can you share the meaning behind both?
Well we were looking all over for the right album title but we were getting nowhere. We ended up looking through song titles, but we never really thought that "Need To Believe" would be the title track off the album. But then we thought, with 18 years together as a band, we still believe we are going to make it and the term "need to believe" had authentic meaning to us.
Obviously once you have a title, you then need a cover. Steve (singer Steve Lee), came up with the idea of pressing the water out of stone symbolism because if you really believe it, you can maybe achieve it. We wanted to have something "catchy" and something that would suit our merchandising and create a positive strong image.
"Need To Believe" really is a term that has meaning for everybody. Everybody wants to achieve a dream, or reach a goal. As a band we have believed and believed and got better and better.
What are your personal favorite tracks off the new album ?
Well "Right From Wrong" is a strong kick ass song that's great for drumming. "Need To Believe" we chose as the first single which we knew would guarantee some airplay for us as radio would never play a song like "Right From Wrong". "Shangri-La", "Unspoken Words", "Unconditional Faith". There's nothing I really don't like, I just like some more than others.
You mentioned about radio airplay just before. Given the popularity of the band in Switzerland, obviously the Swiss people like rock music. What is the music scene like in Switzerland?
It's probably much the same as everywhere, radio in Switzerland is very mainstream, radio is very boring. Swiss people love rock music and that's why everyone goes to the open air festivals to ROCK, because they can't hear it on radio. Radio is maybe 30% of local Swiss music and the rest is, how do you describe it "mass produced food". It's pretty much what is popular in the UK or Billboard charts. We do have lot's of really good Swiss musicians and Swiss bands and even some Swiss rappers, who sing in French. The Swiss music scene really isn't that bad at all, it's just a little country, but something is certainly happening.
What have been some of the most memorable moments and opportunities that being in Gotthard has presented you with?
What really blew me away was in 2003 we played in Russia at the Kremlin. We were specially invited by Putin and we were granted special entry into the country where we didn't even need passports. We were picked up straight from the airport and we arrived at the Kremlin and played for about 4,000 people. I thought it was like James Bond! We were the first band to do that as an electric band. The Scorpions once played there, but they did it acoustically. That was a really really nice experience.
Outside of Switzerland, what do you consider to be some of your strongest fanbases? UK, USA, Japan, South America…..what about Australia?
Well Germany is very very strong and Austria. Scandinavia is starting to get really strong now and catch on in countries like Norway, Finland, Sweden. Spain, well what do we say, Spain is really starting to freak out about Gotthard! UK is slow at the moment. Every album we have virtually been and toured in Japan, so that is also good, along with Korea.  As for Australia, well we actually have an Australian Gotthard fans home page. (Click here to check it out). We need some more fans and then it would make sense to come and play. I have been to nearly every country, but not Australia. I would love to get there one day.
Next year, one of your songs will feature on an International movie release, "Max Schemling" can you tell us how that came about and did you write a song specifically for the movie?
Well the producer for the film wanted to have a song from us. So given we were recording at the time, we gave him our demos and said he could choose a song. He had an idea already for what kind of music he wanted for the scene. We thought for sure he was going to choose "Right From Wrong", but he chose "Unconditional Faith".  Now we have already done the video clip on the film set in Zagreb. So that's going to be a teaser for the movie and for promo, so we'll see. The flim clip will be very nice, it was like being in Hollywood! It was a nice experience, we have never done a film clip like that before. You need a really BIG budget to do those kinds of things, we don't have!
You have a busy touring schedule coming up throughout Europe, which includes playing your German shows with Europe. Last tour you played with Deep Purple, this time Europe…you sure know how to pick your bands to tour with!! Are there plans to take your tour to other countries in 2010?
Yes indeed! Both Deep Purple and Europe are/were co-headlining tours which is a great arrangements as both bands get to play a full set. 2010 will be a busy year and we will be doing all the festivals worldwide. That's as good as it gets.
We still have the album to come out and we are really positive about what's to come.
Really we need the support, it's up to you all to spread the word!
Essential Information
From: Switzerland
Band: Steve Lee: Vocals , Leo Leoni: Guitar , Marc Lynn: Bass , Hena Habegger: Drums, Freddy Scherer: Guitar
Websites: www.gotthard.com
Latest CD Release:  Need To Believe (2009, Nuclear Blast/Riot! Entertainment)