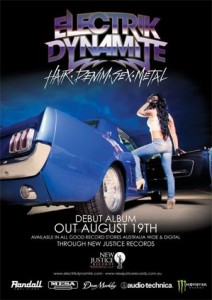 In 25 words or less:
Massive.Party.Metal.Anthems.
Made.For.Pumping.Fists.
Air.Guitar.Good.Times.
Comes.With.Keytar.
Crank.Loud.Made.To.Enjoy.
With a band name such as Electrik Dynamite, Hair.Denim.Sex.Metal as the album title and claims of delivering "party metal", it was a pretty safe bet that this Melbourne based 6 piece was going to deliver my style of hard rock.  But what I probably underestimated was just how good this album was going to be!  Taking a massive dose of 80's style heavy metal and hard rock, mixed with some modern lashings in a nutshell is what you get with Electrik Dynamite, oh and some MASSIVE gang vocals, and I mean MASSIVE!
The subduedness of instrumental Eternal Serenade is an interesting choice of opening track, but maybe that's just meant to be the calm before the storm!  You've gotta love when a song opens up with a massive chorus that is as huge as the one on So Alive, and that's our first real introduction to Electrik Dynamite, 1 minute of gang vocals and a massive chorus, before some galloping Iron Maiden'esque guitars take the song away, and for that matter it doesn't let up for the next 8 songs.  Depending on whether you dig Electrik Dynamite or not, this will either be a good or a bad thing.  But I mean seriously, what's there not to love when every song is a catchy fist pumping metal anthem sung with gusto by 'Maverick', the twin axe attack of 'Circus' and 'Flexx' shredding away, you have the wingmen of 'Ice' and 'Stinger' providing the pounding rhythm and then there's KEYTAR, yes people, that's right, KEYTAR courtesy of the bands only female member 'Cougar'.  Spanning nearly 8 minutes, the album does have a power ballad of sorts, Ik Hou Van Jou, this one an epic with some mighty fine guitar work.
The first thing that strikes you about the Electrik Dynamite sound, is a word that I have used repeatedly already in this review….MASSIVE.  With production coming from Lord Tim, front man of Australian power metal band Lord and prior to that Dungeon, it's no surprise then to hear a real power metal sheen and stylings throughout this album.  Electrik Dynamite certainly do not deliver your typical raw, down and dirty, Aussie rock sound, nor do they deliver a typical 80's "hair metal" sound.  For me personally, it's the distinct power metal musical influence that brings something a little different to the type of hard rock we have come to expect here in Australia.
As far as debut albums go, this one is MASSIVE…sorry, I couldn't resist using that word one last time for the ending!  Being probably more associated with the "hardcore" scene here locally in Melbourne, I urge those of you who have not yet checked them out, to do so pronto!  It's ok, there may at times be some modern musical stylings, but it's clean vocals all the way, no screamo!  It will be interesting to see the level of interest the band generate here in Australia, but I tell you what, there's something about this album that tells me Electrik Dynamite could be big in Japan, or Europe!  Melbourne, you've delivered again…
Check out our interview with Electrik Dynamite right here….
Essential Information
From: Melbourne, Australia
Check it out if you like: Party metal!
Record label: New Justice Records
Release date: August 19th, 2011
Producer: Lord Tim (Lord)
Websites: www.electrikdynamite.com
Latest Release: Hair.Denim.Sex.Metal (2011, New Justice Records)
Track listing:
1. Eternal Serenade
2. So Alive
3. Love Tonight
4. Midnight Rider
5. After Dark
6. Hotter Than Hell
7. Night Lights
8. Madsnakes
9. Built To Rock
10. Love Strike
11. Ik Hou Van Jou
12. H.D.S.M