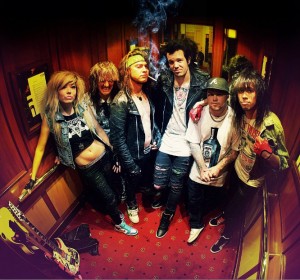 Official Bio: There once was a time where 'heavy metal' was not about how low your tuning was, how brutal your vocals were or how much double kick action the drummer could belt out. Once upon a time, heavy metal encompassed more – the passion, the conviction, belief in the god of metal… oh, and the hair! That time was the 80's. 6 souls were born from the wombs of 80's heavy metal, these 6 souls are Electrik Dynamite!
With songs that transcend the course of two decades of music, epic harmonies, unforgettable melodies, 80's keyboard flavoured pop hooks with a totally modern 'don't give a fuck' attitude, wrapped in an explosive live package of feel good fun and timeless rock-god stage moves, Electrik Dynamite are jumpin' in their F-14 Eagles (See: Top Gun, the movie) and settin' their sights on electrifying the masses.
"It's party time tonight……with Electrik Dynamite!"
Produced by Lord Tim from Australian metal band Lord, the bands debut album Hair, Denim, Sex, Metal has just been released, with Midnight Rider as the lead single which you can check the video for right on this page. If you are in Melbourne this weekend, go see the guys at the House of Rock for their album launch!
We chatted with Duane "Ice" Jackson about the new album…
Let's start with the basics first – what brought the band together and what was the inspiration behind the band name?
Electrik Dynamite was initially started between myself, and our original guitarist Tim. We were and are still avid supporters of the local scene, whether it be hardcore, punk or of course metal – but we were two of the only dudes around at hardcore shows that looked like we loved rock 'n roll. We had been mates for awhile then, so we joked about starting a band like 'Steel Dragon' from the movie Rockstar – eventually after deciding we'd actually do it, friends fell into the pieces and Electrik Dynamite was born. The name came easy one night as our singer, Ryan, and our old drummer were watching Tenacious D's 'In the Pick of Destiny' and the quote 'You dudes are like… electric dynamite!' hit the screen.
Can you introduce each member of your band and give us a rock "n" roll fact or myth about each of them?
I'll start with myself… Duane "Ice" Jackson. I'm the bass player, and I once ate shit trying to jump over a chest high ledge during the first song of our set. I landed on my head… and I'm surprised I didn't break my neck. Up next we've got Ryan "Maverick" Reeve, he's our vocalist… and a legit tattooist by day. You can hit him up for sweet work at East Brunswick Tattoos, and he's tattooed a number of rad people in Australian bands. Sarah "Cougar" Lim plays keytar, and has been thrashin' out in various bands for the last 10+ years – and when you can't find her on the keytar in Dynamite, you can see her behind the keyboard in Australian metal legends Earth! Benny "Stinger" Clark is our skinsman, and works in high risk youth during the day. He once had a toaster smashed over his head by an angry kid… and last but not least, the Demon Twins – our axemen, Lockie "Circus" Knight, and Cam "Flexx" Slays. It's rumoured their guitar licks have awoken mythical legends like The Lochness Monster, the Tibetan Big Foot and the 3 Headed Dragon… but it's more than likely that because they both live on busy streets, along with their late night boozing and guitar playing – all they've awoken is their pissed off their neighbours!
You have twenty seconds in an elevator to try and convince someone to listen to your new album, Hair, Denim, Sex, Metal…what do you tell them?
If it's a dude, I'd just have to show them the front cover of the album. I mean, seriously… Michelle Minx's hot ass on there about to get into a Mustang with an equally hot ass. If it's a chick, I flip to the band photo – they either froth over 5 hot dudes, OR, they look at Sarah and in that current 'cool to love hot chicks, when you're a chick' thing that is going on, they fall in love with her.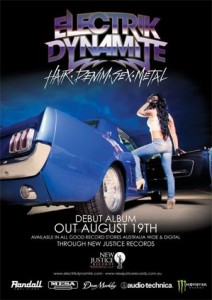 Speaking of the new album which is yet to hit the streets as I type this, how long did the process of writing and recording the songs take and what led to having Lord Tim from Aussie metallers Lord, produce the album?
Because I'm late with this reply, it's now hit the streets (August 19th!)… but to answer your question, writing took about 4 months, and the recording process was 2 weeks. We had only just got Cam and Lockie in the band, they joined a month before we went on a nationwide tour with Thy Art is Murder… and after listening to heaps of Lord in the van, we were like – why the fuck don't we get Lord Tim to do our record?! We were under the impression he had already heard of us, and we just wanted that uber polished power-metal esque production he gets – big vocals, clear as shit guitar tones, and pumping drum and bass. We hit him up when we got back home, and he was keen!!
In terms of your songwriting, what do you consider to be the most important ingredients that need to be present in an Electrik Dynamite song?
The bass. We could pretty much be just a bass guitar on stage, and we'd probably sell even more records!!! (You must have known I was joking when I started with "bass", right?! haha) But in all seriousness, I think the Electrik Dynamite sound comes specifically from Ryans vocal stylings and melodies. We've gone through various member changes, yet it always sounds like us because Ryan's there with that flavoured icing on the ED cake. Benny's drum skillset also sets us apart… if we had a legit 80's rock drummer, we'd probably sounds HEAPS like a band from the 80's, but with his funk/jazz through to death metal background, he brings a LOT to the table.
Is the process of songwriting a whole of band affair, or are there a few key contributors?
Cam and Lockie are the main songwriters, followed by Ryan. Ryan also writes some guitar licks, along with songs to bring to the table. Ryan's also the main lyricist, but I also dabble in lyrics – we work pretty well together when it comes to that. The next album we've already started writing for, we didn't want it to be a rushed process like the 4 months we had for Hair.Denim.Sex.Metal. I think you'll hear a lot more emphasis on song WRITING with the next album… there's already a lot more flow and movement in the early songs. We're excited, now we've had a year to play together as this lineup – we know our strengths and weaknesses, and it'll help mould our new songs.
Checking out your website and promo material etc, there are numerous references to "party metal", does this "party metal" theme translate through into any lyrical themes that might be on the album?
Originally the term 'Party Metal' came from the fact we were sick of being called 'glam'. We know what REAL glam is, and we're nothing like it. People who had seen us live were always like 'Seeing you guys is like a big party!! All we do is smile and want to drink more booze!", so along with the aforementioned and the fact we do have some songs about partying we thought we'd coin ourselves 'Party Metal'. Maybe one day we can party hard enough to be considered 'Andrew WK Metal'!!
Just listening to your first single from the album 'Midnight Rider', I can hear a range of musical influences/styles. What or who would you say inspires/influences your music the most?
The most? That's honestly hard because all 6 of us love so much different music, and as individuals we're influenced by so much. Sonically, and maybe on first listen – the choice would be Iron Maiden, but apart form the gallops and the harmonies, we don't sound much like Maiden. If you took Maiden, mixed with Van Halen and Def Leppard, sprinkled with some Steel Panther and cooked it inside an Avenged Sevenfold oven before letting set on the Trivium table, maybe then you'd be right. But that being said, the latter two bands aren't really an influence parse.
Hair, Denim, Sex, Metal…that actually sounds like a movie title in itself. However, in your mind, what kind of movie do you think your music would be best suited to and why?
Haha! If only it was a movie. Funnily enough, and most specifically – our song Built to Rock – has been akin to a Rocky soundtrack song. I've had a few close friends, unrelated, smash out heaps of air punches when listening to it, and being all like "Dude, this is SUCH a Rocky song… it needs a montage!". As an album at large, I'd love to say Top Gun (as you'd expect from the callsign stagenames we've got), but it'd probably be closer to Days of Thunder. High speed racing scenes, sex scenes, good hair and getting frisked on the side of the road by a stripper in a police outfit. HELLO!
There are 2 things I think should exist far more in music…KEYTAR and cowbell. You guys, or I should say gal have brought the keytar back (aside from Psuedo Echo of course haha!), can you tell us all about the role of the keytar in Electrik Dynamite!
Sarah's played keys in so many bands in the past, and a lot of the time it's atmospheric – very strings orientated. When she joined Dynamite, initially it was a keyboard as well – but being quite a good guitarist/bassplayer as well, and sick of being stuck behind a keyboard, she thought she'd bring the keytar back. Originally there were a lot more key/synth specific sounds in our songs before we recorded with LT, but he felt that selective keyparts would be better fitted to the songs – which we collectively agreed on. Because of the albums production, some parts are impossible live – so we believe that the keys really make our live show production stand out, as Sarah has the ability to bring back some of the crazier sound patches and fill out some of the stuff we do. As for cowbell, we definitely need more cowbell… I think Benny's actually integrated it into his live setup permanently, so this bodes well for future Dynamite songs!! haha
For those reading this who haven't yet had the pleasure, how would you describe the experience being at an Electrik Dynamite live show?
Fun. If you've ever been to a show, and found yourself arms folded, sneering at the band – wondering why they look so fucking boring on stage, like it's a chore – then, well, you're obviously not at an Electrik Dynamite show. We move around, interact with the crowd, get drunk, and just bring an energy and attitude that we'd like to think lived in the 80's. Our sets aren't perfect, but we always put in 110% and have a shittonne of fun doing it.
For the benefit of those reading this in galaxies far, far away, what do you have to say about the current state of the rock scene in Melbourne, Australia right now?
Probably the best it's been for a long time. Rock as a whole is on it's way back, the only unfortunate thing is we're quickly losing venues to play in. Almost every night of the week you can catch a rad rock band around town, but now you need to hit up some of the less known pubs/bars etc to see them. Luckily we have great rock bars like Cherry Bar and Ding Dong Lounge, pubs like The Tote and alternative/rock clubs like Bang, Next, House of Rock and Back in the Day.
With 2011 already over half way down, here's a chance to gaze into your crystal ball. In the remainder of 2011, Electrik Dynamite will have:
1. The album in stores. Oh wait… that's already happened
2. Be on the road throughout September on the back of the album release
3. Finally got a management and booking team behind them with plans to get back out on the road. (we hope!)
Check out our review of Hair.Denim.Sex.Metal right here…
Essential Information
From: Melbourne, Australia
Sounds like: Party metal!
Band Members: Maverick – Vocals, Circus – Guitar & BVs, Flexx – Guitar, Ice – Bass, Cougar – Keys, Synth, Keytar & BV's, Stinger – Sticks & Skins
Websites: www.electrikdynamite.com
Latest Release: Hair.Denim.Sex.Metal (2011, New Justice Records)