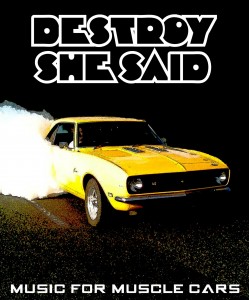 Big, fat, chunky, pounding riffs, screaming solos, raw as razorblades vocals and a style of rock that upkeeps the tradition of the true Aussie pub rock pioneers such as Rose Tattoo, The Angels and AC/DC.  That in a nutshell is the style of rock that Destroy She Said hit us with on Music For Muscle Cars.  In the bands own words "it's the soundtrack to Melbourne's underbelly, stripped back, hard edged, no bullshit rock n roll".
Destroy She Said is for those that love their music loud, raw, sweaty and soaked in beer, and what better place than The Espy Front Bar for the band to launch Music For Muscle Cars on Saturday, October 15.  So head on down, check em out and grab yourself a beer or 10!
We caught up with Destroy She Said's rhythm guitarist Youngy who filled us in on all you could want to know about Destry She Said….
Let's start with the basics first – what brought the band together and what is the inspiration behind the band name?
I put together the first nucleus of the band together in early 2008. I started knocking songs into shape as a revolving three piece when a couple of old friends called, Dave Walker (lead guitar) and Greg Aldridge (drums) and with their inclusion everything went up a couple of notches.  At that stage we still didn't have a singer but people who had heard our early demos kept saying 'you've gotta get Simon McCullough, he'd be perfect.'  He's another old friend who I hadn't seen in 10 years, so I tracked him down and away we went.
Our name comes from a movie from 1969/70 called, funnily enough, 'Destroy She Said.' I've never seen it but in the screwed up 80's movie, 'Polyester', there's a scene in front of a drive in and on the billboard listing what's on, right down the bottom is 'Destroy She Said'.
You have twenty seconds in an elevator to try and convince someone to listen to your music, what do you tell them?
I'd hand them a copy of our new EP and say 'Listen to this. It may kill you, but not as quick as this shitty elevator music will.'
Can you introduce each member of your band and give us a rock 'n' roll fact or myth about each of them?
Simon McCullough (vocals) The real deal rock 'n' roll singer, not a front, not something he turns on, it's just the way it is.  A triumph of art, Simon has died more times than Nikki Sixx, and he's pretty sure he still holds the record for the longest, car chase in Victorian police history.
Dave Walker (lead guitar) Dave's a gifted guitarist and multi instrumentalist, he can pick up anything and play it.  He could play Randy Rhoads songs that sounded just like the record when he was seventeen.  Dave doesn't have an ego, which is real cool.
Scampers (bass) There are things known and things unknown and somewhere in the middle is Scampers.  One hell of a bass player, Scampers lives under a bridge, and doesn't say too much.
Greg Aldridge (drums) The rock drummer. Greg has played with everyone, he's the closest thing to Phil Rudd there is.
Youngy (rhythm guitar) I'm just the glue; I hate gold hardware on guitars and if your band's rubbish I'll tell ya!
You are soon to release your 2nd EP 'Music For Muscle Cars'. How would you describe the EP?
Four of the toughest, fattest, over the top pub rock songs you're likely to hear all year!
In terms of your songwriting, what do you consider to be the most important ingredients that make up a Destroy She Said song?
Good riffs, a big chorus that punches you in the face and cool verses – the usual stuff.  It also has to pass The DSS Rating System.
Is the process of songwriting a whole of band affair, or do you have a few key contributors?
It's a band affair as a rule. I normally present the basic idea with guitar parts for the verse and chorus as well as the lyrics for the chorus. Then everybody comes in with their own ideas and the monster is born.
What or who inspires/influences your music the most?
All the stuff that probably got us into music to start with – everything that is cool and still makes you wanna kick the stage and shake the walls.
What bands did you grow up listening to and how did they help create the style of music that can now be heard throughout your music?
Stuff like The Angels, AC/DC, Rose Tattoo, Credence, Neil Young, Black Sabbath, Stones, Skyhooks, The Sweet – that was the stuff my older brother was playing around the house.  It sure beat the Meatloaf coming out of my sister's room.
From there I got into Maiden, Motley, The Stooges, grunge etc – all sorts of stuff. It all formed a basis for what you hear now.
What kind of movie do you think your music would be best suited to and why?
There's probably a better answer, but the Spielberg movie Duel (1971), where the truck is terrorising the car along the highway. It's a good fit only because we're, mysterious, intimidating and right up your arse!
I know you have played a bunch of gigs around Melbourne town supporting the likes of Electric Mary and packing out the Cherry Bar.  What can one expect from one of your live shows?
A killer set of hard rock songs, played tight, loud and in your face – men playing men's music, not boys trying to play men's music. There's a difference.
For those reading this in galaxies far, far away, what do you have to say about the Melbourne rock music scene at the moment?
Tons of bands, lots of cool bands.  A few too many hair bands around with crappy songs.
With 2011 already over half over, but still plenty of time to be conquered…here's a chance to gaze into your crystal ball.  In 2011, Destroy She Said will have:
Successfully launched two EPs and a single, played a bunch of great gigs, grown musically and lifted our profile exponentially.  That'd be a pretty solid year I reckon.
Check out our review of Music Is For Muscle Cars right here… 
Essential Information
From: Melbourne, Australia
Sounds like: No bullshit rock n roll
Band website: www.destroyshesaid.com.au
Latest release: Music For Muscle Cars (Oct 9th, 2011, Independent)