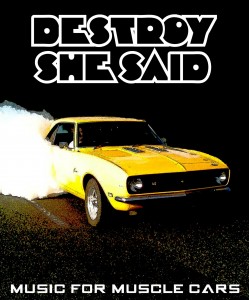 With a title such as Music For Muscle Cars, my ears couldn't help but already form an opinion of what they were going to hear before I had pressed play on this the second EP for Melbourne hard rockers Destroy She Said.  Big, fat, chunky, pounding riffs, screaming solos, sharp as a razorblade vocals and a style of rock that upkeeps the tradition of the true Aussie pub rock pioneers such as Rose Tattoo, The Angels and AC/DC.  That in a nutshell is the style of rock that Destroy She Said hit us with on Music For Muscle Cars.  In the bands own words "it's the soundtrack to Melbourne's underbelly, stripped back, hard edged, no bullshit rock n roll".
Throughout this, their 2nd EP, the band delivers a huge, live and raw sound.  First single Game Over pretty much slams your senses with it's bludgeoning guitar riff and nestled at the end of the EP, it's almost as if it is intended to be that final knockout blow, that's if you survived the opening assault of Drivin' Machine?  There's a hint of the likes of Monster Magnet (minus the psychadelica) with the bands monstrous stomping riffs and tongue in cheek tracks like Fanta Pants and Squirter, well they brought me back to the Bon Scott era of story telling ala The Jack! 
Destroy She Said is for those that love their music loud, raw, sweaty and soaked in beer and what better place than The Espy Front Bar for the band to launch Music For Muscle Cars on Saturday, October 15.  So head on down, support some local Aussie rock and grab yourself a beer or 10!
Check out our interview with Destroy She Said right here…
Essential Information
From: Melbourne, Australia
Release Date: October 9th, 2011-09-09
Record label: Independent
Website: www.destroyshesaid.com.au
Check it out if you like: Loud, raw, sweaty rock
Track listing:
1. Drivin' Machine
2. Fanta Pants
3. Squirter
4. Game Over