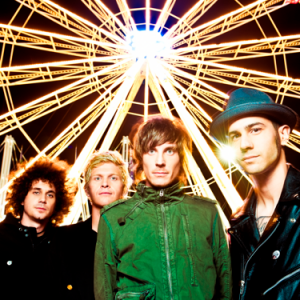 After taking a well deserved few months break in recent times, Gyroscope are set to get back to what they do best and that's playing live.  But this will not just be another Gyroscope tour, with The Choose Your Own Adventure tour, the band are letting you, the fans, choose the setlist you want to hear on this tour.  Already throwing up some surprising results on Facebook, it looks like these will be shows not to be missed.  So if you are heading to the shows, make sure you vote for the songs you want to hear on the bands Facebook page – http://www.facebook.com/GyroscopeMusic
Whilst a couple of the guys have travelled the world during their break, the bands front man Dan Sanders has been putting his energies into house renovating!  We had a quick chat with Dan about the upcoming tour and what else is on the horizon for Gyroscope.
Hey  Dan, thanks for taking the time to chat today!  So first things, first, you guys have had a bit of a break for a few months.  I think I read that this has been one of your longest breaks apart for the band?
Yeah it's pretty weird.  Even though it's only a three month break, it's the longest break we've had.  You hear of bands that take one or two years or even longer for their breaks, but two or three months for the Gyros is pretty weird. We saw each other last weekend for Brad's 30th birthday and he's the baby of the band, so we are all getting to that age now.   He came back from overseas with a beard, which was funny; I didn't think he could even grow facial hair haha!  So it's all good man, we're back and ready to get in the rehearsal room and learn some of these songs again.
Speaking of which, you are heading out on the Choose Your Own Adventure tour next month.  What or who gave the idea to allow the fans to vote for the setlist on this tour?
Well our manager called us up and asked if we would all be back and around and keen for a tour in October/November.  So spur of the moment I said we should do something cool for this tour.  So we explored some ideas and I said how about if the fans can choose the setlist online via Facebook or whatever?  So it was a bit of a collective between her and I.  I think it was our booking agent Edwin that came up with the name Choose Your Own Adventure Tour.  When he came to us with that, we thought we couldn't have thought of a better name.
The voting has been open for a little while now, have you paid any attention to what songs are leading the voting so far?
I wouldn't have a clue brother, I'm kind of just waiting for when the voting is over.  I don't really want to get updates etc.  I'm sure when the voting is done with our manager Rae will get back to us and say this is what the fans have voted, now go get in the rehearsal room and bloody learn them haha!  Hopefully there's not too many shit songs in there, but we can't really help it, it's up to the kids!
Haha, well that's the thing, who knows what songs you might need to rehearse!
Well I was saying that to someone else the other day and they said that maybe some of the songs you think might be gimme's, the fans could be over them and sick of.  It's just a relief off us though, every time we go and tour there's the issue of trying to come up with a new and exciting set list, whereas this tour that's the fans doing that!
You are setting off with a bunch of regional W.A dates, do you find that the reception for the band is stronger there in your home state?
Well back in the day maybe, but we called Sydney our second home for a while, as things were really vibing over there.  Adelaide is another place since day one, when we were playing at the Enigma Bar or wherever it was, it was really good too.  Then again Brisbane has been really good.  So it always changes and really depends what's happening at the time.
And just on the regional shows, is that something important for you guys given you are from Perth which quite often misses out on tours, particularly international bands!
That's right, we are always saying Melbourne and Sydney, you are always getting all the bands, especially the international bands.  The amount of times we missed out on bands growing up, it's a little better now, but back in the day it was really hard.  It was really hard for us too, it's a big distance from other cities, but dedication to the cause, and you've just got to get over it.  You might take a hit with the cost of flights, but you can make up for it be merch sales or whatever so it all evens out in the end.  We started off our touring life in W.A going to Geraldton or Esperance and Margaret River so it's a bit of a tip of the cap as well, going full circle and doing some of those old places again.
You have certainly built up a strong reputation for your live show.  Was there a defining moment or piece of advice very early on that set the tone for your live performance?
You know we've played with that many bands I suppose that we take a pinch out of everyone.  Jebediah was one of the first ones, being the Perth band at the time.  We were of a similar age, maybe a bit younger and we were jest starting off playing music and inspired by Nirvana and all that sort of grunge era.  So to play with Jebs was a big thing and to get our first tour with the Jebs of regional W.A went well and was kind of a tester for them and us.  That worked and then they took us on a national tour and picked up a lot from that.  Even things like knowing when to drink and go hard and when to be professional and finding that balance.  So we were just absorbing it all, then you get gigs like The Living End, a professional band so you think OK we better not goof around as much on this one.  At the end of the day we wanted to be a bands, band and just made sure we held ourselves good with other bands so you've always got work I suppose and someone always wants to take you on tour.  That's kind of what we look for these days in our support bands.  Good music yeah, but as long as you are good dudes!
It's been about 18 months since you released your last album now, where are you at with regards to a follow up, have you started doing any writing yet?
Nothing to write home about yet.  A few of the boys have headed overseas and travelled and seen the world and all that.  Us others have been at home and making sure the home life is kicking on.  So it's been a good break from music, but being writers and artists, we are always doing something.  I've always got the acoustic and writing down some song, so there's always something in the works.
So just in closing, after this tour is done with, what's the plan for the next 6 months or so?
Well the silly season is coming up and you just put your hand up for New Years, Christmas or festival gigs, as it's just such beautiful weather.  So we will definitely put our hand up, but on the other hand there's life to be lived as well, so we will enjoy the Christmas break as you do.  But for now we will really focus on this upcoming tour as it's been our only real movement for a while, then we will wait and see what happens from there!
Essential Information
From: Western Australia
Band members: Daniel Sanders, Rob Nassif, Zoran Trivic, Brad Campbell
Website: www.gyroscope.com.au
Latest release: Cohesion (2010, Island Records)
Tour dates: STREET PRESS AUSTRALIA, BOMBSHELLZINE, NEW WORLD ARTISTS & CRUCIAL MUSIC PRESENT: THE CHOOSE YOUR OWN ADVENTURE TOUR OCTOBER AND NOVEMBER 2011
Tickets on sale now!
THURSDAY OCTOBER 20 – PRINCE OF WALES, BUNBURY WA
Heatseeker: www.heatseeker.com.au – 08 6210 2850 – Heatseeker Outlets
Venue Box Office: 08 9721 2016
FRIDAY OCTOBER 21 – SETTLERS TAVERN, MARGARET RIVER WA
Heatseeker: www.heatseeker.com.au – 08 6210 2850 – Heatseeker Outlets
SATURDAY OCTOBER 22 – STUDIO 146, ALBANY WA
Heatseeker: www.heatseeker.com.au – 08 6210 2850 – Heatseeker Outlets
SATURDAY OCTOBER 29 – L'ATTITUDE 28, GERALDTON WA
Heatseeker: www.heatseeker.com.au – 08 6210 2850 – Heatseeker Outlets Venue Box Office: 08 9965 3776
WEDNESDAY NOVEMBER 16 – THE ZOO, BRISBANE QLD
Oztix: www.oztix.com.au – 1300 762 545 – Oztix outlets
THURSDAY NOVEMBER 17 – THE GOV, ADELAIDE SA *Lic. All Ages*
Moshtix: www.moshtix.com.au – 1300 GET TIX – Moshtix Outlets
Venuetix: www.venuetix.com.au – 08 8225 8888
FRIDAY NOVEMBER 18 – CORNER HOTEL, MELBOURNE VIC
Oztix: www.oztix.com.au – 1300 762 545 – Oztix outlets
Venue Box Office – www.cornerhotel.com – 03 9427 9198
SATURDAY NOVEMBER 19 – THE FACTORY THEATRE, SYDNEY NSW *Lic. All Ages*
Oztix: www.oztix.com.au – 1300 762 545 – Oztix outlets
Ticketek: www.ticketek.com.au – 02 9550 3666
Venue Box Office: www.factorytheatre.com.au – 02 9550 3666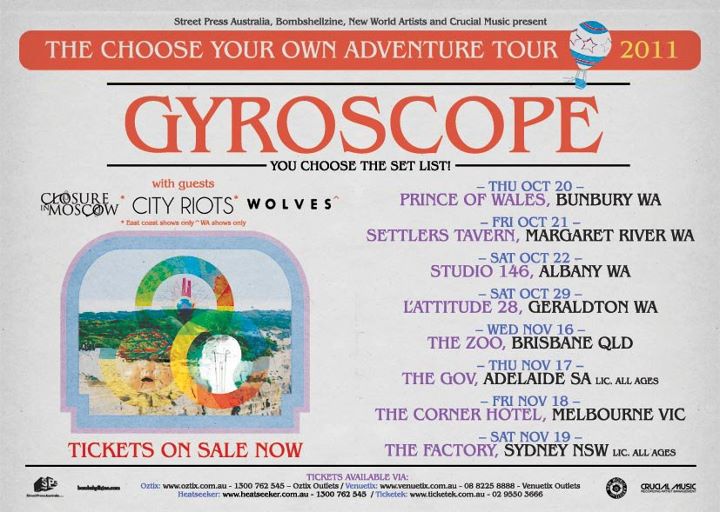 Comments
comments