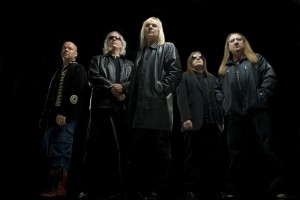 "Mick and Phil and Trevor as writers, have still got lots of creativity left in them.  It's like trying to tell Picasso, sorry mate you have to stop painting because you are too old.  It's in their blood, writers write, musicians play music…"
Uriah Heep's unique, progressive, classic rock sound has made them a mainstay of the rock circuit for four decades.  Celebrated for their musicianship, song writing and live performances, the band has released some of the most popular and defining music of their genre, having sold over 30 million records worldwide.
Heep' returned to Australia for the first time in 25 years earlier this year and have toured relentlessly throughout their 40-year career, performing in over 50 countries to millions of faithful fans, including headline performances at Redding and the prestigious Sweden Rock Festival.  In 1987 they became the first major rock act to perform in the Soviet Union, playing to audiences of 185,000 people.
But it's not all about live performances, following on from their celebrated Wake The Sleeper album a few years earlier, the band have just released a new studio album, Into The Wild.
Delving deep into the process of writing and recording Into The Wild, as well as learning of his love of Australian wine, we chatted with Uriah Heep vocalist, Bernie Shaw.
Hey Bernie, thanks for taking the time to chat.  So how are things going with yourself today, we find you in the USA right now don't we?
Not too bad thankyou, it's about 110 degrees outside today, so it's a hot summers day!
Where are you in the USA right now?
We are in Scottsdale, Arizona.
How is the tour going?
It's going really, really well.  We came over in mid June for a couple of weeks, then went back to Europe and did a bunch of the major festivals and then we came back here about 10 days ago now.  We are mainly doing outdoor festivals and state fairs.
Outdoor festivals, well have you got one coming up today in that heat?
Well we had a day off yesterday and the bus trip was a 36 hour drive, but the band opted for a flight so we had a day by the pool yesterday and then a show tonight.
Is Uriah Heep a band that has a strong following over there in the USA?
Well back in the day in the 70's there was quite a strong following, particularly around Chicago and the mid-west area.  But since I joined the band, we came over a few times, but we didn't really have a lot of major backing from the record companies.  It seems however that Frontiers have given us a 2nd bite of the cherry so to speak.  We came over last year for the first time in about 12 years, and again like this time, we did 2 tours.  It seems like all of a sudden people are coming out of the woodwork and saying that we have been listening to you guys for years, but you have not been around.  So they are starting to come out of the woodwork and are bringing the younger generation with them, so we are getting a bit of a two fold audience right now which is really, really good.
Your latest album Into The Wild has sold it's first pressing over in the USA?
Yes indeed it has, so Frontiers was definitely pleased about that, as is the band.  It just goes to show that after all these years if you release a good album and have a decent record company to help push it, people will come out and they are impressed.  They like the power of the band and the new songs.
So we are here to have a chat about your new album Into The Wild, how would you personally compare the recording process to your last release of new songs Wake The Sleeper?
Going back to the Wake The Sleeper album, that was when we changed our process to recording like we did back in the 70's.  That's all 5 of us in one room playing, not layering and recording separate parts, which can take forever.  We are all in one room, we are all playing and we will usually have 1 or 2 run throughs to make sure we know what we are doing and then we will have it done in 3 or 4 takes.  I think you can hear it, it feels live and that's because it is. We were using the same producer, Mike Paxman who we used on Wake The Sleeper and the 40th Year Celebration and we have great chemistry with him so it was a bit of a no brainer to use him on this album, it works good, it sounds good, let's stick with Mike.  We recorded the whole album in less than 4 weeks.
That's obviously a great relationship you have then with Mike Paxman?
Yes definitely, he knows the band inside out, he knows how we work and how to get the best out of us.  You know, we are not a band that likes to hang around in a studio, we are a live touring band, so if we can knock it out pretty quickly.
Which leads into the next question, given you are so busy as a live band, did you literally spend as little time as you could in the studio?
Well there was a little bit of pressure from both management and the record company.  They wanted a release date early in the year and having Christmas off, we said if we are going to do it, we are going to do it quickly then.  It would have been nice to have had a few more weeks for some pre-production.  We went into the studio with probably only half the album written.  Mick and Phil, they are writing constantly through the year, same actually with Trevor. But we didn't really have too much stockpiled so we went into the studio with 6 or 7 ideas so we would record during the day, then have dinner and then have do some more writing sessions.
After a few nice relaxing drinks…
Yes exactly, get those creative juices flowing, lots of that Margaret River stuff!
So where did you actually record the album?
Well our manager actually has a recording studio on what you would call his ranch.  His wife has about 30 horses and it's in the middle of a 500 acre plot, he has about 30 acres there.  It's right in the middle of Leighton Buzzard, which is about an hour and a half out of London, amongst rolling hills, it's lovely, it's quiet, and it's away from everybody. He's got a lovely spread there, it goes back to Hiratio Nelson, and it's the Nelsons' family house.  So we recorded there, it's a nice live in situation, he's got a pool there if we do have time to relax.
Well it sounds like a pleasant spot to base yourself for the month or so, that's for sure!
It was, it was very, very cool.  I used to be a professional chef, so I found myself cooking breakfast, lunch and dinner for 11 people everyday and we all gained a few pounds!
Haha, well at least you have plenty of touring to be working all that off!
But we aren't 22 anymore, so it does take a little while for it to burn off haha!
You mentioned how you were writing during the recording sessions, how much did that differ to Wake The Sleeper?
Well with Wake The Sleeper, because we were coming off a 10 year break, we had a lot of songs stockpiled.  So it was a matter of picking the best bakers dozen so to speak and then go for 2 weeks into the rehearsal room and work out if they are in the right key and BPM and everything, review the lyrics and make sure they are the lyrics we want.  That's where Mike Paxman is very, very strong as he has a very good ear and can hear a song finished in his head after only hearing a one verse and a chorus.  He's very good in that respect, he can knock them into shape on that side of things.  So 2 weeks with him and we basically had the whole package done.  Again, went into the studio and in less than 2 weeks most of the backing tracks were done.  We spent a bit more time on the vocals and the harmonies and everything and some finishing touches with the solos, but the album was still done in around 5 weeks.
As far as lyrically, where there any key influences or themes you really explored when writing for this album?
No, not really.  Mick and Phil write quite diversely so there's not usually a theme.  There was more of a running theme I think with Wake The Sleeper.  The whole idea when we put together an album is it's got to flow, its got to take you on a journey.  Like the old days with vinyl, and you would start on track 1 and then let it play all the way through, then you couldn't wait to turn it over and start side b and let that journey continue.  Pink Floyd were masters of that. Wake The Sleeper we kind of had that imagery of how we wanted to put it together.  It was a little different for Into The Wild and in the contract it says, Frontiers has got the last say on track listing, which was a bit odd for us because we take a lot of time to get the initial 3 or 4 tracks going that bring you in, then you have to keep it fresh and exciting.  We were very, very lucky that Frontiers heard it in the way we wanted it and just went "we cant better that, this is exactly what we want from a CD from Heep", so we were very luck and very happy.
I am sure this might be a tricky question as you would no doubt have a close affiliation with all the songs you record and perform, but what couple of songs did you particularly enjoy singing during the recording process and also of the new material you have performed live?
I like recording new material anyway and if it's a power ballad, even better and there is usually one epic or ballad on a Heep CD, which I have to say is one of our trademarks.  On Wake The Sleeper, it has to be What Kind Of God, that really, really stood out as a scorcher for me and I love the idea and the lyrics and the thought behind the song was fabulous.  On Into The Wild, probably it's Trail Of Diamonds, but in saying that I still love I'm Ready and that is our opening track to our live show and I think it just gets everybody's attention right now and also Nail On The Head, that's a great belter.  Now that it's firmly set into the set, we are so comfortable with it, songs do mature a bit as they settle, like a wine, as you play it live, now it's a real stonker live.
It was over 25 years since the band had played on Australian soil, how did you find the experience and reception the band received?
3 words, short and sweet.  I mean I have been with the band since 1986 and that was my first trip to Australia.  I don't know why so long, but I had a great time, spent more time in the air than I did on the ground.  As you would know, it takes 2 days to fly there and fly back and we only had 3 concerts, which were all back to back.  It was a very long way to go for such a short time on stage, but I loved every second of it and I ran into a couple of really old friends from Canada who was an old neighbour when I was growing up in my teenage years, so that was fabulous. We did also of course have some time to drink some lovely wine!  We do like our wine, a few are the bourbon drinkers who like their Jack Daniels, but the rest of us, we are old winos and we don't mind saying so.  I'd never experienced Margaret River before and wow.  As soon as I got back, I looked up who was the nearest retailer and I went out and bought half a case of their Cabernet Sauvignon and Chardonnay and it's just knocked me sideways, fabulous wine!  And I hear that's not even the best!
The band has visited over 50 countries during it's history and been pioneers in the sense of being the first rock band to open the doors to some countries such as Russia.  Is there any country thatyou haven't yet taken your live show that is on your list?
For me, it's got to be China.  There are still countries however like Columbia and Argentina, we yearly go down to South America to play in Peru and Brazil and we are going to Venezuela for the first time in October.  I would really like to open up the rest of South America, as I know they are rock n roll mad.  I'm quite good friends with Bruce Dickinson from Iron Maiden and those guys just go down and rock the place, you know they do the whole continent.  I just wish we could go and ride their shirttails a bit more on that.  But as a one off country, I would love to go to China.
With the likes of some of your contemporaries such as Judas Priest and the Scorpions for example currently embarking on farewell tours, what's on the horizon for Uriah Heep, I get the sense that there are no plans on slowing down for some time yet?
I think realistically we do want to give the Into The Wild album a good life.  It's going to take about 16 months in total to do a world tour and we are having way too much fun!  Mick and Phil and Trevor as writers, have still got lots of creativity left in them.  It's like trying to tell Picasso, sorry mate you have to stop painting because you are too old.  It's in their blood, writers write, musicians play music, so anything like calling the band quits, that's not even on the page at all.  New album, probably around mid 2012, but no later than 2013.  We are on a run now, people are pricking up their ears and going Heep!, they are still here and still doing ok.  The gauntlets here and we are still going to run with it!
Well Bernie, I really appreciate giving up your time and hope to see you back in Australia again enjoying some Margaret River wine in the near future!
Okie dokie mate, and yes I hope it's not going to be another 20 years before we come back to Australia.  We opened up a lot of friendships down there and we can't wait to get back down there and play more than just 3 shows.  It's a great place and we want to spend more time down there!
Essential Information
From: U.K
Band: Mick Box – guitar, vocals, Trevor Bolder – bass, vocals, Bernie Shaw – lead vocals, Phil Lanzon – keyboards, vocals, Russell Gilbrook – drums, vocals
Websites: www.uriah-heep.com
Latest CD Release: Into The Wild (2011, Frontiers Records/Riot! Entertainment)