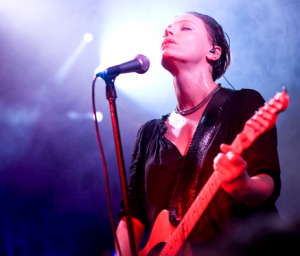 BABY ANIMALS RETURN FOR SPRING TOUR DATES
2011 has already been jam-packed for one of Australia's finest rock outfits, BABY ANIMALS. With a fearsome reputation for live shows, the band is preparing to showcase a selection of new songs alongside their much-loved crowd favourites, when they hit the road in October.
Suze and the boys kicked off the year with a scorching live set at A Day On The Green nationally with INXS and Train, playing to more than 30,000 punters all over the country.
Last month they headed over to their hometown Perth at the invitation of His Holiness The Dalai Lama, to play at his very special live event, "Songs For The Dalai Lama", alongside Tex Perkins, Tim Rogers, Katie Noonan and more.
In between they've been writing songs for their forthcoming new album, spending time in the studio cutting demos and preparing to unleash an abundance of new material!
Their October dates kick off on Saturday 8th at Caloundra Music Festival, before heading down to Sydney for two dates at the legendary Annandale Hotel on 21st and 22nd, then to Canberra on the 28th followed by the Sydney Blue & Roots Festival at Windsor on Sat Oct 29th. It all wraps up in Melbourne, in true Spring Racing Carnival style, at The Corner Hotel on Cup Eve for what should be one massive rock'n'roll party.
Don't miss BABY ANIMALS doing what they do best – burning up the stage live!
Check out our interview with Suze DeMarchi right here….
BABY ANIMALS SPRING 2011 TOUR DATES
October

Sat 8                          Caloundra Music Festival, Caloundra, QLD
                                   www.caloundramusicfestival.com

Fri 21                         Annandale Hotel, Sydney, NSW
Sat 22                        Annandale Hotel, Sydney, NSW
                                    02 9550 1078 / www.annandalehotel.com

Fri 28                         Canberra Southern Cross Club Events Centre, Canberra, ACT
                                    02 6283 7288 / www.cscc.com.au

Sat 29                        Sydney Blues & Roots Festival, Windsor, NSW
                                   www.sydneybluesfestival.com.au

Mon 31                      Corner Hotel – CUP EVE – Richmond, VIC
                                   03 9427 9198 / www.cornerhotel.com