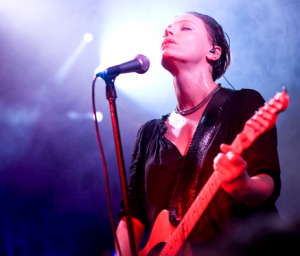 "It's Rock, some of it is, some of it's not rock, that's always the case. We've always had a bit of both you know…"
20 years ago The Baby Animals burst onto the Australian music scene and took it by storm. With hit after hit from their debut self titled album, selling 8 x platinum, numerous awards and what turned out to be a 12 year stint as the highest selling debut Australian rock album of all time they were on fire. A second album 'Shaved And Dangerous' was released in 1993, and relentless touring world wide with the likes of Robert Plant, Van Halen, Bryan Adams and many more they could do no wrong. Then in 1996, the band was no more. Suze DeMarchi had relocated to LA and then released a solo album in 1999. With no word at all from The Baby Animals all hope was lost, until 2007 when the band came back together to rerecord some of their biggest hits acoustically, we won't say too much but will let Suze explain below.
We had the chance to speak to Baby Animals' singer Suze DeMarchi and she let us in on what's happening with the band and the prospect of a new album, touring plans and how she almost joined INXS… That's your 'Early Warning', now read on…
I have to start by asking what was the catalyst to getting the band back together?
Well the catalyst was that we did this acoustic record for Liberation and that was the catalyst, it was basically "Alright, let's make this record" and we did it really quick and we did it in LA and then we had to promote it. So we thought we'll get the band back together and we'll do some shows and see how it goes and that was it. Then a year ago I moved back to Australia and so I've been able to be close by and actually just really get some songs written and things finished you know.
Your last release 'Il Grande Silenzio' was a collection of stripped back versions of your biggest hits as well as a couple of new tracks, how much fun was it putting this spin on the old songs?
It was great fun, it was really fun actually and we did it with Justin Stanley and he just had a really good approach to some of those songs, and I didn't think it would work and I sat down with him and we talked about it and it ended up being great fun and we did it in a week.
When if ever can we expect to hear some new material?
We've written a new record, we've pretty much got it written and done and demo'd and everything but we're just trying to find the right home for it all you know and the right team of people to make sure it's going to be right.
Is it Rock?
It's Rock, some of it is, some of it's not rock, that's always the case, we've always had a bit of both you know…
You're hitting the road again in Rocktober for a few dates including headlining the Sydney Blues & Roots, are you planning on stripping it back a little for the different crowds that will be in attendance?
No we're going to hammer them ha ha ha we have to close the show with a bang. We'll just do what we normally do, I think they can handle it, it's not that heavy, we're not bloody Iron Maiden you know ha ha ha
You're also playing a tribute to Greg Clarke on the 2nd September at the Enmore Theatre in Sydney with Rose Tattoo, The Screaming Jets, and more, why was it important for you to be a part of this event?
It was really just for Greg, it's going to be a fun show, it's a good line up and it's just really foot on the floor, bring your earplugs for that one. It's for him and it's a really good cause and he was a really great man and I'm privileged to be involved actually.
Over your career, you've toured with some of the biggest names in rock music, who stands out as the one that blew you away the most?
Well, god, we were lucky, we did a lot of touring with Robert Plant, he was unreal, he was just so legendary and a great man, but then the Van Halen thing was just super fun and just an outrageous rock tour with everything thrown in. Then Bryan Adams was great too because he's just an amazing performer, that guy was bloody amazing every night, incredible performer. So I don't know, I'd have to say Robert Plant.
Also, is there one show that will always stand out for you as the greatest you have ever played?
One of them that comes to mind is the Marquee in London. And we shot a video, we shot a video for 'Ain't Gonna Get' that night and that was a pretty intense great show that stands out as a highlight, but we did a lot of shows, so there were a lot of really great night and there were some not so good but I'd say the Marquee in London was a memorable one.
What I find is that all your hits still stand up today in a sea of for lack of a better word trash being released onto our airwaves, how does it feel knowing that these songs are still being played today?
Awww that's good to hear. I'm always blown away when people turn up to the gigs to be honest with you, it's like I feel really grateful, I'm surprised and I'm really, really proud of all the work that we did and the songs that we wrote and it was a good time.
I actually came and saw you back in 2008 and what I love is that your voice is still as good now as it was back then, what's the secret?
I reckon your voice gets better when you hit your forties and I also think the more you use it the better it gets, so I need to start using it again.
I don't want to make you feel old but the first time seeing you for me was back in 1994 at the 'Where to Be' concert with The Hunters & Collectors and a few in between…
Yeah that doesn't make me feel old, I don't feel old, you can throw any numbers at me
You're not old, just older.
I'm just older but I feel exactly like I did when I was in my first band.
Surrounding your solo album 'Telelove' back in 1999, how was the experience of making that compared to a Baby Animals album?
Very different, I just prefer being in a band. I don't know about the whole solo thing, I don't know, it was fun to do, but I had a new baby then and I was just in a different place and my head was in a different place so it was different. I'm a band girl, I'm a band bitch, I like being in a band.
Do you think we can we ever expect another Suze DeMarchi solo album?
Never say never, but for now just the band.
So no songs you're written you thought they'd be perfect for a solo release?
No, I always think I can make stuff work in the band
Live you guys are as good as ever and there were some changes in the band recently, but what dynamic have Matt and Mick brought to the band?
Liberty… They're just easy guys to work with, they're great players and I just feel that Dave and I have worked together for so many years and for so long that we've got a really solid working relationship and friendship and I think whoever we put around that, as long as they're fun and they've got a sense of humour and they can play great then it'll all work, it's all fine.
Now this may sound corny, but of course one of your biggest hits was of course 'One Word' so let's try this. Can you give me One Word answers on the following topics:
Touring: Fun
Songwriting: Hard
Recording: Great
Dave Leslie: Monster
1991: Tiring
Your fans: Gorgeous
Your fans that are in their 40's but still wear their 1992 tour T-shirts: Ha ha unbelievable ha ha
Karma: It's a Bitch – That's 3 words – Bitch ha ha
Rush You: Hit ha ha ha, Opener.. That's our opener
On that, I've noticed you open with the stripped back version but then you do the rock version, I've seen you do that a couple of times
Yeah because we were promoting the acoustic record and we liked actually doing that version so much, it was fun to play so we would do both, we didn't want to upset people, gotta give them what they want.
And you do
Yeah we give them what they want after we get what we want ha ha
Now you said you've moved back to Australia, its better here isn't it?
Betterer, I'm still just giving you one word answers
Oh I'm off that now ha ha
Yeah I'm really happy to be home, it's fantastic.
And it's better for the band
Oh my God, its almost impossible doing it from 12,000 miles away, it's much better, it's good timing, we all have kids to work with and raise, work with? What? Torture… I'm very excited about the new songs and the new record, it's great.
So you're in the process of shopping it at the moment?
We're actively trying to get the right label to come on board you know.
So what's next after the touring? Is it all about the new record?
Yeah, new record, recording new record, getting a producer and then touring on it
Are you playing any new ones at the moment just to throw them in and see what happens?
Yeah we will definitely, we've got a new one, well one in particular that I'm excited about called 'Warm Bodies' and then we've got a few others and we'll throw a few more out there.
Is it just you and Dave that's done all the writing?
I've been doing a bit of work with Lior lately, and I've always written over the years with Andrew Farriss a bit and who else? I like to write a lot with Dave
Speaking of Andrew Farriss, there was a rumour back in the day you were going to join INXS, what happened with that?
Hmm… we talked about it a lot, they did ask me to do it, we talked about it, I wrote with Andrew for a few months and, yeah, then they went and did that TV show and I was like 'Hmmm ok…' I just thought, maybe it'll work and they said 'well we're going to do this TV show' and I said See ya later.
So it was as simple as that?
Yeah
That would've been great though!
I know! Ha ha ha
I don't understand ha ha
Well you know, they took the other road and that's Ok, I mean who knows? Michael is not replaceable so I think the girl thing, having a girl would've been good because they couldn't have made those comparisons so quickly but on the other hand I think JD Fortune really does a good job, because we toured with them at the beginning of the year we did that whole 'A Day On The Green' thing with them and he did a good job, he did a really good job but people will immediately compare him with Michael so it's hard and him and Andrew were the main songwriters and it was just a fuckin' mess…
But in the end you go back to your band
I go back to my band because I like my band
I like your band too
Thanks
Thanks Suze, pleasure talking to you and I'll catch you at one of the shows soon
Thanks Troy, yes please come and say hi, thank you darlin'
Catch The Baby Animals on tour in Rocktober and at the Sydney Blues & Roots Festival
http://www.sydneybluesfestival.com.au/
Essential Information
From: Australia
Band Members: Suze DeMarchi – Vocals, Guitar, Dave Leslie – Guitar, Matt Cornell – Bass, Mick Skelton – Drums
Websites: http://www.myspace.com/babyanimals
Latest Release: Il Grande Silenzio (2007 – Liberation Blue)