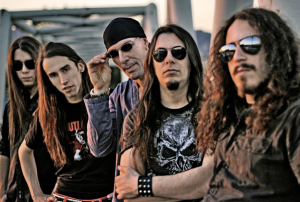 "If you're into ROCK, then you'll find something to like with our latest album.  From arena rock, to riff-laden metal, to modern-ish rock, to power ballads, to AOR / melodic rock, it's all there, all encompassed by the style and sound that is OUTLOUD…."
Forming in 2008, Outloud blasted onto the melodic rock scene with their debut album We'll Rock You To Hell And Back, a collection of driving anthemic rock songs.  With both Bob Katsionis (guitar and keys) and Mark Cross (drums) members of Greek melodic metal band Firewind, 2010 proved to be a defining moment for Outloud.  With Firewind guitarist Gus G being otherwise committed with Ozzy Osbourne, 2010 saw Firewind taking a year off and in addition to that, drummer Mark Cross parted ways with Firewind.  The upshot of all that, Love Catastrophe, the brand new album from Outloud, just released on AOR Heaven.
We interviewed the bands USA based lead singer Chandler Mogel who gives a great insight into the bands new album.
Hey Chandler, thanks for taking the time to answer our questions.  First up, for our readers who may not yet be familiar with Outloud, here's a chance to describe what they will find musically on your new album 'Love Catastrophe'?
No problem, my pleasure Scott!  I'm glad we have great supporters of great music in the Land Down Under.   Well, I will start by saying this:  with Outloud, we made sure that if you're into ROCK, then you'll find something to like with our latest album.  From arena rock, to riff-laden metal, to modern-ish rock, to power ballads, to AOR / melodic rock – it's all there, all encompassed by the style and sound that is OUTLOUD.
Personally, compared to your first album, to my ears the overall the songs on 'Love Catastrophe' seem to have taken on a more melodic rock/AOR style and have perhaps less of a metal influence.  Is this just my own ears, or was this one of the definite changes between the 2 albums?
Nope, not just your ears, but it wasn't really planned that way, what WAS planned was more time & focus on the songs themselves, thus resulting in what we believe a more mature record than the last!
It's been nearly 2 years since you released your debut album and I noticed you have changed labels from Frontiers to AOR Heaven for this one.  Was the intention to always record a follow up album and what led to the change of labels?
We just planned on keeping going.  But the label change came from the fact that by the time we had everything complete and ready for review from Frontiers, they weren't able to release the album earlier than December, this was too late for us.  We had been in contact with AOR Heaven since the time of the first record and they offered us a good spot for a summer release, so we took it!  We're mates with your buds in White Widdow now.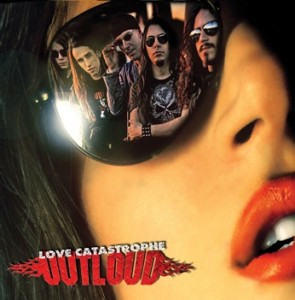 Having had the benefit of going through the process and recording the first album, what were some of the key changes in the recording process this time around during the new album?
We played in other keys besides "E" and "A"…….LOL!  Nope it was pretty much the same, most of the record was done in Athens and I did some extra tracking over here in New Jersey, but we pretty much kept the same formula, cause why change something too much that was successful previously right?
How long did you spend recording the album, were you personally based in Greece during the recording?
Yeah, I went over there for a month in 2010, we did some festival shows, then spent roughly two weeks recording the vocals at Bob's studio.  The funny thing was that he was moving when I was there, so we did half at his old house and half at his new one!  Worked out fine.
How much did the songwriting process change for this new collection of songs?
Well, as I mentioned earlier, the songs were more focused on this time and as a result a deeper, more thought-out album, as opposed to the "spontaneity" of the first album.  Both approaches can work actually.  But this – it's overall a more mature record from a band who has been united on the stage from playing live, this had a large bearing on the outcome I believe.
In terms of lyrically, what were some of the key themes that may have influenced this album?
Well, it depends on what song you pick.  There are about six songs on the record that deal with "love" (i.e. heartbreak, obsession, messed-up relationships, and one about breaking free from all that – Love Catastrophe) but there are a couple of special tunes that deal with some topics that aren't too common in this genre of music.  Clean Hands is about the fact that the less bad things you do, the more you can accomplish in life.  Live Again is a viewpoint on the state of the world today, and the fact that we're all spiritual beings (not just flesh or animals like we are led to believe).
As a band, I imagine you have obviously now grown together into a cohesive unit over the last couple of years.  Was that something that took a fair while to get settled and build that chemistry, given the fact you are based in the USA, the other guys in Greece, having a change of bass player, as well as collectively speaking you guys having involvement in other bands etc?
That all definitely plays a part and could be considered a crutch to any developing band.  We probably would have played more live shows were we all based in the same area, and when Bob or Mark are on tour, we obviously aren't able to do much.  But we don't let that stop us, we keep going and do as much as we can when we can.
Waiting For Your Love was selected as the first single and video from the album, what led to this song being chosen as the first single and are there plans for a follow up single and video?
Well, it was the obvious choice when we entered the Bon Jovi contest (to open for them in Greece) early this year.  This song served as our entry.  (We didn't get to open for Bon Jovi but opened for Twisted Sister instead. 🙂  Since people were beginning to get familiar with the song in Greece, we decided to do the video and make it the single come the summer.  And yes – we have the second video for the album almost ready, we'll announce what that is shortly.
On the ballad Someday, a female vocalist is featured, is there any story behind the vocalist who features on this song?
Her name is Deana Dee, she is a good friend of mine who I had the pleasure of performing with on a few gigs in NYC.  She's Ann Wilson in the premier Heart tribute band in the US, and she's recorded with Geoff Tate and Terry Brock, among others.  I wanted something different on the ballad and thought she'd be a perfect fit for the song, so I gave her a call and we recorded her in New Jersey.
What is the hard rock scene like in Greece at the moment, are Outloud in the definite minority, or is there a thriving little scene of bands?
There aren't too many melodic rock bands in Greece, a lot of heavier bands actually.  Lots of good ones though, people in Greece take their music very seriously and you really have to bring it over there, as anywhere in Europe – rock is very much alive.
You recently supported Twisted Sister in Greece which I am sure was an awesome show, how did you guys find that experience?  It must have been great to get out and play some of the new songs!
Yeah it was.  We had a great time and made many new friends and fans.  And I've gotta say – Twisted was amazing, they lit the place on fire, it was like I was in 1985!  They really tore it up and Dee is just awesome live.  It was also good to see AJ Pero (Twisted's drummer) again, who I played with briefly in his other band Cities about four years ago.
So what is in store for Outloud for the rest of 2011, are there any touring plans on the horizon?
We're currently getting the new album on all the major digital stores (like Itunes) and our new website just went up finally! (www.outloud-rock.com).  Then we're going to release another video and some new tunes as well, and hopefully before the end of the year we'll do some more shows around November / December.  We've started writing for the third album.  Keep an eye on the official site for updates!
Thanks to everyone reading and listening and thank you Scott!  May the rock be with you all.
Essential Information
From: Greece
Band Members: Chandler Mogel – Vocals, Bob Katsionis – Guitars, Keyboards, Tony Kash – Guitars, Sverd T. Soth – Bass, Mark Cross – Drums
Websites: www.outloud-rock.com
Latest Release: Love Catastrophe – (2011, AOR Heaven)