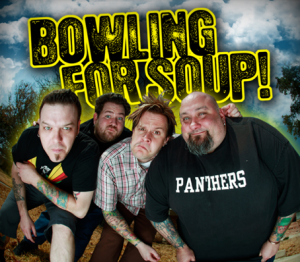 "It's funny, songs and albums are like your children, you have certain ones that are your favourites on certain days and you have to make sure to buy them the same sized Christmas presents, you know.  This album (Fishin' For Woos) though for me is one of the ones I am most proud of…"
Bowling For Soup (or BFS for those already acquainted) are one of the biggest names on the pop punk circuit, having been doing their thang for 17 years, with 11 studio albums, worldwide radio hits such as 1985 and Girls All The Bad Guys Want and repeated appearances on the main stages of some of rocks biggest festivals such as Download in the UK and Vans Warped in the USA. Their new album Fishin' For Woos is a return to the old school BFS from the days of A Hangover You Don't Deserve and Drunk Enough To Dance. Not to say that their past couple of releases in Sorry For Partyin' and The Great Burrito Extortion Case were necessarily new school however, because they were BFS through and through. Whilst on the subject of the 2009 release Sorry For Partyin', some of you may not even realise this salacious collection of power pop delights was even released, but that's a story for BFS frontman Jaret Reddick to explain further into this interview..
When it comes to BFS frontman Jaret Reddick, there are few equals when it comes to his ability to infuse so many pop culture references, hooks, melodies and smiles into a song. New album, Fishin' For Woos is simply one of the greatest things BFS have released. Having a rare quiet moment at home in Texas, we chatted to Jaret pretty much about anything any BFS fan would want to know about. If I was a BFS fan (which I most absolutely am!), I would want to read every word of this interview as it's "freakin' awesome", if I may quote Jaret himself!
Hey Jaret, thanks for offering your time up for this interview! You have certainly been racking up the frequent flyer miles in the last month or so, playing at Download Festival and also a tour of Asia in association with the American Navy…firstly, how was your 3rd appearance at Download?
Download was great, that festival is always amazing for us and it's interesting because when we do festival shows in the USA, we are really considered more of a pop band.  So you will see us on the bill with Pink or sometimes Justin Bieber and the craziest kind of pop acts.  But then when we play festivals in Germany or England, we are considered more of a rock band and play the same stage as Slayer or Slipknot or H.I.M.  So it's always an interesting exercise for us to see how accepted we are and obviously the UK has just been amazing to us.  We had an awesome trip over there, we just went in and did an acoustic set one day, then a full band show the next day.  I got to see the few bands I made a point to go see.
Who were the main ones of those bands?
Well there would be two.  We had done an event with Dee Snider from Twisted Sister about two years ago for Tommy Lee's television show he was doing called Battleground Earth.  We did the last concert for that show and Dee Snider was going to be there, so we played We're Not Gonna Take It and he sang.  We found out that he and his family were fans of BFS and we have stayed in touch, so when I found out we were going to be at Download Festival with him this year, he made sure we were really well taken care of and we got to watch Twisted Sister from side of stage. Then the next day, he and his wife and daughter came and watched us from side of stage, on the main stage.  So that's pretty cool!
The artist that I sought out and really wanted to see was Frank Turner. I'm a huge Frank Turner fan and have become somewhat obsessed with him.  So I got a chance to see him acoustic and the full show.  But the only downfall was that he played kind of late, so I had been drinking a lot, so from what I remember, it was great!
Frank Turner is someone I have wanted to check out but haven't yet.
You being a Butch Walker fan, he has a bit of a Butch Walker thing about him, sometimes vocally he really reminds me of him.  But it has that traditional English feel to it, with that punk rocker singer/songwriter/country thing. He's just amazing man and he is definitely my favourite thing to listen to right now, outside of all of my go to bands.
So how was the experience with the Navy in Asia, I was following that on your Twttier/Facebook?
We went to Asia with the US Navy and we got to do Japan, Thailand and Singapore and Guam and we had an amazing trip, met a lot of people and made a lot of people smile.  The travel was pretty brutal, some shows took two or three days just to get there.  You are sort of on the navy schedule, some days we would show up and you are not going to a regular airport.  Essentially it was a small office that you would wait in.  Sometimes that wait would be 4 or 5 hours, then when you get on that flight, sometimes that would be a 6, 8, 10 hour flight, only to get where you are going, get on a bus, go to a hotel, come back to the airport the next day and do it all again.  It's funny to describe it, because it almost sounds like I am complaining and that was my theme for the whole thing where I would be like "I'm totally not complaining, I am just making an observation, but this kind of sucks".  But in no way does it suck in comparison to the people we were over here to entertain and what they are putting themselves through.  So it doesn't make any sense for us to complain too much.  The good thing is when you are on those American bases, it's very easy to find the comforts of home, so we had plenty of Miller Lite to keep us busy and entertained haha!  I got back a week ago and I am still fighting the jet lag. Going there is  fine, but coming back for us is like a 2 week process of recovery.
Now you had a special guest out on tour with you, Mr Belding from Saved By The Bell, how did he enjoy hanging with BFS?
Mr Belding was good man haha!  He is a really, really good guy and super nice.  It was interesting, the Navy had never done one of these touring shows and brought an MC along, so it was definitely a lot of trial and error to get the balance of what the night was going to be like.  But he just jumped right in and took the horse by the reins and just went for it.  By the time we were done, he was coming out with all the bands and doing something different.  He came out and did a Journey song with us and didn't even know the words.  He's a really good guy!  It's interesting for me as I think I just missed the whole Saved By The Bell thing.  Not sure if it's age or whether I had moved onto different things by then, other than Saturday Morning TV, but obviously I was aware of what it was.  BFS actually did a cover of the Saved By The Bell theme for a Saturday morning cartoon album, that never actually came out and we recorded the song like 6 or 7 years ago, but I think it's coming out soon actually.  The Safetysuit guys were also there with us and an artist from Nashville called Natalie Stovall and her band who pretty much ended up being our hang buddies, they pretty much ended up in our party room every night.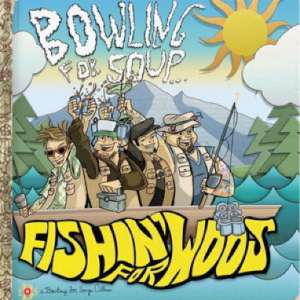 Fishin' For Woos your new album has been out for a few months now, first up, here is a chance in your own words to describe how awesome this CD is?
I am actually really proud of this one.  It's funny, songs and albums are like your children, you have certain ones that are your favourites on certain days and you have to make sure to buy them the same sized Christmas presents, you know.  This album though for me is one of the ones I am most proud of.  Sorry For Partyin' was the album we thought would be the one to take us to that next level and be the one that makes Bowling For Soup more than just the band who had a hit a few years ago and would give us the longevity that we think we will have.  Obviously things didn't happen that way, we split with Jive 4 weeks after it came out and no song ever went to radio and there was never any real push or anything.  There's no bitterness, but we had to come off the road and make a decision, "are we going to go and fight and do this thing, or are we going to go back ourselves into a corner and lick our wounds and act like we didn't know what to do".  We've always been self supporting and self sufficient and self motivating, so I locked myself away in my little home studio and wrote the record in three weeks.  The guys literally got acoustic demos of the songs three days before we went into the studio and we hashed out what everyone was going to do with one hour of pre-production and recorded scratch tracks to use as a guide that same day. We then started recording that next day and finished it in three weeks.  At that point we didn't really know whether we were going to put it out on our own or shop it too other labels or what the plan would be.  It just became evident that the thing for us to do was to put it out ourselves and that's what we did.  So far it's been a great success and I couldn't be more proud of it.
As for how awesome it is, it's freakin' awesome, that's the answer!


Given what you said about Fishin' For Woos being written and recorded in pretty quick time, was this in part the reason for the album having that classic BFS sound of your earlier releases?
Well it definitely forced us not to over think anything.  I definitely knew going in I wanted to reel a few things back in, even writing it, make it more of a Drunk Enough To Dance Type album.  Obviously everything is going to have those bells and whistles that we know how to do now because of technology and experience and things like that as we know how to make things sound good and give them a bit of a spin to make them more interesting.  We definitely didn't get bogged on a lot of things, like on Sorry For Partyin' we would work for 6 hours on a Moog part that you probably don't even realise is there because it's a texture type thing.  This time I wanted it to sound like guitar, bass and drums and I wanted everything else to be an after thought.  So that was definitely because of the time factor and also money.  We didn't have unlimited funds, so if we had of needed extra time in the studio we would of been cutting songs because we just didn't have the money to throw at it.
So when you are doing things on your own, planning becomes a big factor and that includes video, promotion, hiring a publicist and all of those things.  It's like, well if we are paying for this then obviously we want to make it count, but also know exactly what we are doing going in so the little number wheel isn't just spinning and $$$ adding up.  The last 2 records we made with Jive, we pretty much had whatever money we wanted to spend, especially The Great Burrito Extortion Case, we were coming off such a huge hit, we were like "fuck it, we are going to travel around the country recording this thing".  We had a blast and I wouldn't have done it any other way, but now we are like, we're going to record a Christmas record in 5 months and we are going to do it in 5 days!
Without giving away the recipe to your secret herbs and spices, what are the key ingredients that you try and ensure are thrown in when writing a BFS song?
Well, whether I am writing a song for BFS or for somebody else, it's just a matter of putting in that "thing" that I do.  I guess I sort of have my own "thing" haha!  It just seems to happen really naturally, whether I am writing a serious song, or a funny song, or for a pop person, or a cartoon for someone on television, I always try to sprinkle my own little "thing" in there, but again, it sort of just happens naturally.  For me I guess songwriting wise, I just had to adopt the idea that there aren't any rules.  Especially when you are writing pop songs, a lot of writers will be like, "well you have to do this, and this is the structure and the chorus has to come in witting 45 seconds of the song starting", or whatever.  Then you hear a song on the radio that doesn't have the chorus kick in until the end of the song, which shows you don't need to have insane guidelines, you just need to write great songs.
BFS is never short of cool song titles and obviously every songwriter is different…when you write, does the song title come first or last?
Well now, it definitely happens after the fact.  But back in the day, up through to Let's Do It For Johnny, the song titles didn't have anything to do with the songs themselves.  We got to a point where we said, if we are going to market this at all, the title has to at least have something to do with the song.  So now pretty much I just do the thing where I take the song title from the chorus and that's what it becomes.  But then I get jealous because we were talking about Frank Turner earlier and all his song titles are just amazing and all somewhat reflective of what's happening in the song, but also another way of getting something personal out there about what he is talking about, so I am super jealous I am not able to do that anymore, because I pretty much set precedence on this is how I am going to title my songs now.  But yeah man, lyrically I normally go in there with a concept, or a line that I am going to build the song around, then I usually work backwards from there.
One thing that completes the BFS experience is the visual aspect present in your music videos and from the new album you already have S-S-S Saturday and Turbulence, the latter being a video you personally produced via your production company, Built By Ninjas. How did you find that experience?
It's one of those deals where I try to have my hand in everything that is BFS, whether it's photographs or whatever, but it's always been more of a behind the scenes steering the boat kind of thing.  When it comes to videos I ensure that what comes out on television is what we envisioned and how we get there.  When my partner Heath and I started Built By Ninjas, obviously one of the goals was to eventually do a BFS video, so it was nice to do that only a year or so after we started.  It's really cool to be both in front of, and behind the camera and to be responsible for rounding things.  I mean finding an airplane is not easy you know! In attempting to get that airplane, we found it only 4 days before we actually shot the video, you know that got a little bit stressful.  At the same time, I don't think I have ever been more proud of anything as I am of that Turbulence video as I just love that song so much and the fact that visually I had this idea of what I wanted it to look like and I actually got to go in there and actually make it happen.  That's definitely a proud moment and one of the best videos we have ever made!  We used no actors, we did it all ourselves and shot it with one camera.
You have released Fishin' For Woos independently, how widely in an International sense is the album likely to be distributed, eg. Australia?
Well the idea is to get it everywhere!  It's a little confusing to me why it's not out in Australia yet.  I don't understand exactly how the while distribution thing works. Japan for example we had to go and make a whole separate deal, and it's coming out in a package along with our Greatest Hits all in the one bundle.  Then it's obviously out in the UK and out in the US and everywhere digitally.  But is out even out digitally yet in Australia at all?
Well I checked last week and didn't see anything on iTunes, but you would think given we live in the future, it would have already hit here!
Haha, yeah that's exactly right!  It's definitely puzzling for me, I don't really understand it.  For some reason things in Australia and Japan go hand in hand, so I sort of hope when it gets on the iTunes radar over that general part of the world, that it will come out in Australia.  I know there already is a lot of Asian countries where it's already out and on radio and doing really well, so one can only hope!
Now you have that control, can we maybe one day expect to see the re-release of your very first few albums?
Yes, in fact, our first 2, being the Self Titled and Cell Mates and then our fourth, Tell Me When To Whoa, we will be re-releasing later this year.  It's funny, when I go back and listen to that first album, I think gosh there almost should be a disclaimer going "this was 1994, we had no idea what we were doing" but it's like, F it, we will get it out there.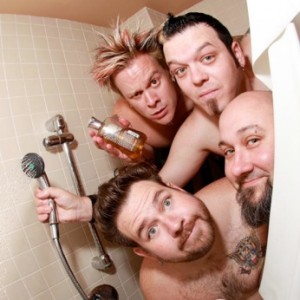 So tell us about your side project number 1, People On Vacation (POV)…
Well as Bowling For Soup winds down in the USA I will be able to concentrate a bit more on POV.  We are hoping to have a long EP out around the end of November, with a full length album hoping to be out by next summer with all new material.  We have a tonne of songs, we have around 15 songs that are written, recorded, done, all we have to do is put drums on them.  Then we have 6 or 8 other songs we have written already that we just didn't record, so one of the things POV is not lacking is material or definitely excitement and drive.  It's just a matter of both of us finding the time from our other bands and stuff that keeps us busy.  We are doing some shows, we just played this weekend in Dallas and trying to play a few shows in September and more in November and December.  So you will definitely start to see more stuff like posts and music in the coming months.
Whilst you have certainly recorded and written with many others, how have you found actually performing and having another separate entity in POV, outside of BFS?
It's a lot of fun and it's interesting.  One of the things about BFS is on stage, a lot of what we do seems rehearsed, because we are so quick.  But anybody who knows our band knows it's not, because you could come see us four times in a row and you'll never see the same show.  We don't use a setlist, we don't rehearse jokes, everything is all spontaneous and stuff.  So it's interesting to have that where I can almost feel one of the other guys setting me up to say something ridiculous or I almost know how they will react to something I am going to say.  Again, just from being on stage together for 17 years, that's what happens when the whole banter thing is part of your show.
With Ryan, we have an amazing chemistry on stage, but it's an interesting thing for me because we are not a funny band, but you never know what is going to come out of my mouth, so there can be some interesting comedy from time to time. Ryan is a really funny guy too, but he is a different kind of funny.  So it's pretty fun to be just thrown out there with somebody else and it's like ok, let's make a show out of this and you never know what he is going to say.  He is one of those who will ask the audience "are you all having a good time tonight".  I don't ever ask the audience that because I assume if they are there, then they are having a good time!  So whenever he asks that question, I still haven't figured out what I am supposed to say after that haha.  Maybe we will figure that out at some point.  I will say also that it is fun to play different songs and to deliver a different side of me as a writer and musician.  In the next few months we will both be playing piano on stage and obviously we are switching around with guitars.  I am not always singing lead vocals, so it's a fun exploration.
Vans Warped & Download, to your own club shows, all the way to your acoustic gigs and playing for the navy in Asia, is that knowledge of your fellow BFS band members the reason why you can seemingly so effortlessly adapt to any type of show?
Our managers say this and it's something we have been saying forever, you can literally throw BFS into any situation and we will figure out how to make it work.  I mean a cub scout meeting to an old folks home, we will figure something out.  I think it's evidenced from what you just said and we have done that.  We have gone from a metal festival in Germany to an acoustic show in a record store in Tokyo where they can't understand what we are saying, but they know every song, through to back in the States playing at Idaho Falls playing to a few hundred people.  So it's just a matter of going out there and playing your best show every night and figuring out who your audience is for that day and we are really, really good at doing that.
What's the story with Jarinus, side project 2 with Linus Of Hollywood, are we going to be hearing any music soon?
Linus Of Hollywood is a guy who was in a band called Size 14 and is someone who I reached out to on the Internet to write some songs with.  We instantly hit it off and found these amazing, weird similarities in our lives and musical careers and such and pretty much came to be the best of friends.  Within two times of getting together we had started Crappy Records and wrote a bunch of songs for BFS for the last 2 records and stated writing songs for other artists as well.  Originally our band was going to be called Mountain Of Poo and originally the Jarinus thing was sort of like the Bradgelina kind of thing and sort of a joke, but then we said lets just call our band Jarinus.  The band was fictional until we were recording Sorry For Partyin' and we started coming up with all these ideas for songs and they pretty much just write themselves.  All of the Jarinus songs we write in like 15 minutes.  So we have three songs recorded and about 6 to 8 ideas there, it's just a matter of putting it all together.  With this one we are actually going to do a Jarinus "Kickstarter" in the next few months where everyone can be a part of the process and we will have some really, really cool packages just to be able to get the album and video made and all that and get people involved through the whole process.  You know, Linus is super busy in the studio, as am I, we are together a lot working on different stuff and I've got my stuff on the side, he has his stuff, BFS is my main thing and his main thing is his studio work, so I don't see us a touring band.  But definitely as one of those bands where we will have a plethora of material and boy, it's pretty insane!
So is the material headed towards your respective loves for hard rock and metal?
We definitely have that element.  The first 2 songs we recorded have that, there's metal screams and some pretty ripping guitar solos.  The idea behind the album itself is to explore a bunch of different genres.  It didn't really set out to be an over the top comedy thing, but for some reason it's shaping up that way!
Over the years, how much have you noticed a change in your fan base?
It's sort of ever changing.  A large part of our fan base that we see, as in at our shows, its almost like we picked them up along the way and they have stayed with us.  We definitely have an amazing loyalty from our fans.  You know we started out in the bars and we were absolutely a bar band in every way.  We were a beer drinking, beer spilling band, then once we got on Jive and we went into Girl All The Bad Guys Want, it became more of a mixed crowd.  Then with 1985, our crowd got really, really young because Radio Disney jumped all over that song.  It got to the point during the whole 1985 era, we really had to watch ourselves as far as stage banter and topically because you would look out and there would be 7 year old kids all over the place.  Which was interesting because we hadn't changed anything about ourselves it was just radio had jumped on that song.  But since then it's really levelled out, we still have the beer drinkers that come, we definitely still have some youngsters, but mostly youngsters these days their parents are fans as well.  One of the cool things about our band is that it's just amazing to me how many letters and emails I get from parents or kids that are like "I had absolutely nothing in common with my son until we found your band and now we are going to concerts all the time and have a relationship we never had", it's just all the time, for some reason we appeal to all age groups and when families find us, they latch on!  Even in other countries for us, our audience has got younger again with 16 to 18 yo kids and then there's the beer drinkers at the back of the room. We seen to be ageless as far as our appeal goes and I think that's a good thing!
When you think back to the punk/pop bands that have come and gone, or changed their stripes in the time BFS has been in existence…BFS in comparison have pretty much stayed on the same course, has this been a conscious decision?
You know a lot of bands do change, sometimes for the better, sometimes for the worse.  Luckily a lot of our peers that have changed have got even better, you can't really argue the success of Green Day for example and their evolution into one of the biggest bands in the world.  You know they're still freakin' great, but their first major label album was called Dookie, now they're a politically driven band, but they are still making amazing music.  But other bands in our genre have definitely evolved into other things.
For us it was a conscious decision.  Bad Religion for example, when you go buy a Bad Religion album it sounds like Bad Religion, that's what you want it to sound like.  Same for NoFX and a lot of the things we grew up listening to.  I think also for us if we were to evolve into anything half serious, how could we take ourselves seriously!  We are always going to be doing fart jokes and what not.  So in answer to your question, I think we have a lot of teenage fans that may have been fans of ours when they were 12 or 13 who went onto other stuff and now they are finding the new album and they are 18 to 20 years old and they are like "you can always count on you guys, I've had a bad day and I listen to you guys and you put a smile on my face and it's so great to be listening to you again".   So I think it's good as you know what you are going to get.  Let's face it, you pretty much knew what the new BFS album was going to sound like before you got it, but you were surprised at a few songs, but as for the overall vibe, you knew exactly what it was going to be.  We definitely pride ourselves on that and we have no intentions of reinventing ourselves at any point!
Check out our review of Fishin' For Woos right here…
Essential Information
From: USA
Band Members: Jaret Reddick – Vocals, Chris Burney – Guitars, Erik Chandler – Bass, Gary Wiseman – Drums
Websites:
Latest Release: Fishin For Woos – (2011, Que-So Records/Brando Records)
<p>