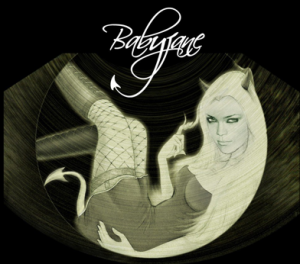 "Babyjane, Australia's rawest, sleaziest, no-frills hard rock band have come out of the rusty gate with all guns blazing.
Andy Smith (no singer comes closer to the swagger of Jagger and the presence of Plant than this one); John Gerasolo (rock's next guitar hero — forget the Top Hat); Paul Judge (a snarling Sid Vicious who can actually play the bass) and Nik 'Animal' Kats (the bombast of Bonham meets the terror of Tommy Lee) have just released their debut scorcher 'Are You Listening?'. Mixed in Nashville by famed producer Michael Wagener (Metallica/Janet Jackson) it features 11 tracks of hard rock at it's absolute best.
A rousing support gig with Skid Row's Sebastian Bach in 2008 led to a distribution deal with 100% Rock. Road-tested, well-oiled and set for world domination (their pub shows are the talk of the town in Perth).  Are you listening? You soon will be…"  Bio courtesy of: www.babyjane.com.au
Check out our interview below with the bands lead singer, Andy Smith.
Let's start with the basics first – what brought the band together and what is the inspiration behind the band name?
Like everything with this band we did things the long way.  John, Nik and Judgie were looking for a singer and I auditioned. We ended up jamming together for about a month and although I could see that the guys could play, it just wasn't musically what I was looking for at that point. I put another band together and over time firstly our bass player left and Judgie joined, then our lead guitar player left and John joined. That line up lasted maybe a year before it ran out of steam and I left. I went to Europe for a couple of months and when I came back John came to my house and pitched his offer: Nik will learn 4 of my old bands songs, I will learn four of their old bands songs and we'll see how it sounds. It sounded great with all 8 songs sounding better than they ever had.
As far as the name goes we had a few suggestions going around but they were all old clichéd metal names. As soon as I heard Baby Jane I was sold. I loved it. I like the contrast of us being a hard rocking band with such a sweet sounding name. Of all the names we had been testing on our friends BJ was the one that got the best feedback. I'm pretty sure it was Judgie's idea that he had got from an old movie, 'whatever happened to Baby Jane?' so you'd need to ask him the specifics-I just thought it sounded cool.
You have twenty seconds in an elevator to try and convince someone to listen to your music, what do you tell them?
Here it is. If you like it great…if not-who cares?
Can you introduce each member of your band and give us a rock "n" roll fact or myth about each of them?
I don't kiss n tell.
You have recently released your CD 'Are You Listening',  how long did the process of writing and recording the songs take? 
As I mentioned some of the songs came from previous bands so we had a lot of it written when we got together. The old songs were changed a bit here and there. Everyone put their own stamp on the songs to make them Baby Jane tunes. We wrote some new stuff and when we had enough good material we started looking for somewhere to record it. We got about half the CD done at one studio but the production was not what we were looking for. Plus the engineer would bad mouth whoever wasn't at the studio to the rest of the band which is never really the sign of a positive working relationship. After that we had one of Perths 'Big Name' producers come down for a listen. He had grand plans for us but his ideas weren't practical. He wanted to pull the songs to bits, analyze every fuckin bar and put it back together. We just wanted to make a good rock album. But again we went in and put down about 8 songs for pre production. Then the engineer went off on a tour and we were forced to work around his schedule. This wasn't working so we canned the idea and went to another studio. Finally we started to get some good results and the album began to take shape. It probably took around 6 months to get all the parts down. The reason it was so long is we were all working full time so we were doing sessions whenever we could find time…and money
For those of us in the know, you used one of hard rocks finest Michael Wagener to mix the album, how did this association come about?
I think it was after we supported Sebastian Bach. Someone put us in touch with him, he heard our demos and was keen to mix them.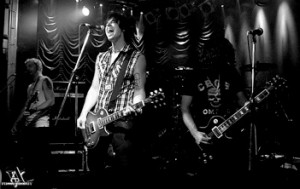 In terms of your songwriting, what do you consider to be the most important ingredients that make up a Babyjane song? 
From my point of view it's all about hooks and dynamics. Whether that be a killer guitar riff, gang vocal or cool lyrics there has to be a hook.
Is the process of songwriting a whole of band affair, or are there a few key contributors?
We all contribute. Even if someone brings in a song that is 80/90% done it gets chopped and changed until it's a BJ song. I write the majority of the lyrics, but everyone chips in. On a lot of the songs one verse will be mine and one will be Judgie's with the chorus being relevant to both-even if each verse is covering a totally different topic.
What or who inspires/influences your music the most?
Lyrically I like to write about emotions, human behavior and experience. It has to be honest and believable. And it's got to have attitude. I think my best work comes out when I'm pissed off. That's not to say I write negative lyrics. I think it's more therapeutic to me to use a negative emotion and create something positive.
What bands did you grow up listening to and how did they help create the style of music that can now be heard throughout your album?
I think the Beatles are the greatest band of all time but the first time I saw a Motley Crue video I was hooked and never looked back. They were my new favorite band and that still stands today. Nikki Sixx is the number one inspiration to my lyrical style and the whole attitude of the Crue really brought me out of my shell. Mick's riffs, Tommy's beats, big hooky chorus's. This band had everything I was looking for and I soaked it all up. The bands I really like have all got attitude. From GnR, Sex Pistols, Aerosmith, Zepplin- even Oasis. They are all dangerous.
What kind of movie do you think your music would be best suited to and why?
Probably something fast moving with a lot of action. You could use a lot of our stuff in a car chase scene  : )
For those reading this who haven't yet had the pleasure, how would you describe 45 minutes spent at a Babyjane live show?
Hot, sweaty fun. Although we are all 'show-offs' to some extent there are no posers in the band. What you get is what we are. Were rock n rollers and we love playing our music to a crowd.
You hail from Western Australia, for those reading this in galaxies far, far away, what do you have to say about the rock scene from which you originate?
It's very small and gets no support from the local industry or media. Considering Perth has such a small population there are literally hundreds of great bands out there. Perth has always been famous for producing quality bands, ACDC and INXS to name two, but these days there is a clique and unless you're in it you get no help.
Of the gigs you have played so far, is there one that stands out from amongst the rest?
Even though I was full of flu and had my head in a bowl of Vicks and hot water 5 minutes before going on, I'd have to say the Sebastian Bach support. Everything was up a notch. It kinda felt like, 'wow so this is the next level…I like it'
With 2011 already a few months down, here's a chance to gaze into your crystal ball.  In 2011, Babyjane will have:
1. Toured the East coast
2. Written more great songs
3. Firm plans in place for a US/UK tour
Essential Information
From: Western Australia
Sounds Like: "Raw, sleazy, no frills hard rock."
Band Members: Andy Smith – Vocals / Guitars, John Gerasolo – Lead Guitar, Paul Judge – Bass, Nik Kats – Drums
Website: www.babyjane.com.au
Latest Release: Are You Listening – 2011