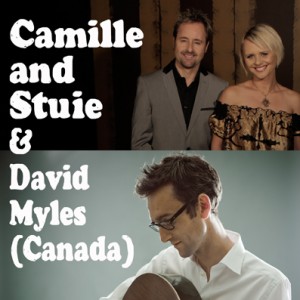 DAVID MYLES RETURNS FOR FOLLOW UP HEADLINE TOUR
Canadian singer songwriter joins forces with Aussie duo Camille & Stuie David Myles is set to return to Australian shores in May for an extensive run of live shows to further showcase his stunning album Into The Sun, hitting the road with Independent Country Duo of The Year, Camille and Stuie, who are celebrating the release of their fourth album, Big Days & Little Years. Myles, who was one of the standout performers at last December's Woodford Folk Festival, receiving rave reviews for his mesmerising live set and amusing anecdotes at the Festival and across his January dates, has just been awarded 'Songwriter Of The Year' and 'Song Of The Year' at the East Coast Music Awards in Moncton, Canada.
It was during his last Australian tour that Myles met Camille & Stuie, as they joined him on stage at his Brass Monkey show in Sydney. The three immediately hit it off, with Myles so taken with the acoustic powerhouse duo that he promised them a support slot on his return to Australia! On this forthcoming May – June tour, David Myles and Camille & Stuie will play to an array of local audiences, taking in three states in just under a month, starting in Tamworth and winding up in Melbourne at the Caravan Club. Over the course of his six albums, David has earned a formidable reputation for his ability to fuse musical styles, uniquely combining gentle rhythms and delicate songwriting with Brazilian and African influences. A warm, easy performer, David brings his audiences to their feet wherever he plays. His current album "Into The Sun" has been nominated for five awards at Canada's forthcoming East Coast Music Awards, and Myles is on tour through Canada at present, honing his live show before returning to Australia!
Camille & Stuie have just released their fourth, and finest, album together, Big Days & Little Years. Recorded in Sydney and financed by fan donations, the album is a gentle look at the cycle of life and the sweet sorrow of change. The album's tone is the calm acceptance of the passage of time. You not only hear this in the song lyrics but in Camille's beautiful singing and in the relaxed and tight groove that their band of stellar musicians creates. Except for two songs, (Waves by Sam Baker and The First Time by Fred Koller and Danny O'Keefe) Camille and Stuie have honed their songwriting skills to tell the stories of their life – of the spirits of their ancestors and the joy of descendants. With loving respect Camille and Stuie acknowledge the importance of the unbreakable thread that is family (or "whanau" as Camille would say). The album's lead track, 'Beautiful Joy' has just landed at Australian radio. David Myles with Camille and Stuie, on tour from May 18 to June 9. David Myles' 'Into The Sun' out now on Little Tiny Records/Code One Recordings via MGM
Camille & Stuie's 'Big Days & Little Years' out now
Check out our interview with David from earlier this year here
Check out our review of David's album 'Into The Sun' here
David Myles / Camille & Stuie Tour Dates – on sale now
Friday 18th May 2012: The Pub – Tamworth (NSW) – FREE ENTRY
Ph: 02 6765 565 or www.thepub.com.au
Saturday 19th May 2012: Woombye Pub – Woombye (QLD)
Ph: 07 5442 1155
Sunday 20th May 2012 – Pioneer Village – Petrie (QLD)
Ph: 07 3285 1375
Thursday 24th May 2012: The Vault – Windsor (NSW)
Ph: 02 4587 8146 or www.vault146.com.au
Friday 25th May 2012: The Clarendon Guesthouse – Katoomba (NSW)
Ph : 02 4782 1322 or www.clarendonguesthouse.com.au
Saturday 26th May 2012: The Basement – Sydney (NSW)
Ph: 02 9251 2797 or www.thebasement.com.au
Friday 1st June 2012: The Brass Monkey – Cronulla (NSW)
Ph: 02 9544 3844 or www.brassmonkey.com.au
Saturday 2nd June 2012: Lizottes – Central Coast (NSW)
Ph: 02 4368 2017 or www.lizottes.com.au/live
Sunday 3rd June 2012: Lizottes – Newcastle (NSW)
Ph: 02 4956 2066 or www.lizottes.com.au/newcastle
Friday 8th June 2012: Wesley Anne Hotel – Northcote (VIC)
Ph: 03 9482 1333
Saturday 9th June 2012: Caravan Club (VIC)
Ph: 0411 569 180 or www.caravanmusic.com.au
Sunday 10th June 2012: Harvester Moon Café – Bellarine (VIC)
(Lunch Show – Doors 12 pm) Ph: (03) 5259 3200 www.harvestermoon.com.au
www.camilleandstuie.com www.davidmyles.com www.codeone.net.au
Comments
comments