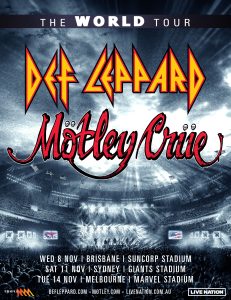 It's finally here, The Stadium Tour, two of the biggest bands of the 80's and beyond are in Australia to show that this kind of stadium rock is still alive and well, and I'm here for it. I like many here today grew up with both of these bands and to see them sharing the same stage tonight is kinda huge. We're in for a good time.
Def Leppard take to the stage at 7 on the dot and straight into a new track 'Take What You Want' from their latest album 'Diamond Star Halos' and they sound amazing. There's always just a great feeling when Def Leppard play, they're just something else. With a simple question of "Do you wanna get rocked?" The answer is clearly yes as 'Let's Get Rocked' smashes it out of the park. I mean looking at the stage the thing I'm most puzzled by currently is that Phil is wearing a shirt, I guess there's a first for everything. 'Animal' is up next and I always love hearing this one live as well the Hysteria album is hands down one of my favourites of all time and this opens it. So this is awesome. Wow, not wasting any time and heading back to Pyromania with 'Foolin' and for a song forty years old it's still killer. Viv leads us off for 'Armageddon It' and this is probably my favourite Def Lep song and I'm stoked it's up tonight. The extended outro was amazing!! Back to their latest 'Diamond Star Halos' with 'Kick It' but it's time for the big power ballad to come out and here's 'Love Bites' and this sounds absolutely huge in this stadium. Hands down one of the quintessential power ballads of that time.
Holy shit. The unexpected track! Phil starts off 'Promises' and I didn't expect this one from 'Euphoria' at all. That was awesome!! Taking to the front of the stage as Rik keeps the beating going, Joe introduces the band as they all return with acoustic guitars giving us a different version of 'This Guitar' which is a borderline country track but it gave me a chance to sit down for a sec and enjoy. Then into one we know and an amazing version of 'When Love And Hate Collide' that started acoustic and then exploded into a monster, again, if there were a list of bands that were masters of the big power ballad in the 80's and 90's, you look in the dictionary and under the definition of power ballads one of the bands listed is Def Leppard.
'Rocket' Yeah!! This was stadium worthy and stadium filling! There were lasers, amazing visuals, and much singing along from those in attendance. So, so good. 'Bringing On the Heartbreak' is up next, and again these older (heck they're mostly all old but you know what I mean) tracks still truly stand up. 'Switch 625' is always awesome to hear as the band truly shine, and Joe gets a rest. Musically this band is so damn tight, I haven't mentioned that yet, damn they're a pleasure to watch and listen to. Now it's time for Rik to give us a drum solo and he's just the best. The title track from their monster album 'Hysteria' is perfectly slipped into the set and as some amazing visuals of the band through their career grace the screen and it's a perfect look back. We miss you Steve.
Of course if there was one song that was going to blow the roof off the place, wait, it's a stadium no roof, um, well you know what I mean, it's 'Pour Some Sugar on Me' that gets everyone back on their feet and singing along. Of course this is the one that most here are here to see and yes, of course it got the biggest reaction of the night. 'Rock of Ages' is Def Leppard all over, and you know we're close to the end, and with that, they close their set with 'Photograph' and once again the visuals were just the best and it was almost hard to watch the band while admiring a look back through the band's history. It makes you realise just how amazing this band is and what they've done over the years.
Def Leppard delivered tonight, they're still at the top of their game and they showed Sydney how it was done tonight. I could've happily watched them play for the full three hours tonight.
Motley Crue are back after saying they wouldn't be, but here they are! Opening with an amazing video intro which got the crowd pumped, and as they walk on stage and straight into 'Wild Side' and it's on. Into 'Shout At The Devil' and this just got heavy and with the new addition of John 5 on guitar he sounds great, I mean obviously it's not Mick but hey John 5 is an amazing player and a great substitute. Vince… well Vince is Vince and I'll leave it at that, if you know you know. Taking it back to the first album with 'Too Fast For Love' which was fun, but as Vince throws on a guitar and they start 'Don't Go Away Mad (Just Go Away)' and musically they sound phenomenal. Very special mention to the two back up dancers on this one.
Back to the beginning again with 'Live Wire' it's heavy! Oh wait. The cool cowbell bit, that's a highlight so far. John 5 rips into the intro of 'Looks That Kill' and again musically wow, this band is tight and that groove is something else, this would be an amazing instrumental set. Thinking about it though, I mean at least the dancers are amazing to watch. The title track from 'The Dirt' is up with a clear backing track in the chorus which is good but again, man this is a little rough. It pains me to say that too as I love The Crue, but some of these Vince is truly just not all there with.
Nikki has a chat to the crowd explaining why they "had to come back", and introduces John 5 who warbles a bit for us before being joined by Nikki and Tommy for some 'Rock And Roll' before Vince comes back for part of 'Smoking In The Boys Room' before into 'Helter Skelter' then 'Anarchy In The Uk' for this nice little extended covers section. May as well throw in some Ramones as well with 'Blitzkrieg Bop' and what is happening? Beastie Boys now with 'Fight For Your Right' with I think Tommy taking most of these vocals. After those two hours of covers Tommy addresses us and of course there's titties, I thought they'd stopped that, but it is Motley Crue and when they say they'll stop things well clearly they just do whatever they want. As he sits down at the piano it's time for 'Home Sweet Home' and I hate to say it but this is the first one Vince sounds ok on. This is Motley's huge power ballad and the guitar work by John 5 in this one was killer as we all know that outro. 'Dr Feelgood'… musically huge, musically good. Damn I love that song. Introducing us to the 'Nasty Habits', dancers and backing vocals who are the best thing about the night so far. 'Same Ol' Situation (S.O.S.)' sounds good. Then 'Girls Girls Girls' had the girls taking centre stage and I wasn't complaining.
'Primal Scream' is so heavy live, always has been and it's one of, if not my favourite Crue track. It sounded great. Then we have the closer, 'Kickstart My Heart' and it was the only way they could close it and while we all know vocally how this one is a struggle, yeah it was, BUT the band sounded great, they delivered a fun, entertaining set, they destroyed my ear drums with explosions at the end that didn't do anything other than make noise, but hey it's Motley Crue and they do whatever the fuck they want.
So… The Stadium Tour. Concept, amazing, do I wish this had happened many, many years ago? YES. I am thankful I got to see these bands like this, but like I said earlier, man I would've loved to watch Def Leppard for three hours. Motley it's kinda sad to see and hear Vince circa 2023, but I mean The Crue have always been entertaining and that's exactly what their set was.
Man I love this kind of music though, it just makes you happy and takes you back to a much better and simpler time. I miss that.
Essential Information
Venue: Giants Stadium – Sydney
Date: November 11, 2023
Presented by: Live Nation