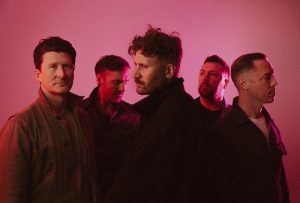 Australian ANBERLIN fans will be in for a treat this summer, with the beloved group set to return for the first time since 2019, in January 2024 making their long-awaited return to a country long considered to be their second home. 
For Stephen Christian, the tour will be particularly momentous – the vocalist having recently announced an indefinite hiatus from touring, these Australian shows will double as a special farewell run for the beloved vocalist and songwriter.
"There is not a country outside the United States that Anberlin is more connected to or embraced as much as Australia, and this will be our 12th trip to this incredible country. From our first show in Adelaide, to then writing a song about it, and years later having a 9-year-old girl named Adelaide come on stage and sing that very song with us to a massive sold-out show in Sydney we have SO many core memories created on that soil.
It is absolutely fitting that I am taking a final bow in Australia before taking a long hiatus from touring. I appreciate you Australia and can't wait to sing along one final time."  Stephen Christian, Anberlin
The return of ANBERLIN in recent years came at the most perfect of times for fans around the world.
  What began as a one-off show in 2018 supporting Underoath in the U.S. soon led to a full-blown official return from the Floridian group, with new musical inspiration leading ANBERLIN to return to the studio in 2020.
Pandemic aside, ANBERLIN remained undeterred when it came to powering through and seeing out the process of making new music. The two EPs that resulted – 2022's Silverline and 2023's Convinced – doubled up as fitting pay off records for long-time fans, as well as the perfect introduction to new fans.
Joining ANBERLIN will be longtime friends and special guests HAWTHORNE HEIGHTS and THE WORD ALIVE!
HAWTHORNE HEIGHTS' fusion of post-rock, emo has seen the band embrace myriad influences since audiences were first introduced to them back with their debut, The Silence in Black and White, in 2004. Recent years have seen HAWTHORNE HEIGHTS enjoy a reaffirming resurgence, with the 2021 album The Rain Just Follows Me bringing the four piece back to the top of the emo world delighting many long time and new fans alike.
Similarly, THE WORD ALIVE have also flourished in recent times, courtesy of rejuvenated and vividly arranged and executed music that has confirmed their talented dynamic. The Phoenix, Arizona metalcore group returned to radars everywhere in August this year with the release of their seventh studio record, Hard Reset – the band's first album in three years. Bold sounds fused with widened perspectives and observations on the human condition, THE WORD ALIVE redefined themselves in 2023 for a new chapter.
A lineup perfectly curated for Australian fans, summer 2024 is bringing ANBERLIN back Down Under in a big way. Be part of a defining moment in the ANBERLIN story, and give Stephen Christian the sendoff he deserves – this tour is not to be missed!
Sign up HERE to access early bird presale tickets
Early bird presale begins Tuesday 24 October 9am local time
Tickets for the 2024 Anberlin Australian tour are on sale to the general public Thursday 26 October 9am local time
ANBERLIN 2024 AUSTRALIAN TOUR
Tickets available via www.destroyalllines.com
Supported by HAWTHORNE HEIGHTS and THE WORD ALIVE
Sunday 21 January Astor Theatre PERTH
Tuesday 23 January The Gov ADELAIDE
Thursday 25 January Enmore Theatre SYDNEY
Friday 26 January The Tivoli BRISBANE
Sunday 28 January Northcote Theatre MELBOURNE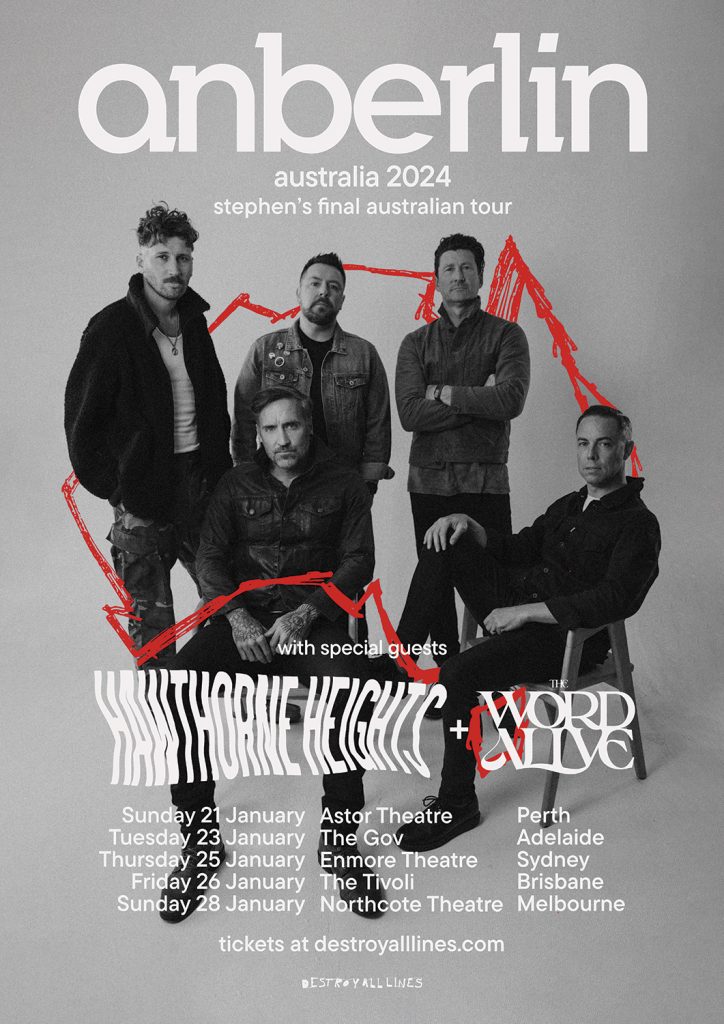 ANBERLIN: Website | Facebook | Instagram | Twitter | YouTube