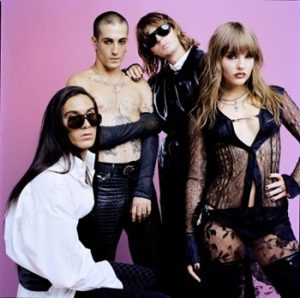 Today, Måneskin have shared their electrifying new single 'Honey (are u coming?)'. Erupting with new offerings shortly after the release of the latest, chart-topping album RUSH!, 'Honey (are u coming?)' is tight with musical vibrancy, showcasing a mighty guitar riff and roaringly persuasive chorus. Listen HERE. The band held a livestreamed event at Gazometro, Rome, where they performed three tracks live, including 'Honey (are u coming?)'.
Fans can hear the single live as Måneskin kick off their highly anticipated RUSH! World Tour this weekend, and will be performing it live at the MTV VMA's later this month where they are also nominated in the 'Best Rock' category for their single 'The Loneliest'.
Bassist Victoria De Angelis explained, "We wrote the song right after the tour, we still had a lot of energy from the touring and the travelling. We wrote it in between London and LA. We're really happy with the result and we think it's something quite new for us."
Frontman Damiano David adds, "It's the story of someone who has no gender or anything, you decide whoever it is. Find someone else and they can see in their eyes that there's some sadness that they feel out of place and it's an invitation from one person to another to join them into this new adventure without knowing what they're actually going to find, but just enjoy the adventure."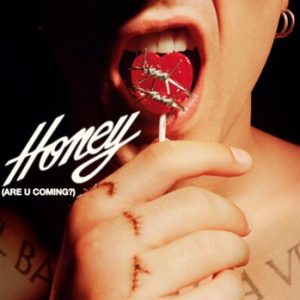 After the phenomenal success of their latest album RUSH!, Måneskin completed their Loud Kids World Tour, alongside 5 special stadium shows in their home of Italy, a wildly successful debut at the iconic Glastonbury festival, and Primavera festival.
In the US, where last year the band embarked on their first headline North American tour that sold out 100,00 tickets across 25 shows, and saw the band receive their first Grammy nomination in 2023 for Best New Artist, Måneskin will be kicking it up a notch and returning to headline arenas across the US and Canada, including a landmark show at New York's historic Madison Square Garden. After an incredible welcome in South America in 2022, Måneskin will return later this year, visiting Argentina, Brazil, Chile and Colombia for the first time. In Japan, where the band more than made their mark in 2022 with an incredible exclusive show and stand-out set at Summer Sonic, Måneskin will be returning to headline arenas in the country for the first time. The rock sensations will also be making their way down under to Australia for the very first time for shows in Brisbane, Sydney, Melbourne and Adelaide. The tour is bookended with shows in Germany and France, and the UK and Ireland, where the band will head to Manchester and Dublin for the first time.
The RUSH! World Tour follows the band's new album of the same name, released in January 2023 to global acclaim and chart domination, reaching #1 in 15 countries and Top 5 in 20 countries. The album has garnered over 1.3 billion global album streams, last week reaching 1 billion streams on Spotify alone, adding to the band's impressive 9 billion global artist streams.
RUSH! Australian Tour
November 20, 2023 – Brisbane, QLD – BCEC SOLD OUT
November 22, 2023 – Sydney, NSW – Hordern Pavilion SOLD OUT
November 23, 2023 – Melbourne, VIC – Margaret Court Arena SOLD OUT
November 25, 2023 – Adelaide, SA – AEC Theatre SOLD OUT