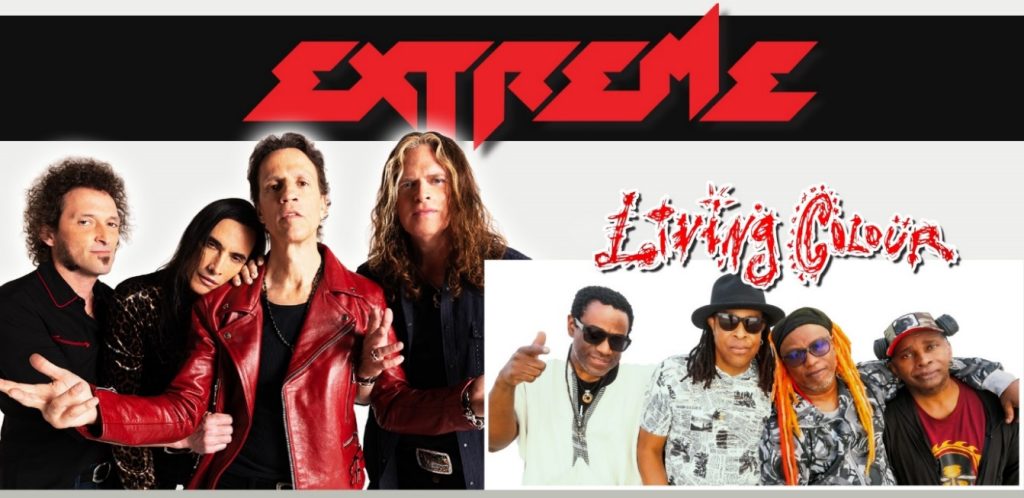 This is going to be something! Extreme were last here in 2018 with Mr Big, and Living Colour also in 2018, so this five year break from our shores, and this time teaming up is truly going to be a masterclass. Two technically, amazing, funky bands. I for one can't wait.
Bang on time as Living Colour take to the stage as 'Ignorance is Bliss' opens the show and these consummate professionals just show everyone how it's done immediately. 'Go Away' is up next and the heavy side of the band shine. 'Auslander' from their amazing album 'Stain'- keeps schooling everyone then 'Funny Vibe' is as funky as you want and man this band can play, Vernon, Doug, and Will are as tight as you need to be and these cats can play. Damn. It's time to slow things right down with a cover of 'Nothing Compares 2 U' and only a band like Living Colour can do a song like this the justice it deserves. With the crowd joining in they take it straight into 'Open Letter (To A Landlord)' and Corey's voice is just something else. Celebrating the 50th anniversary of hip hop they show some love, then get funky again with 'Glamour Boys' which is a vibe! It's heading to the end of the set and the big guns are coming out. As the opening of 'Love Tears Its Ugly Head' kicks in the crowd are pumped. This heavier mix of the song always won for me and it sounds amazing in here tonight. 'Type' is brilliant as it always is and just a reminder that everything is possible but nothing is free… Then I mean what can you say about 'Cult of Personality' other than it's probably one of the best riffs ever written, thank you Vernon, and so many years on is still at the top of its game. This is the only way the show could close. My only complaint is I wish the set was longer as these guys truly know how to work a stage and deliver one hell of a show. What's your favourite colour?
Now it's time for the headliner… Extreme. So what do they do? Kick things off with 'It ('s a Monster)' and like just come on. How is a band this good? Straight into 'Decadence Dance' and I mean I'm just gonna be gushing tonight, apologies in advance. The vocals are amazing as Gary trades off to Pat at one point and Nuno just slays as always and as they fade immediately into '#Rebel' from their brilliant new album 'Six' they show us they can still do it. This is chunky and is killer in this sold out room tonight. I'm gonna say it, and I don't care what anyone says, there is no one better than Nuno Bettencourt. This man is a freak and just beyond words. 'Rest in Peace' is one of my favourite Extreme songs and hearing it live tonight for only the third time for me is truly something else. Here comes the solo… yep. Nailed it… and as the guitar rings out the amazing 'Hip Today' from 'Waiting For The Punchline' takes it place in the set. What an addition. What a song.
A snippet of 'We Will Rock You' takes us into 'Play With Me' and my god. Like what is happening. This is just insane. If you know this song you know what I'm talking about. Nuno addresses the crowd talking about the new album before heading into the brilliant 'Other Side Of The Rainbow' with the whole band front stage. What a song that is. Gary even jumped on to help on an acoustic during the solo. Then as Nuno takes off the N4, he throws on the acoustic it's time for 'Hole Hearted' and with the crowd singing along it sounds amazing in here. Kevin smashes the skins as we're leading into 'Cupid's Dead' and after band introductions Gary leaves as the guys absolutely belt out the song and nail it. Holy shit.
Nuno is showing us what he can do as he intros 'Am I Ever Gonna Change' which is super unexpected but holy shit. Nuno takes to a stool and with an acoustic he plays 'Midnight Express' and I mean how can he get any better? As Gary rejoins Nuno for 'More Than Words' of course every phone comes up and the crowd takes over. I mean what else can I say?! Everyone was waiting for it, and here it is. A snippet of 'Fat Bottomed Girls' sending a nice little dig to a few people I feel, before 'Banshee' and the new really stuff kicks ass, in all seriousness this might be one of the best songs of the night, damn it's so much fatter live. A hoe down and funky 'Take Us Alive / That's All Right' finds its place in the set, which was the first kinda lull in the set, odd choice but hey they still played the hell out of it. Nuno stays on stage to absolutely slay 'Flight Of The Wounded Bumblebee' before the drums us into 'Get The Funk Out' and how this band are still at the top of their game tonight astounds me, not one missed note, not one second to slow down, they are just consummate professionals.  A nice little tribute to Eddie before 'Small Town Beautiful' which mashes up with the brilliant 'Song For Love' including the kick ass solo which makes me very happy, now THAT was an amazing inclusion into the set.
It's time for the closer and it's THE song, the one that everyone talked about because of that solo… it's 'Rise' and boy howdy, did they smash that one out of the park, and yes, the solo, I mean what more can you say about Nuno Bettencourt that everyone already has? As the song rings out and 'Here's To The Losers' plays over the PA, the band all smiles stay on stage and makes their way across the front of the stage shaking hands and accepting every ounce of praise they deserve for a night of musical genius.
I look forward to the return of both bands a lot more often and I will be there every time. I said it before, and I'll say it again… masterclass.
Essential Information
Venue: The Enmore Theatre – Sydney
Date: September 12, 2023
Presented by: Zaccaria Concerts
Website: http://www.extreme-band.com & http://www.livingcolour.com
Set Lists:
Extreme:
It ('s a Monster)
Decadence Dance
#REBEL
Rest in Peace
Hip Today
Play With Me
OTHER SIDE OF THE RAINBOW
Hole Hearted
Cupid's Dead
Am I Ever Gonna Change
Midnight Express
More Than Words
BANSHEE
Take Us Alive / That's All Right
Flight of the Wounded Bumblebee
Get the Funk Out
SMALL TOWN BEAUTIFUL / Song for Love
RISE
Living Colour:
Ignorance Is Bliss
Go Away
Ausländer
Funny Vibe
Nothing Compares 2 U
Glamour Boys
White Lines (Don't Don't Do It) / Apache / The Message
Open Letter (to a Landlord)
Love Rears Its Ugly Head
Type
Cult of Personality