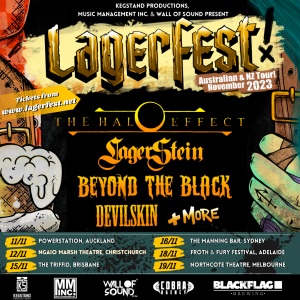 Get ready to rock and roll at LAGERFEST 2023, the ultimate fusion of heavy metal and Oktoberfest revelry! Presented by Kegstand Productions, Music Management Inc., and Wall of Sound, this extraordinary music festival is set to take Australia by storm. Prepare yourself for a mind-blowing experience as we bring you world-class bands, delicious beers, and an electrifying community atmosphere like never before.
The lineup is nothing short of legendary, featuring THE HALO EFFECT, a powerhouse composed of past members of In Flames and Dark Tranquillity. This will be their first-ever performance in Australia and New Zealand, making it an absolute must-see event! Their raw yet melodic performance will leave you breathless and craving for more. Joining them are BEYOND THE BLACK, the German symphonic metal shooting stars who have taken the world by storm with their chart-topping albums and awe-inspiring live performances. And let's not forget DEVILSKIN, hailing from New Zealand, and featuring the incredible vocal prowess of Jennie Skulander, whose unerring gift for melody will captivate you from the first note.
But that's just the beginning of the epic lineup! Prepare to be blown away by LAGERSTEIN, the Australian party pirates who have taken their unique and fun stage show to an astounding 22 countries. With a reputation for delivering an explosively energetic and debaucherous live performance, this will be the 6th time they host LAGERSTEIN, and it promises to be the wildest and most unforgettable yet!
Mark your calendars for the following dates:
11/11/2023 – Auckland – The Powerstation
12/11/2023 – Christchurch – The Ngaio Marsh Theatre
15/11/2023 – Brisbane – The Triffid
16/11/2023 – Sydney – the Manning Bar
18/11/2023 – Adelaide – Froth & Fury Festival
19/11/2023 – Melbourne – The Northcote Theatre
Tickets from: https://www.lagerfest.net/
Secure your spot now and be a part of the Lagerfest legacy! Tickets are available exclusively at www.lagerfest.net. And remember, this year's festival will also feature a thrilling competition where fans can compete for 'The Lagerfest Cup.' So don't miss out on the metal mayhem and epic party vibes—grab your tickets today and let the countdown to Lagerfest 2023 begin!
If you want to take your experience to the next level
Introducing Lagerfest 2023 Premium Ticket:
General Access Ticket: Your pass to the ultimate heavy metal Oktoberfest fusion!
Captain's Cocktail Hour: VIP access with 1 Hour Early Entry and a refreshing Lagerfest Lager.
First Access to Merch Shop: Shop before the crowd during Cocktail Hour.
15% off Official Lagerfest Merch: Enjoy 15% off on a range of Lagerfest merchandise.
Premium Bar Line Access: Skip lines with a separate service area.
Lagerfest Flask: A limited-edition functional memento.
4-Pack Lagerfest Lager: Order early and enjoy Lagerfest Lager at home before the big day.
Lagerfest Premium Shirt: Elevate your festival wardrobe with style.
Premium Lanyard: Wear your festival pride.
Set of 2 Lagerfest Stickers: Stick it to the ordinary.
Lagerfest Tote Bag: Carry essentials in Lagerfest style.
Lagerfest Poster: Bring Lagerfest back home.
Or Discover Lagerfest 2023 VIP Tickets:
General Access Ticket: Your gateway to the ultimate heavy metal Oktoberfest fusion!
Meet & Greet: Get up close with 1 band of your choice.
Professional Photo:with your chosen band—our official photographer captures the moment.
15% off Official Lagerfest Merch: Enjoy an exclusive 15% discount on Lagerfest merchandise.
VIP Lanyard: Wear your VIP status with the Lagerfest VIP Lanyard.
Signed Poster: Take home a piece of the festival, a poster signed by your chosen band.
Elevate your Lagerfest experience at www.lagerfest.net!