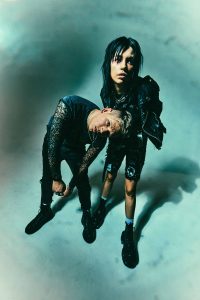 Rev your engines! Frontier Touring are pleased to announce the debut Australian headline shows by Manchester emo power-pop duo Hot Milk, performing in Sydney and Melbourne this December 2023.
The rising duo – comprised of members Hannah Mee and Jim Shaw – will head down under at last following a slew of sold-out shows across the UK and Europe. From a pair of headliners at London's iconic Koko, to a 1,500-capacity concert at the O2 Ritz in their hometown, so far in 2023 Hot Milk have performed massive sets at festivals such as Download, Reading and Leeds, Rock im Park, Lollapalooza, Adjacent Festival (US), and more. Fast accelerating into the spotlight, Hot Milk quickly solidified themselves in the global emo-pop landscape… and now, with the release of debut album, A Call To The Void (out now on Sony Music Australia/Music For Nations), their temperature is set to rise even further. Having built an adoring, tight-knit community via singles such as 'Bloodstream', 'Party On My Deathbed' and 'Horror Show', Hot Milk recently made their US TV debut on Jimmy Kimmel Live (watch here).
Aussie fans can catch the band at Melbourne's Gasometer Hotel on Thursday 7 December, followed by Mary's Underground in Sydney on Friday 8 December. Tickets go on sale tomorrow: Thursday 31 August (9am AEST) via frontiertouring.com/hotmilk.
That's not all: fans will also catch Hot Milk at stadiums in Melbourne, Sydney and Brisbane this year, when they open for 15-time GRAMMY nominees Foo Fighters. It's not their first trip with the Foos – Hot Milk recently announced on the band's upcoming 2024 UK tour, as well as performing with the 'Best Of You' legends across the US throughout 2023.
A Call To The Void comes off the back of Hot Milk's acclaimed previous three EPs: 2019's Are You Feeling Alive?, 2021's I Just Wanna Know What Happens When I'm Dead, and 2022's The King and Queen of Gasoline. "Live is where I'm happiest, live is where it's home," says frontwoman Hannah of their debut. "We wrote songs with the intention of people going off, making you feel good, opening the pit up, letting go, crying, getting on your mate's shoulders. It's been like, 'What do people want to feel at a show?'" She smiles. "It's church for us."
Don't miss Hot Milk live on stage this December! Tickets on sale tomorrow.
Debut album A Call To The Void out now – listen here
HOT MILK
AUSTRALIA
DECEMBER 2023
Presented by Frontier Touring
GENERAL PUBLIC TICKETS ON SALE:
Thursday 31 August (9am AEST)
via frontiertouring.com/hotmilk.
Thursday 7 December
The Gasometer Hotel, Melbourne, VIC
18+
Oztix.com.au
Friday 8 December
Mary's Underground | Sydney, NSW
18+
Moshtix.com.au
Patrons are advised to purchase tickets only through authorised ticket sellers. 
We cannot guarantee any ticket purchase made through any means other than the official ticketing agents listed on the Frontier website.