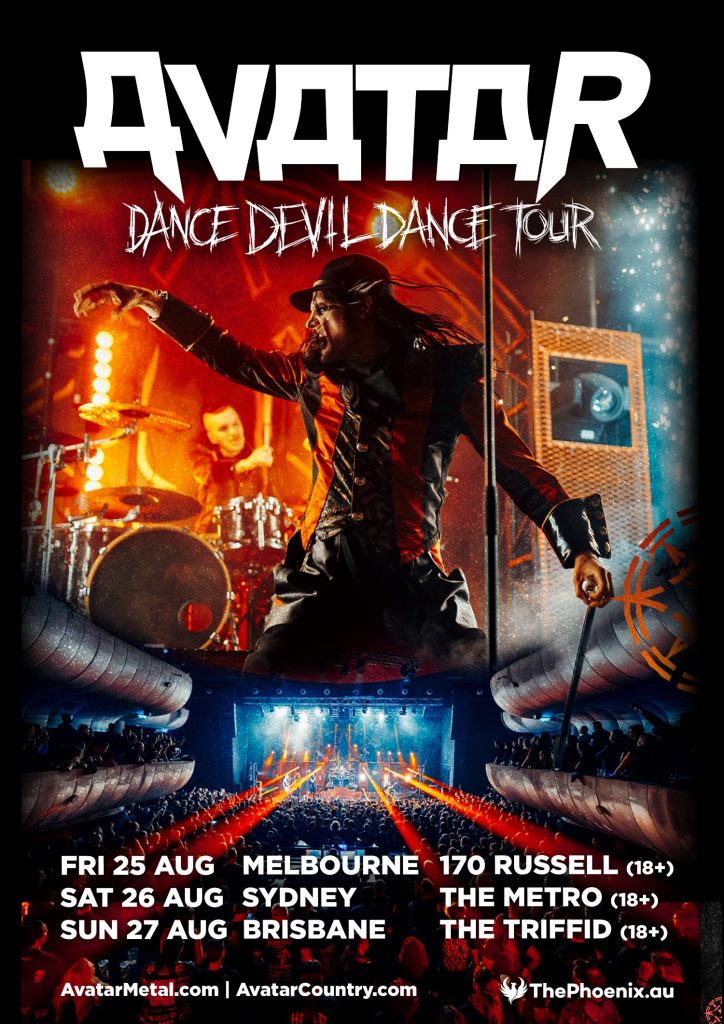 One of my favourite things is when a band is touring Australia for the first time. There's a sense of awe, of the unknown, and of excitement. That's the vibe tonight in here. I for one can't wait.
Pyrefly stepped up tonight as last minute support and they were good. Heavy, catchy tunes. Not afraid to put on a show, even taking to the main floor at one point. I'd most definitely catch them again when they're on a bill. Great job, Pyrefly!
It's bang on 9pm and as the bells toll as band members Jonas, John, Tim, and Henrik take the stage in almost a ritual being handed their instruments this is already amazing. Avatar are here. They tear into 'Dance Devil Dance' with hair swinging, and just pure metal this rules. "Ladies and gentlemen your hero has returned again…" 'The Eagle Has Landed' and oh man this is great. As Johannes leaves the stage the band play this one out and holy shit this is good. Fuck this is heavy. 'Valley Of Disease' gets heavier it that was possible and it's hard to write this while trying to watch. Damn. An amazing guitar solo begins and the breakdown drops as the pit opens. Johannes addresses the crowd and it's just genius. 'Chimp Mosh Pit' keeps things heavy and the floor jumping. 'Paint It Red' just wow. The guitar work is phenomenal. This song is something else. This is going to be one of those reviews, I mean it's hard to put into words what is happening on stage, this band is something else.
Beautiful guitar intro as 'Bloody Angel' rips us a new one. These riffs are so damn heavy. The crowd are in love, they're singing back, the horns are up, and they are into it. For the first time tonight the band isn't bathed in red light and as 'For The Swarm' is just crazy it's short and sharp and Johannes conducts his band mates perfectly. He remains on stage delivering perfectly the story setting up the next song 'Puppet Show' and oh my god, mid song Johannes has popped up in the balcony with the crowd and made balloon animals and has pulled out a trombone which he is rockin' the shit out of. As the band kicks this song back into full gear that was something! What are they going to do next?!
'When The Snow Lies Red' oh god this riff is insane. The crowd are shouting back and getting involved and they are loving it. The band leave the stage again and Johannes regales their time in Australia so far and as they get into 'On The Beach' being played for only the second time ever!! As the song concludes as Jonas and Tim stay on stage to showcase their guitar playing talents which are outstanding. 'Black Waltz' was as heavy as anything before it, but this is followed by a piano being rolled out onto stage as Johannes leads into 'Tower' which was the first time things really slowed down tonight and it was needed. I think everyone was happy to take a breath. Up next the song I've been waiting for, 'The Dirt I'm Buried In' and it was just as good as I'd hoped. That is one hell of a song, and came across so much better live, there was just an energy about it and I can leave happy, but not yet. There is still much more to go.
The band leave the stage only to return to triumphant music and a costume change. 'A Statue Of The King' and that was awesome. With only a few to go this crowd isn't going anywhere. The theatrics continue as they into 'Colossus' and that was chunky as hell. Amazing. Addressing the crowd one last time. Johannes has done nothing but entertain tonight and it's been stupendous. 'Smells Like A Freakshow' and its amazing intro / set up was prefect. Closing the show with 'Hail The Apocalypse' and I can't say a single bad word about tonight.
That was honestly one of the most entertaining, impressive shows I have seen in a long time. Those that were here can tell the story of the time they saw a band that blew their mind and shattered their expectations of what a live show should be, a band tight as hell, not one missed note, amazing theatrics, great stage banter, and just fun.
WHEN Avatar return to Australia, make sure you go, hell, fly overseas and see them, just make sure you see this band live. It's not just a live show, it's an experience.
Essential Information
Venue: The Metro Theatre, Sydney
Date: August 26, 2023
Support: Pyrefly
Presented By: The Phoenix AU
Website: www.avatarmetal.com
Set List:
Dance Devil Dance
The Eagle Has Landed
Valley of Disease
Chimp Mosh Pit
Paint Me Red
Bloody Angel
For the Swarm
Puppet Show
When the Snow Lies Red
On the Beach
Black Waltz
Tower
The Dirt I'm Buried In
A Statue of the King
Colossus
Smells Like a Freakshow
Hail the Apocalypse