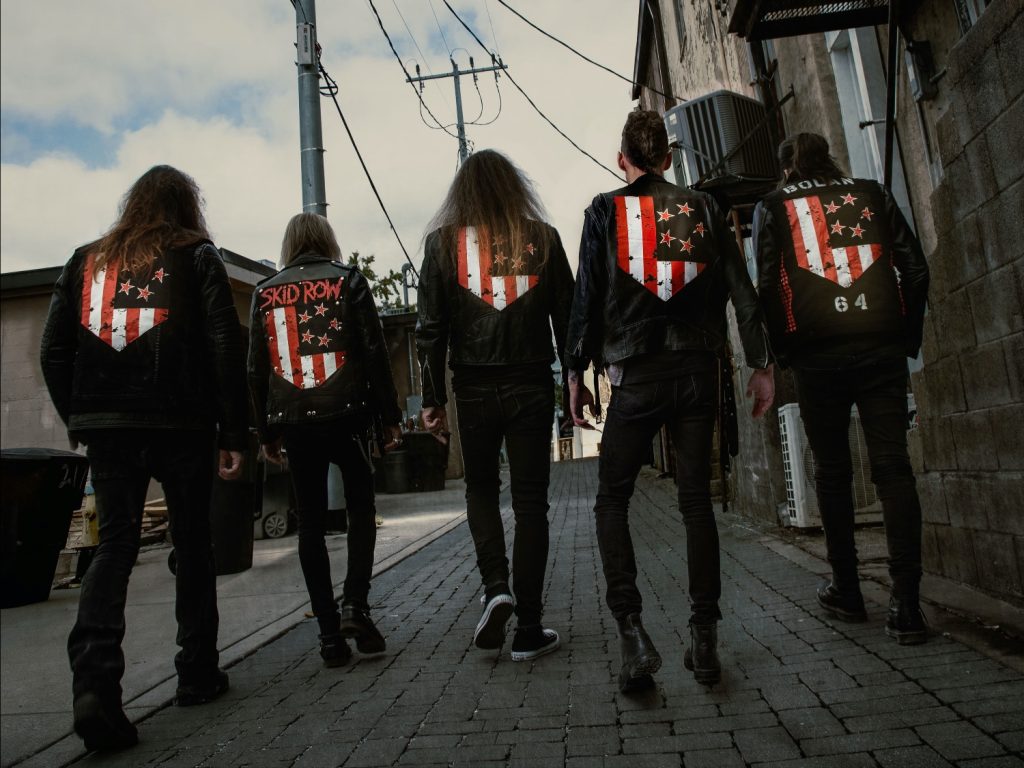 It's been a bit of a week for the Skid Row camp, front man Erik Grönwall fell ill and they were forced to cancel their Brisbane show, but after some rest we got the "all systems go" for Sydney and a sold out Manning Bar is ready!!
Wicked Smile opened the show and belting out tracks from their debut album they get the crowd going. Big vocals, killer guitar solos, some even harmonised which I love more than anything, and a band in full flight with new members and a heavy sound, they are a great opener. Definitely a fun start to the night.
It's a Skid Row staple that when 'Blitzkrieg Bop' starts blasting in the venue the band are about to take the stage, and as sirens ring throughout the venue 'Slave To The Grind' kicks in. This is huge. Grönwall power is in full effect from the start, he is instantly giving it his all. 'The Threat' is huge second song in. The band sound heavy as hell and are even tighter. This is the sound of my teenage years and I'm loving it, as I have ever time I've seen Skid Row live, there's just that feeling all over again. With a 1 2 3 4 we hit the 'Big Guns' and you can hear some cracks starting to come in with the vocals, but with some crowd participation you'd barely even know, and as the song rings out Snake hits the opening the of '18 and Life' and as the crowd truly takes over to help sing it, they're aware Erik isn't firing at 100% right now but they are loving belting this one out. This is awesome. To the new album, 'The Gang's All Here' their first with Erik, and they give us 'Not Dead Yet' maybe extremely apt for the night, and you could hear Erik giving it his everything.
After the song, Snake and Erik stop to talk on stage, you can see the concern and the love this band has for each other and they decide on a quick break… the band leave the stage and music comes on, we're of course worried that they're going to pull the pin, but after a quick band meeting they're back for 'Piece of Me' and as sick as Erik is he's truly powering through and sounding great. The crowd are still so appreciative and supportive which is great. Erik takes a break as Rachel addresses the crowd "you don't get older you get fucking louder" he says as he surveys the crowd for their ages with a resounding 40+ cheer and subsequent laugh. On Joey Ramone's birthday we get 'Psycho Therapy' of course a staple in a Skid Row set with Rachel taking the lead vocals.
Erik returns for 'In A Darkened Room' and he absolutely smashes it, how? I have no idea, that Grönwall power I guess, you can just tell he needs to give it everything he has and we are watching in awe knowing he's unwell but belting out a song that really isn't easy to sing. Wow. And Scotti's outro solo is insane. Through 'Rattlesnake Shake' and back to the new album again with 'Time Bomb' as Snake addresses the crowd "this is not a typical skid row show but it's fun none the less." Ain't that the truth, and let me say this, as I look around the sold out room, everyone is having the time of their life. As Snake starts 'Monkey Business' we are loving this one. An extended guitar solo mid song is amazing as Scotti and Snake trade licks. Erik returns to round out the song (some 8 or so minutes later).
The acoustic guitar takes place on the stage and as Snake starts 'I Remember You' the place lights up and a brave man starts the song. Grönwall you're a machine. He gets the crowd to throw in a line or two to help and it's amazing. This song though, is just one of the quintessential power ballad of my generation. They close the show of course with 'Youth Gone Wild' and it's probably a reprieve for Erik as he can go and rest, but as he still belted out every word (that we didn't sing) his all was given until that last note rang out.
A gallant effort tonight. The band gave it their all, Erik, kudos to you for belting it out the best you could. Even at maybe 60% vocally he gave it everything and let's just say Erik Grönwall's 60% is better than most people's 100% so I have no major complaints. I just hope he can rest and get back to that amazing 100% we know he can do.
To see this show tonight was something special, and on the way out I didn't hear one person say a bad word about the show, there was a huge level of respect, and kudos given to Skid Row who just wanted to come out and entertain their fans, and that they did.
After the show, the decision was made to POSTPONE, not cancel the rest of the tour, and rightfully so, the band WILL be back which you know what, is fucking awesome for a band to do that, rather than just go they wanted to be here, they wanted to play and they will come back and play all the cities they missed, also fingers crossed Sydney may even get a shot at redemption and get to see this band as the full powerhouse they are with Erik up front. I for one can't wait.
See you when you're back, fellas. You were awesome tonight.
Essential Information
Venue: The Manning Bar, Sydney
Date: May 19, 2023
Support: Wicked Smile
Presented By: Silverback Touring
Website: www.skidrow.com
Set List:
Slave To The Grind
The Threat
Big Guns
18 and Life
Not Dead Yet
Piece of Me
Psycho Therapy
In a Darkened Room
Rattlesnake Shake
Time Bomb
Monkey Business
I Remember You
Youth Gone Wild