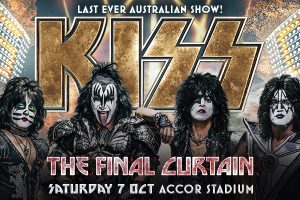 Promoters One World Entertainment, TEG Live, and Pure Gold today announced that the rock legends, icons, and kiss-tory-making gods will turn it on one last time in the way that KISS only can.  They will perform one epic and monumental farewell show – THE FINAL CURTAIN – exclusively at Sydney's Accor Stadium on Saturday 7 October.
Pre-sale tickets will be available from 2.00pm (local time) Monday 29 May and General Public tickets go on sale at 12.00pm (local time) Wednesday 31 May.
The Final Curtain show was initiated via a national petition, with passionate KISS fans pleading for the band to return to play one more show in Australia before they bring their incredible touring career to an end with their final-ever performance at Madison Square Garden in New York City on 2 December 2023.
Paul Stanley said "You have made your voices loud enough that it was impossible for us not to hear you! We are overwhelmed by your petitions and calls for one last KISS so we are now announcing that The End Of The Road will detour one last time to Sydney for a final bombastic farewell. As unexpected as this is for us, we will make it unforgettable for all who share the night with us."
TEG Group CEO, Geoff Jones states "TEG is incredibly excited to be able to bring this iconic and legendary band back to Australia for one last time.  As the only country to receive an additional last-ever show, it speaks to the power of the band's passionate Australian fanbase and TEG's commitment to delivering the shows that fans demand. This final exclusive stadium show at Accor Stadium is sure to be a monumental goodbye for KISS fans from across Australia."
One World Entertainment CEO, Andrew McManus states "My journey of over 22 years with KISS continues for one, final, huge and explosive event, I can't call it a concert as this is going to be so much more, and now adding WEEZER as 'special guests' I'm proud to continue my partnership with the great folks at TEG and deliver what will be 'The Final Curtain' and Goodbye which is promised to have a few amazing surprises…all I can say is…don't miss the final bow!"
KISSteria well and truly took over Australia in 1980 after their first-ever tour here, resulting in a deep & lasting connection between the band and their fans.  The sold-out Unmasked Tour saw them perform at some iconic football stadiums – they were front page news, plus broke all kinds of records.  Four decades on, KISS has continued their love affair with Australia, whilst gaining new fans across multiple generations along the way.
The sold-out End of the Road tour in November last year received blistering reviews and proved, yet again, why KISS is the most iconic live show in the world.  It's only fitting that they perform their final ever Australian show at a stadium to host the Kings of Rock.  It will be bigger, louder, hotter, and crazier than ever before.  Come and celebrate THE FINAL CURTAIN with the hottest band that gave rock n roll to us!
Californian rockers, Weezer, will be special guests.  They emerged in 1992 and released their debut effort, Blue Album, two years later. The album spawned two highly-acclaimed and chart-performing singles, "Undone – The Sweater Song" and "Buddy Holly." Upon its release, Blue Album entered the Billboard 200, peaking at No. 16. The record achieved phenomenal commercial success, eventually selling over three million copies. In 2005, Weezer dropped their highest-charting effort, Make Believe. The album peaked at No. 2 on the Billboard 200. The record was also an international success, entering the charts in 15 other countries.  The platinum-certified album featured the band's first No. 1 single "Beverly Hills" which topped the Alternative chart and peaked at No. 10 on the Billboard Hot 100.  In 2016, they released their tenth studio album, Weezer (The White Album), a self-proclaimed beach album that debuted at No. 1 on Billboard's Rock/Alternative chart, and Top 5 on the Billboard 200 chart.  Their latest recording saw the group release four EPs for each season (the project was called SZNZ) at the beginning of winter, spring, summer, and fall in 2022.
Weezer has earned a series of awards and nominations throughout their career. In 1995, their single "Buddy Holly" won four MTV Video Music Awards. Moreover, their first No. 1 single, "Beverly Hills," brought them their first Grammy nomination for Best Rock Song in 2006. Three years later, their hit single, "Pork and Beans," from their self-titled 2008 album, won them their first Grammy Award for Best Music Video and another MTV Video Music Award.  Weezer has sold over 10 million albums in the U.S, and over 35 million albums worldwide.
KISS – THE FINAL CURTAIN
SATURDAY 7 OCTOBER 2023
ACCOR STADIUM, SYDNEY
KISS Fan Club Presale:
Monday 29 May, 2.00pm (local time)
General Public On-sale:
Wednesday 31 May, 12 noon (local time)
Tickets are available at: www.ticketek.com.au
KISS VIP Packages, which may include access to the KISS acoustic set and Q&A, invitation to the KISS Army Captain's lounge, exclusive merchandise and premium seat locations will be available at all shows. Visit www.kissonline.com for details.