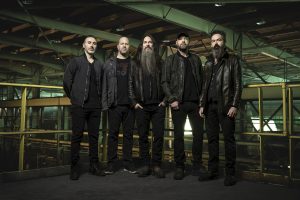 Craft Recordings celebrates the enduring career of Finger Eleven with the band's first collection of hit singles. Spanning over two decades, the Greatest Hits album highlights the group's diverse range with fan favorites, including multi-platinum hit 'Paralyzer' and Juno-nominated 'One Thing,' plus chart-toppers like 'Falling On' and 'Living in a Dream.' As a bonus, the 12-track set also offers a previously-unreleased cover of Pink Floyd's 'Welcome to the Machine' (a longtime live staple) as well as the band's first new single in more than seven years, 'Together Right.' The single is available to stream/download today.
"'Together Right' is about unity," explains frontman Scott Anderson. "It's about the bonds between people and how far that bond can extend before it's broken. The song has an optimistic-sounding chorus but it's really a desperate plea from one party to another asking please stick around, let's go down with this ship together." Recorded in Toronto last year with drummer/producer Steve Molella, the song packs a punch with anthemic guitar-driven hooks and high-energy handclaps.Greatest Hits arrives on CD and digitally June 16th, while the vinyl edition (the band's first-ever vinyl release) will follow on August 25th. A limited-edition Blue Smoke pressing will be available exclusively via the band's website and CraftRecordings.com, and indie record stores will carry an exclusive Yellow Marble variant. All formats are available to pre-order today.
Speaking to the band's first-ever retrospective, Anderson reflects, "After six albums and 20-plus years of being together, Finger Eleven is beyond excited to finally release a greatest hits album. As with all things F11, the band obsessed over the song choices, running order, and vinyl version to go along with the beautiful new art that James [Black] created."
One of Canada's best-selling bands, Juno Award-winning rockers Finger Eleven have built a long-lasting legacy with their genre-defying sound (spanning cathartic metal and alt-rock balladry to danceable funk, power pop, and beyond) that continues to keep fans on their toes. The band's story begins in 1990, when Scott Anderson (vocals), Rick Jackett (guitar), James Black (vocals, guitar), Sean Anderson (bass), and drummer Rob Gommerman (later replaced by Rich Beddoe) began playing together in high school. In 1995, the Burlington, Ontario five-piece released their debut, Letters from Chutney, under the moniker "Rainbow Butt Monkeys," before recording their first LP as Finger Eleven, Tip. The album, which was produced by Arnold Lanni (Our Lady Peace, Simple Plan), caught the attention of Wind-up Records, who signed the band in 1997 and re-released Tip a year later.
Non-stop touring with bands like Creed and Fuel, as well as a spot on the Vans Warped Tour helped the band break into the US market with singles like 'Above,' a Top 40 hit on Billboard's Mainstream Rock chart. The band continued the momentum with The Greyest of Blue Skies (2000). Featuring the singles 'First Time' and 'Drag You Down,' the album landed at No.17 on the Canadian chart, where it was certified Gold. It would be their self-titled follow-up, however, that would make Finger Eleven international stars.
Produced by Johnny K. (Disturbed, Plain White T's, Megadeth), 2003's Finger Eleven marked a new era for the band. Praised by AllMusic as their "most confident and sincere statement to date," the album found the band exploring a variety of new styles, including Anthemic Melodies ('Good Times") and introspective, acoustic-driven balladry ('One Thing'). In addition to breaking into the Billboard 200, Finger Eleven peaked at No.4 in Canada and topped Billboard's Heatseekers Albums chart. The Juno-nominated "One Thing," meanwhile, was a Top 20 hit in the US and landed in Canada's Top 30. As a testament to the song's broad appeal, it also peaked at No.2 on Billboard's Adult Top 40, No. 11 on Mainstream Top 40, and No.5 on Alternative Airplay.
Finger Eleven returned to the studio with Jonny K. for their fourth album, Them vs. You vs. Me. Released in 2007, it would become their most successful release to date, earning the band a Juno Award for Rock Album of the Year and peaking at No.2 in Canada. The funk-forward single 'Paralyzer' also earned the band a Juno nod and multi-platinum sales on both sides of the border, hitting No.3 in Canada and peaking at No.6 after spending 52 weeks on the Billboard Hot 100, a unique feat for a rock band. The single would go on to enjoy massive airplay setting a record for most consecutive weeks at No.1 by a Canadian band on the Canadian Rock charts. Other favorites from the album included the chart-topping power-pop track, 'Falling On,' and the break-up anthem, 'I'll Keep Your Memory Vague.' The band snagged another Juno nomination with 2010's Life Turns Electric, which featured the dance-rock hit, 'Living in a Dream.' The song, which topped the Canadian Rock chart, also landed at No.13 on Billboard's Hot Rock Airplay and Hot Rock & Alternative Songs charts, thanks in part to its use as the official theme song for 2011's WWE Royal Rumble.
In addition to the above-mentioned fan favorites. Greatest Hits includes 'Slow Chemical' – a 2002 cover and remix of wrestler Kane's entrance theme. The song was played during Kane's appearances on WrestleMania, as well as in the video game WWE Smackdown vs. Raw 2008 and the 2004 Marvel film, The Punisher. The album also features a previously-unreleased cover of Pink Floyd's 1975 song, 'Welcome to the Machine.' Speaking to the recording, Scott Anderson shares, "Pink Floyd is a band that's always been near and dear to Finger Eleven and we're proud to share our version of 'Welcome to the Machine' with everyone. The song found its way into our live show, even opening with it sometimes. There are few songs that fill me with equal parts dread and excitement. This one really does it for me."
Finger Eleven, which currently includes original members Scott Anderson, Sean Anderson, James Black, and Rick Jackett, plus drummer Steve Molella (who joined the band in 2013), released their critically-acclaimed seventh studio album, Five Crooked Lines, in 2015. Since then, they have remained active on the road and enjoyed their legacy as one of Canada's biggest bands. Between 1995 and 2016, Finger Eleven was among the top 75 best-selling Canadian artists in Canada and among the top 25 best-selling Canadian bands in Canada – as evidenced by Greatest Hits. Today, they show no signs of slowing down. This summer, they will appear at a variety of festivals across North America. For more info, visit the band's website.
Click here to pre-order/pre-save Greatest Hits, and to stream/download 'Together Right' today.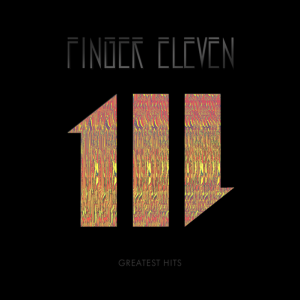 Finger Eleven – Greatest Hits tracklist (Vinyl)
Side A:
1.     Good Times
2.     Paralyzer
3.     Together Right
4.     Living In A Dream
5.     I'll Keep Your Memory Vague
6.     One Thing
Side B:
1.     Above
2.     First Time
3.     Falling On
4.     Slow Chemical
5.     Drag You Down
6.     Welcome To the Machine
Finger Eleven – Greatest Hits tracklist (CD/Digital)
1.     Good Times
2.     Paralyzer
3.     Together Right
4.     Living In A Dream
5.     I'll Keep Your Memory Vague
6.     One Thing
7.     Above
8.     First Time
9.     Falling On
10.   Slow Chemical
11.   Drag You Down
12.   Welcome To The Machine