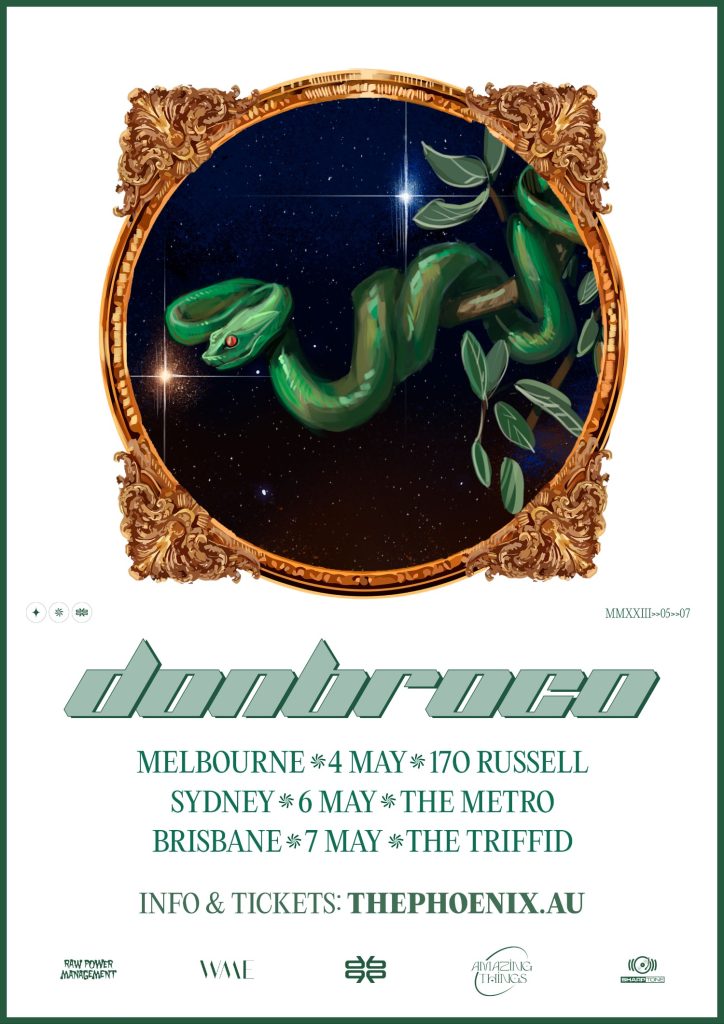 I haven't been this pumped for a gig in a long time. I have been mesmerised by Don Broco for years and tonight will be my first time seeing the band and I can't wait. Although, I need to as we have two openers tonight to get the crowd ready for the oncoming headliners.
Wayside and Alt were the supports tonight and I was impressed with both, they had killer songs, got the crowd moving early and even got the pit open which is no mean feat for an opener. I have found two new bands I know I'll be checking out, sometime in 2024 when I stop listening to Don Broco… I kid, or do I?
It's time for the band that everyone is here to see, and from the opening second of 'Pretty' it is on and this is going to be insane. I mean to have a wall of death in first song you know you're in for a crazy night, "Eight days a week, sucker, eight days a week!!" and if we could do this for those eight days, we'd be in. They go straight into 'Manchester Super Reds No. 1 Fan' and the energy in this room is electric. Rob can't stand still and is jumping all over the stage and is entertaining as all get up. The thing I love about this band is the dual vocals of Rob and Matt and the balance it has in these songs, and live they are flawless. This song had everyone jumping, and watching from the back, the floor was just a pleasure to see. A huge circle pit in 'Gumshield' was insane, I haven't seen a pit that big in The Metro ever, and as they continue through their latest album 'Amazing Things' these songs you can tell were written for this environment, they are live songs and I have to admit I never thought I'd get to yell "Jean-Claude Van Damme" at a live show, but here we are!
'Uber' keeps the riffs heavy and damn, again, watching Rob and Si jump around the stage is damn cool. I will keep fawning over them just because they are that good. Although hearing the crowd sing 'Come Out to LA' has put a huge smile on Rob's face and rightfully so. He asked the question of who saw them when they were here in 2017 and 95% (me being one of them) of this room are seeing Don Broco for the first time and they are fucking into it. This is absolutely nuts. Once again the dual vocals of Rob and Matt here are just next level. 'Automatic' at one point Rob got the whole place to sit down and jump up at the same time and that looked amazing. When I say the whole place I mean everyone was down and the command he has over this crowd is something not everyone can do yet he has everyone in the palm of his hand tonight.
OK, so 'Bruce Willis'. I have been waiting for this one, by far my favourite song of the last little while and the music video should be in some sort of hall of fame, so having the opportunity to hear it live tonight and get hyped is something I have been ready for. Dale from Ocean Grove joined them for this one and as they split the crowd to sing the chorus it is so loud in here and it's absolutely amazing. What a song, and I'm happy. Yippee Ki Yay Mother Fucker, ha ha ha ha. Then 'One True Prince' slows things down for the first time and although not for long as if you know the song this power ballad of sorts kicks into gear and this one allows Matt to shine, his voice is insane. Dale from Ocean Grove returns to hit the key change and nailed it. As the song says, "we're about to do amazing things…" not about to fellas, you truly are right now. This show is everything I wanted and had heard about and they are delivering tonight.
'Technology' is up next and keeps the big riffs chunking along with the hooks come along with it, 'Action' keeps the energy up and it's not in any threat of coming down. This show has been wall to wall energy tonight and I don't want them to finish, and I can tell neither does anyone else here. I mean Rob's cousin in the crowd even got a huge round of applause. This audience is just in love tonight. 'Endorphins' had everyone clapping along and it looked so cool. Their 'Amazing Things' album is just chock full of bangers, it doesn't stop, and hearing them live in Australia for the first time is pretty special even though it's been out for a couple of years. Staying with the album and 'Anaheim' actually slows things down to let the guys catch a breath, and a well needed one as this has been a work out. The harmonies in this one are amazing and as Si kicks the song into the bitchin rockin' part I remember just how much I love this song on the album. They have done no wrong tonight. None. 'Everybody' sees Rob get down to the front and hanging over the crowd while some cowboy hats make an appearance, if you haven't seen that music video do it, you'll see what I mean.
The band leave the stage and as the "one more song" and the even bolder "two more songs" chants start. There is no way this crowd is letting them go yet. The band return for 'Fingernails' and that was huge, and worthy of its spot in the set. If that song is an indication of what we can expect from the next album then sign me up immediately. Now earlier when 'Everybody' was playing there was some amazing crowd participation which impressed Rob so he called Brenton and Riley up on stage to do the 'Everybody' dance which they absolutely nailed, and as they joined Rob for a "shoey" out of cowboy hats it was an amazing moment. Well done, fellas, you gave the band a memory from Sydney, they won't forget that one for a while.
As t-shirts start waving around for the final song, of course being 'T-Shirt Song' it cools the venue down, seriously, it was a sweat box in here from the energy and the shirts are like a giant fan, it was prefect. This was a perfect closer for a perfect set. This was almost like an "introduction" to the band of sorts, a set that covered singles, hits, and showcasing them to perfection. This is like the best resume ever submitted, guys, you got the job.
That was easily the best show I've seen this year and it will be hard to beat. That was absolutely amazing! Rob, Matt, Si, and Tom, that was stupendous, so come back and see us soon, you are more than welcome back, and you will be playing bigger venues next time there is no doubt about that as if everyone in this room tonight doesn't bring along someone new to the shows after seeing tonight then I'll be surprised.
If you've never heard of Don Broco, get on this band immediately as a better live show you will not see anywhere. It was fun, it was heavy, it was energetic, it was everything you want from a live show and that's exactly what Don Broco is all about.
Yes, Amazing Things were done tonight!
Essential Information
Venue: The Metro Theatre, Sydney
Date: May 6, 2023
Support: Alt, and Wayside
Presented By: The Phoenix AU
Website: www.donbroco.com
Set List:
Pretty
Manchester Super Reds No 1 Fan
Gumshield
Uber
Come out to LA
Automatic
Bruce Willis
One True Prince
Technology
Action
Endorphins
Anaheim
Everybody
Fingernails
T-Shirt Song
Check out our interview with Rob Damiani of Don Broco here if you haven't yet