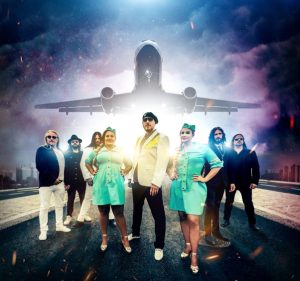 Ladies and Gentlemen, please ensure your seatbelt is fastened… Cabin Crew, please engage all doors for landing… as Nuclear Blast artists THE NIGHT FLIGHT ORCHESTRA descend Down Under!
For their first time in Australia, the band that formed as an idea between friends from several well-known Rock/Metal bands (Soilwork, Arch Enemy, Mean Streak) almost a decade ago and have been dropping jaws ever since… arrive Down under for 3 exclusive shows.
With 5 albums already under their belt, 2 nominations for the Swedish Grammies, countless live shows and praises from fans and media alike, TNFO have steadily upped their game when it comes to paying tribute to a decade that influences all sorts of people and even industries to this day – the 80s. With hits like 'Domino', 'Lovers In The Rain', 'West Ruth Ave', 'Divinyls' and 'This Time', the band manages to maintain a variety of vibes and emotions with every album. From hard rocking tunes, poppy digressions to progressive epics, disco-esque songs and deliciously cheesy yet loveable ballads… they will take you on quite the heady journey!
In 2020, TNFO had just released their recent record, Aeromantic, and kicked off their European tour in support of it, when the Covid-19 pandemic hit. The band didn't step back and accept the situation but decided to do what they do best instead… keep astro-travelling!
The second part of the Aeromantic saga really captures what this band is all about: being in motion and romanticising what it is to travel, sometimes even with a broken heart – yet also accompanied with the good things in life. From songs like 'White Jeans', which is yet another jaw-dropping, Classic Rock gem about hot young love, cramped with nostalgia…  to 'Change', which encompasses all the vibes you know from your favourite decade: Urgency, emotion, warmth and excitement. Then to groovy, danceable songs like 'Chardonnay Nights', a groovy, dreamy, yet uplifting homage to parties and hot love, or 'Burn For Me', a true, feel-good anthem for the Summer – driving people to dance in the streets, all worries aside… to a brighter future.
With all that new greatness up their sleeves, THE NIGHT FLIGHT ORCHESTRA are ready to take Australia by storm! So dust off your gold lamé and light up that hairspray and do not miss the inaugural arrival of the one and only TNFO!
Three Exclusive shows only! There will be extremely limited VIP meet and greet tickets available.
CHEAPER PRE-SALE, EARLY BIRD TICKETS ON SALE: MON 24 APRIL @ 10AM AEST – These are strictly limited, and there is no booking fee… so save some bucks and  get in early. Early bird tickets via www.hardlinemedia.net
LIMITED VIP MEET & GREET packages include:
– Early access to the show and merch stand- Get a photo on your phone/device with the band- Australian tour poster to get signed by the band- Exclusive VIP lanyard/laminate- Bring along 3 personal items to get signed-  VIP TICKET INCLUDES ENTRY TO THE SHOW
THE NIGHT FLIGHT ORCHESTRA Tour Dates:
Thur Aug 3rd – BRISBANE – The Zoo
Fri Aug 4th – SYDNEY – Crowbar
Sat Aug 5th – MELBOURNE – Max Watts
GENERAL PUBLIC TICKETS ON SALE: WED 26 APRIL @ 10AM AEST.
TICKETS AND INFO: www.hardlinemedia.net