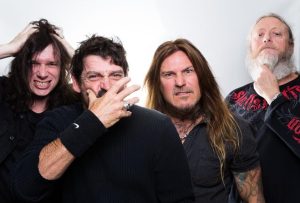 In celebration of the release of their #1 Independent Australian album, High Price Deed and hot on the heels of their second European tour within 12 months, Aussie rockers The Poor will hit the road for shows along the East Coast throughout May. 
Featuring performances of their latest singles, Payback's A Bitch, Cry Out, Lover and Let Me Go, the tour kicks off in Adelaide on May 11, followed by two dates in Melbourne and shows on the Sunshine Coast, Sydney with the tour concluding on the Central Coast on May 27.  
As lead vocalist Anthony ("Skenie") Skene explains, "We are currently half way through our European HIGH PRICE DEED tour, which the European press have labelled a Rock n Roll uppercut.  We've just announced the first lot of Australian shows for May and WE'RE COMING HOME SWINGING!"
High Price Deed comprises of the band's first new music in 12 years with their back catalogue also now available on digital platforms. Time has not wearied this band. Still delivering their unabashed four-on-the-floor rock, these songs herald a new era for The Poor, headed up by lead guitarist Daniels Cox's premiere song-writing collaboration with the band.
THE POOR 
HIGH PRICE DEED OZ TOUR '23
11th May          Crown & Anchor, Adelaide SA           TICKETS HERE
12th May          Leadbeater, Melbourne VIC   TICKETS HERE
13th May          Musicland 'Bebe's Bar, Melbourne VIC         TICKETS HERE
20th May          Norton Guitar Factory, Sunshine Coast, QLD           TICKETS HERE 
26th May          The Bridge Hotel, Sydney NSW         TICKETS HERE
27th May          Ocean View Beach Hotel, Central Coast NSW         TICKETS HERE 
ABOUT THE POOR
The Poor started out playing the pub circuit in Darwin nearly 3 decades ago. The plan was simple – hard rockin' hard drinkin' and world domination. In 1992 the band cut their debut release, the EP Rude, Crude & Tattooed, produced by Rick Brewster and Bob Spencer from The Angels and from the opening line you knew it was going to be something great; Aussie pub rock, in your face, no bullshit, straight to the point, rock'n'f%&k'n'roll!
In mid 1993, the band recorded their debut album, Who Cares which spawned their most notable single, More Wine Waiter Please. An unrelenting couple of decades followed where they toured relentlessly, drank hard and rocked harder touring Australia, Europe and Japan, sharing stages with the likes of Suicidal Tendencies, The Scorpions, Alice In Chains and Van Halen. In 2000 the band went into hibernation until an invitation to tour with WASP was too good to refuse. It didn't take long for them to get back into the rock'n'roll groove they cut so deeply in previous years. Round 1 and Round 2 albums followed in 2009 and 2010 respectively.
After 12 years of touring their supercharged 'NO BS Aussie Rock' show with local and International rock bands including AC/DC, The Screaming Jets, Rose Tattoo and The Angels, cut to the present day and The Poor are ready to release new music on their old and new fans. Original members Anthony (Skenie) Skene, Matt Whitby and (almost original drummer) Gavin Hansen are joined by relative newcomer and lead guitarist Daniel Cox.