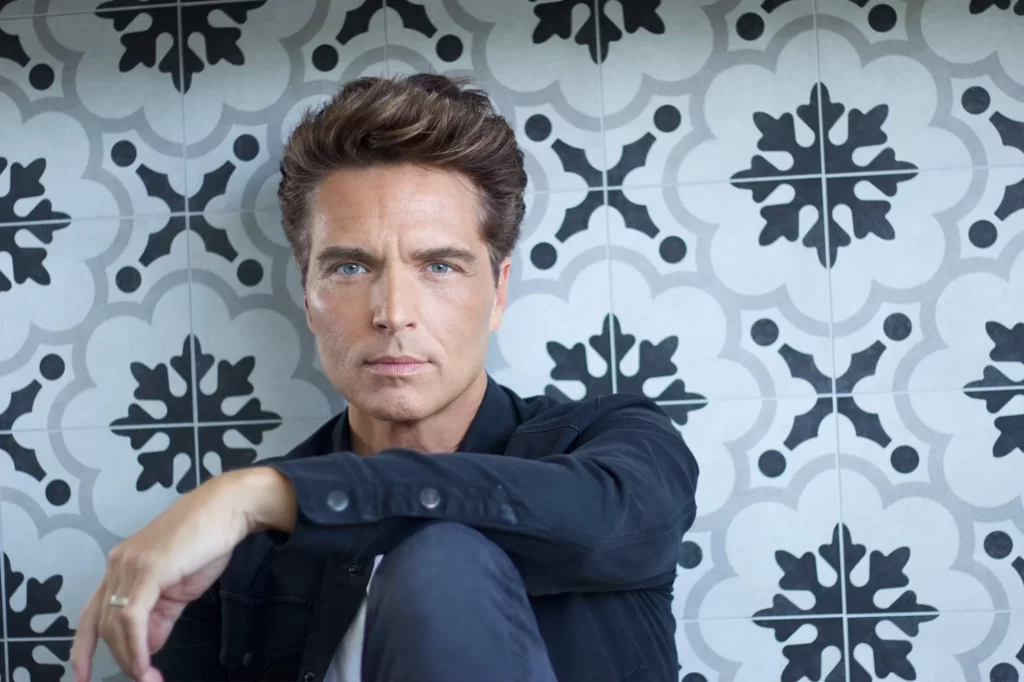 The songwriter is back, it's been a while since we've seen Richard Marx in Australia and tonight he's back at The State Theatre for a night of hits and new songs from his brilliant 'Songwriter' album. As a fan from the very start it's always a pleasure to see him perform his music live and hear some great stories. An amazing video intro sets the scene for the night and takes us through his career and you look at it remembering just how much impact this man has had in music and it gets you even more ready for the band to take the stage.
Opening with 'Believe In Me' from his newest album 'Songwriter' and his voice is as good as ever and the band, a four piece tonight are holding this down. Without wasting any time straight into 'Take This Heart' which this early on was amazing, I've always love that song and hearing it live is always a treat. Then to go straight into 'Endless Summer Nights' was something else, we really are going to get a night of hits tonight. After some trademark Marx banter, let's now call that trademarx banter, we get back into the hits with 'Angelia' and I'm happy as damn this man can write some hits and they still stand up to this day. Back to the new album with 'Same Heartbreak, Different Day' as the crowd turns into mayhem as everyone runs to the front, well that's awkward but hey what can ya do? People are really getting into these new songs and that's great to see! Things rock up a little with 'Front Row Seat' now that was awesome. What a catchy tune that was taken from his amazing 'Limitless' album. The band leave the stage and Richard is on stage alone with an acoustic and discussing his sons and telling amazing stories about John Farnham and Olivia Newton John as we head into 'When You Loved Me' which he plays to a backing video of his sons playing this song in a studio which is awesome. That's such a catchy great track.
J-Blynn re-joins Richard to play an acoustic interpretation version of 'Too Late To Say Goodbye' which sounded so different compared to the full band version but worked so well. He's such a great storyteller and tells us some great anecdotes before teasing us with a couple tracks before actually heading into his first ever hit 'Hold On To The Nights' and with just two guitars it's sublime. To go straight into 'Now And Forever' was perfect. This song has always slayed me and tonight in a live environment just takes it to a different level, right on the feelings there, Richard. Thanks. We rock things up big time with 'Shame On You' from the new album, after him telling us how he had Taylor Hawkins play on the track, we miss you, Taylor. Things keep up tempo with 'Long Hot Summer' and we know the Keith Urban version but hearing Richard's is awesome. 'Just Go' keeps things rockin' before we get a song from J on lead vocals from his band Harper Lynn which also features bass player Whynot Jansveld called 'Long Way From Home' which holy shit this is good. Wow that was the surprise of the night. What a damn good song.
'Don't Mean Nothing' is next and with awesome extended rock and roll outro the band leaves the stage. A very short break and they're back with 'Holiday' which is another bloody catchy rocker and I'm completely ok with it. It's time for 'Hazard' and they absolutely love this one. It's a little bit rockier tonight and I'm ok with that. What a song that is. Without missing a beat straight into 'Satisfied' which included some awesome crowd participation. Oh wow they just keep coming and here's 'Should've Known Better' and this is rockin' and wow. That was my favourite song of the night, that was spectacular.
Then as he sits at the piano we know what time it is. As he hits the opening notes of 'Right Here Waiting' the place is happy, this song still stands up, and if it isn't the most truthful song out there I don't know what is. So much feeling, so much heart, so much love. He means these words still to this day and you can feel it. As he has the crowd join in, and steps away from the piano and throws a guitar back on to rock this one out, he's smiling, the band is smiling, we're smiling and the band take in their well deserved kudos and leave the stage.
What a night, it's almost impossible to not enjoy a Richard Marx concert. Man, Richard Marx, is a hit machine. If there were more people like him in music the world would be a much better place. Here's to the next time we see you back in Australia. We'll be right here waiting… terrible joke and I should've known better but it's the absolute truth.
Essential Information
Venue: State Theatre – Sydney
Date: March 5, 2023
Presented by: Frontier Touring
Website: http://www.richardmarx.com
Set list:
Believe In Me
Take This Heart
Endless Summer Nights
Angelia
Same Heartbreak Different Day
Front Row Seat
When You Loved Me
Too Late To Say Goodbye
Hold On To The Nights
Now And Forever
Shame On You
Long Hot Summer
Just Go
Long Way From Home (Harper Blynn Song)
Don't Mean Nothing
Holiday
Hazard
Satisfied
Should've Known Better
Right Here Waiting