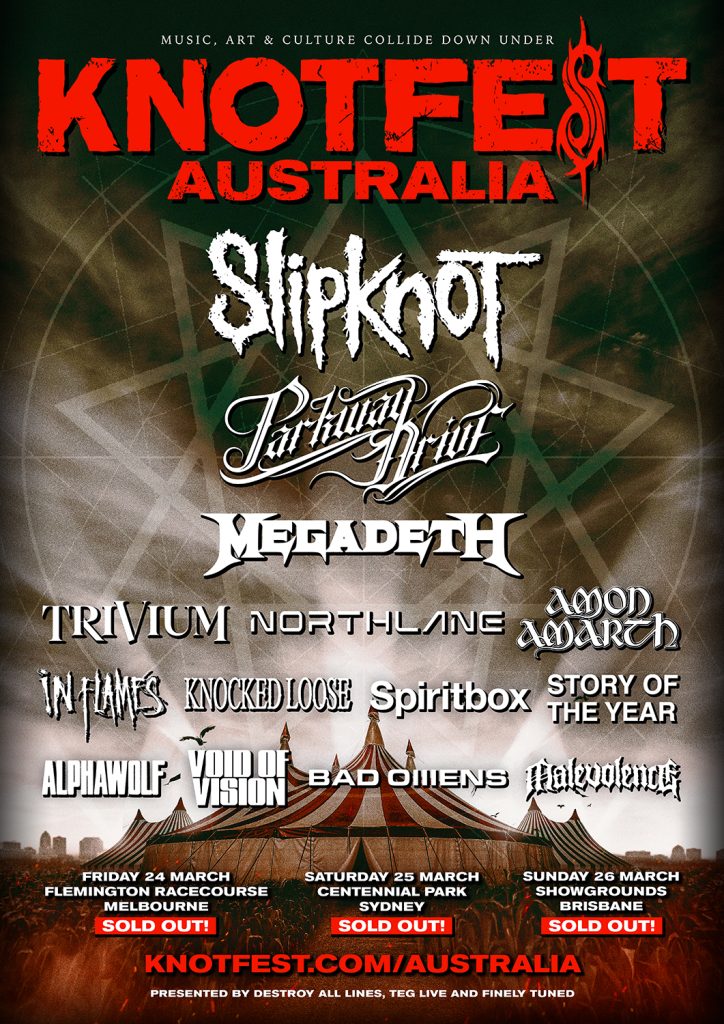 Welcome to Australia, Knotfest! It's this massive festivals first time Down Under and I know I'm keen for everything today, and like any new festival to see the ins and outs and see how it all runs.
Let's start with the unbelievably, super easy entry. No lines, flowed through, circulation cut off by my drinking verification wristband, ahhh festivals I've missed you. Straight in and I have time to look around before the first band starts, to the bar, no lines, in fact the only lines I can see are at the merch tents and I'll get to that shortly.
Malevolence start the day to the second of their scheduled time and what a start. They're here all the way from the UK and judging by the crowd who are here already they are keen for a huge day and I'm in for all of it. Setting the scene we have our first circle pit and yeah we're in for a day! What I love about the metal community is everyone is here to enjoy the day, and I know there's that tough persona but there's just an air of excitement here, camaraderie. It's just great to see, and like I said with so many here already and more streaming through the gates it's going to be a big day!
So I thought let's tackle the merch line next to stage 2 so I can still see and most definitely hear what's going on. An hour in the line… only to get to the front at 12:40 mind you to have the shirts I wanted already sold out, so that was fun! There are three merch tents and the lines were long all day!
So, we can say I got to see / hear Bad Omens from the merch line, yep their entire set, but they did a great job pushing through any vocal issues you may have heard about over the last few days but they went off. That was impressive and annoying that I didn't get to watch them properly as that was one hell of a set, and many later on said they were a major highlight of the day for them. Let's hope they can come back soon.
Void of Vision kept things moving then Alphawolf stepped it up as the crowd is well and truly warmed up now and are bouncing like the grass is a trampoline. It's a sight to see. Knocked Loose broke things down a number of times and kept things well above heavy. Hardest thing is with sets starting and finishing immediately after each other you have to pick your time to get food or drinks, or even just check out the rest of the grounds, so I went for a walk to check out some wrestling that they had set up which was a bit of fun and cool to see something else in a nice shady tent. Yeah it may be cloudy but the sun is making itself felt. Oh and I wanted to check out the Slipknot museum but that had a nice long line too, so skipped that, but what addition to the festival, I heard it was awesome.
Back up to stage 1 and Spiritbox take the stage again bang on time, things are running like clockwork today and it's awesome. Damn they're good. Last song 'Hysteria' was my stand out of the day so far. Great to see a female singer up there tearing it up, she smashed it out of the park. Story of The Year are next and I've seen them before (actually one of only a few bands on this bill I've seen previously) and this is impressive2, they've just stepped it up and a set covering their catalogue with the massive 'Anthem of Our Dying Day' a huge crowd highlight and especially closing with 'Until The Day I Die' was so good. This line up, every band is just top notch, and could not have been picked better for this inaugural Knotfest.
In Flames are here all the way from Sweden, and with killer riffs and heavy grooves they are truly impressive. Like most bands today with their 40 minute sets playing songs covering their career and touching on their album 'Clayman' you can just tell how good these guys are. A truly impressive set from a killer, tight band. Also the first band to do band member introductions today which was cool.
The Viking's are here. Amon Amarth start with 'Guardians of Asgaard' and what a way to kick it off. Actually I've seen more bands before then I remember, but they've all just gotten so much better. Amon Amarth's stage set up is amazing, and these guys are heavy, as they work through their set as the heavens open… and ironically or not, end with 'Twilight of the Thunder God' as we take shelter and things keep going and I watch through a tree. Up next are Northlane… more like Northrain because holy shit did it pour and pour for well, 90% of their set, but did it stop them no way. They powered through as they do and what a live band they are. The rain subsided and we could leave our terrible shelter, note to everyone trees are terrible shelter from the rain. So I made it out for 'Bloodline' and 'Talking Heads' so it was nice to see some of their set not through branches.
Trivium were awesome as always, not much I can say about them as they just deliver and whether a joke or not opened with 'Rain' but just kept things melodic and heavy as they do so well. When an established band like this only get eight songs it's tough, but songs like 'Feast of Fire', 'The Heart From Your Hate' and especially 'In Waves' are massive and then closing with 'Pull Harder on the Strings of Your Martyr' and these absolute legends smash it out of the park. I don't know who's on sound today but every band has just been absolutely on point.
We're down to the final three and first up is the legendary Megadeth, opening 'Hangar 18' the crowd you can tell have been waiting for Dave and the guys all day as they go nuts. Powering through and then throwing in 'Angry Again' from the Last Action Hero soundtrack was awesome. Their new album was killer and 'We'll Be Back' from it was so good to hear live for the first time down here. Megadeth are all about riffs. All the riffs. 'Peace Sells' was of course a highlight and with an appearance from Vic made it top notch. Closing with 'Holy Wars… The Punishment Due' was an amazing way to close their set, and they just sounded so good today.
OK so if I was to count T-shirts today, I'd have to put Parkway Drive shirts almost on par with Slipknot shirts I kid you knot (on purpose) oh and let's not forget the three Spice Girls shirts I saw…
So, it is time… Parkway Drive open with a riff that had heads banging in unison and here we go. From the new album they take us into 'Glitch' and holy shit, like actually holy shit. 'Prey' is even more massive and, and the crowd is insane, this band is just I don't even have words. Then as 'Carrion' starts the crowd go even nuts for it and rightfully so. Oh fuck now there's pyro yes!! Fists are pumping and people are jumping for this melodic metal masterpiece 'The Void' and damn!!! That might just be my song of the festival thus far, yeah that was something. 'Soul Bleach' keeps it heavy as they continue on 'Vice Grip' again has the melody and riff to keep you hooked. Fuck me these guys are spectacular. 'Dedicated' has flames and may be close to the heaviest song of the day. I am so into this set. I have no idea how but Winston has appeared in the crowd and has them making circles around him. Wow that's something I haven't seen before and 'Karma' is the song that's made it happen and as he crowd surfed back in that was impressive. A string section take us into 'Shadow Boxing' and that took the song to another level but we finally slow down as an acoustic comes out and 'Darker Still' as it ramped up into a big epic. 'Bottom Feeder' brings it back heavy as the place is still jumping. The band leave the stage as a single violinist returns, and chants fill the park before flames shoot from the stage and more of that please I felt that at the back. 'Crushed' was huge and as they all come to the front of stage for a thanks for twenty years as a band they close with 'Wild Eyes' and I can't say enough about how outstanding this set was, and this band are. That was something else. I will never, ever miss Parkway Drive live again. Holy fucking shit. Once again… Holy fucking shit, Parkway.
As AC/ DC's 'For Those About To Rock' blares through the speakers we are ready for Slipknot. As Corey laughs and 'Disasterpiece' starts the curtain drops and the Stage 1 headliner is here. What an opener, man that was heavy. With an "are you motherfuckers ready?" It's time for 'Wait And Bleed' and I always love the songs where Corey can sing the clean vocals but his balance in this one has always been the best. 'All Out Life' is up and as we chant "we are not your kind" back to the stage we are in for a crazy set. Addressing the crowd, Corey is happy to be back in Sydney after seven years and 'Sulfur' keeps it going and then my favourite Slipknot song 'Before I Forget' takes its place and that got everyone going if they weren't already before. What a song! 'The Dying Song' from their new album fit in perfectly and was so much heavier live. 'Dead Memories' had a bit of help from the crowd as did 'Unsainted' which got things real heavy again. 'The Heretic Anthem' and if you're 555 then I'm 666!! Whoa this is intense, and one of the crowds favourites of the set so far. This band truly are so tight and have everything down absolutely perfect, consummate professionals that's for sure.
Oh man, it's the next one I'm truly ready for! It's 'Psychosocial' is here and hell yes this is where it's at. Then to follow that with 'Duality' they just did a massive 1,2 punch and made sure everyone was still here and know who you're dealing with. 'Custer' was intense, as noted by the guy in front of me throwing it down big time, and then one more song (again) as they absolutely destroy 'Spit It Out' in the best way possible. That was massive. Corey Taylor is the guy, right, and watching him command a crowd is something to behold as he managed to get everyone down on the ground and to have them then jump up was awesome I mean I had to stay standing as if I got down there I wasn't back getting up, but that gave me one hell of a view as they jumped up on command. Wow. The band leave the stage of course they return not long after and with 'People = Shit' and then 'Surfacing' to close Slipknot how everyone how it's done. There are many thousands of happy maggots right now.
And I shit you not, to the second of the scheduled time of 9:50pm this festival finished, this could not have run any smoother, besides the rain which didn't stop the bands, and the ridiculously long merch queues, I mean there's not one single complaint about the day. I'm sore, I'm sunburnt, but every second of it was worth it. Here's hoping it's back in 2024! As I said before, according to shirt count, Spice Girls to headline, mark my words… (I kid, but hey, you'd dig it, right?)
This in my opinion was the best run and executed festival I have been to in a long, long, long time and to the bands, the promoters, the crews, and the organisers, give yourselves a well deserved pat on the back, oh and to the metal community well done for selling out the entire festival run, you guys deserve a pat on the back too. Knotfest 2023 was unbelievable.
Essential Information
Venue: Centennial Park – Sydney
Date: March 25, 2023
Presented by: Destroy All Lines, TEG, Finely Tuned