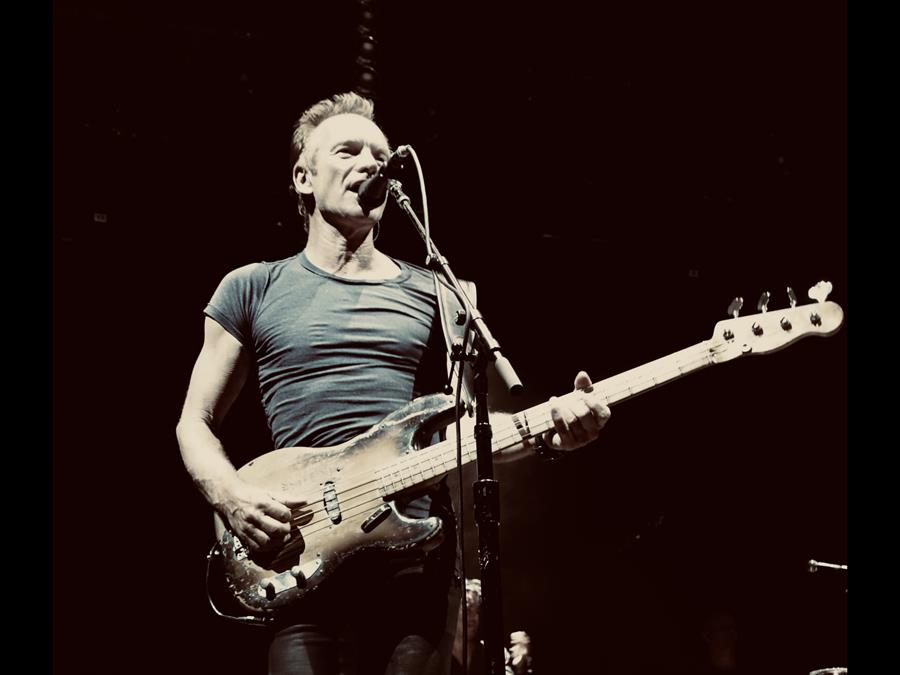 Tonight is exciting for me, I've never seen Sting before, solo or with The Police, so I'm eager to check out someone I've listened to for as long as I can remember, so I'm looking forward to the show and just what songs Sting gives us in his 'My Songs' tour. Bring it on!
Joe Sumner opens the night, a surname you may be familiar with, that's right the son of Sting, and his solo acoustic set was great, catchy tunes, got the crowd into it and I'll definitely be checking out his music after tonight.
And there is no messing around tonight, bang on 9:00pm Sting takes the stage with his band and as we count in 'Message In A Bottle' starts. This is going to be a night! Sting is wired up with a headset mic and making his way across the stage and commanding the crowd as he does so. I have to say, his voice is so good. Without even missing a beat it's 'Englishman in New York' complete with an amazing drum breakdown and some crowd participation to fill it out. This is going to be hit after hit tonight and I'm so very ok with that. Yeah checks out 'Every Little Thing She Does Is Magic' is next and I'm excited to see where the set goes! This version is almost calypso in parts and I'm loving it.
A welcome from Sting and band introductions as he takes to a stool and warns us here come some new songs ha ha and with a story and a whistle leads us into 'If It's Love' followed by 'Loving You' which is smooth and builds at the end. I dig that one. 'Rushing Water' picks the pace up and then back to the hits with 'If I Ever Lose My Faith In You' which was welcomed and with a killer extended outro it went down a treat.
Oh yeah I was waiting for this one. 'Fields of Gold' is next, and what a version tonight. It really hits different in this live environment. Wow that was something. 'Brand New Day' is up next and with some amazing harmonica work which got the crowd standing, that was awesome. Songs about weather are always fun 'Heavy Cloud No Rain' Is funky, then the much slower 'Shape Of My Heart' which I haven't heard in so long so that was a treat. 'Seven Days' keeps that funky beat going, then a track from the tv series 'Arcane' called 'What Could Have Been' was great, then back to hit territory with 'Wrapped Around Your Finger' which keeps it slow and the almost reggae bass in this song is superb. Then we take it back to The Police with 'Walking On The Moon' and of course that gets plenty of love from the crowd and without stopping take it straight into 'So Lonely' and this got the place going that's for sure. As they keep the bass line rolling they cover 'Everything's Gonna Be Alright' mid song before rounding out 'So Lonely' and this was definitely a highlight of the night for me.
'Desert Rose' turns into a big epic track and we must be heading towards the end as we're gonna get some big ones now as Joe Sumner joins them on stage for 'King of Pain' and that chorus hook is where it's at. Then the big gun, 'Every Breath You Take' was the one you know a lot of people were waiting for and it delivered tonight, and for me hearing it live for the first time was truly a treat. As the band leave the stage before returning very quickly for 'Roxanne' and this long version had us singing and clapping along and with amazing arrangement and musicianship they bring this one to its crescendo it was amazing.
He puts the bass away and takes to the front stool with an acoustic guitar for a beautiful version of 'Fragile'. What a perfect way to end the night as the band leave the stage, leaving only Sting there to take in the applause he truly deserves.
Tonight was special, his voice is immaculate, the band, and playing was top tier, and this was a night of amazing songs by an amazing performer. What a truly special way to spend a Wednesday night.
Essential Information
Venue: Aware Super Theatre, Sydney
Date: February 15, 2023
Support: Joe Sumner
Presented By: Live Nation
Website: www.sting.com
Set List:
Messag
In A Bottle
Englishman In New York
Every Little Thing She Does Is Magic
If It's Love
Loving You
Rushing Water
If I Ever Lose My Faith In You
Fields Of Gold
Brand New Day
Heavy Cloud No Rain
Shape Of My Heart
Seven Days
What Could Have Been
Wrapped Around Your Finger
Walking On The Moon
So Lonely
Desert Rose
King Of Pain
Every Breath You Take
Roxanne
Fragile