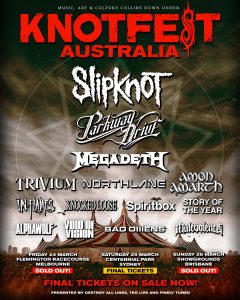 KNOTFEST, the music and counterculture experience destination festival created by the multi-platinum sonic phenomenon SLIPKNOT will be making its Australian debut in March 2023.
Brisbane has now hung up its sold out sign alongside Melbourne. Tickets for Sydney are flying out the door and final tickets are on sale. Be sure to grab your ticket before you miss out.
Headlined by SLIPKNOT, the hugely stacked festival line-up includes PARKWAY DRIVE, MEGADETH, TRIVIUM, NORTHLANE, AMON AMARTH, IN FLAMES, KNOCKED LOOSE, SPIRITBOX, STORY OF THE YEAR, ALPHA WOLF, VOID OF VISION, BAD OMENS and MALEVOLENCE.
A staple at KNOTFESTs all over the world, the KNOTFEST Museum will also be making its way to Australia for the very first time. The KNOTFEST Museum features a jaw-dropping collection of items from the band's history and a fan-favourite attraction at the other KNOTFESTs around the globe.
KNOTFEST AUSTRALIA 2023
LINE UP:
Slipknot | Parkway Drive | Megadeth | Trivium | Northlane | Amon Amarth
 In Flames Knocked Loose | Spiritbox | Story Of The Year | Alpha Wolf
 Void Of Vision | Bad Omens | Malevolence
DATES AND VENUES:
Friday 24 March 2023 – Flemington Racecourse, Melbourne SOLD OUT
Saturday 25 March 2023 – Centennial Park, Sydney FINAL TICKETS
Sunday 26 March 2023 – RNA Showgrounds, Brisbane SOLD OUT
Tickets on sale now for Sydney at https://knotfest.com/australia/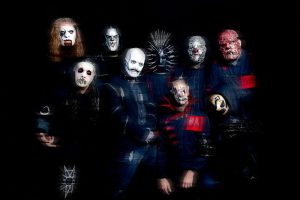 About SLIPKNOT: There was never a band like Slipknot, and there will never be another. Like a spore out of the Midwest, they've quietly bloomed into the most uncompromising, undeniable, and unique presence on the planet whose influence transcends genres and generations. Since sowing the seeds for revolution in Iowa during 1999, these musical outliers have captured a GRAMMY Award alongside 10 nominations, scored 12 Platinum / 41 Gold album certifications around the world, and logged over 8.5 billion global streams and 3.5 billion video views to date – unprecedented for a rock act in this generation or any other. Rolling Stone cited the seminal platinum-selling 2001 album Iowa among "The 100 Greatest Metal Albums of All Time," while The Ringer attested, "They're the most important heavy band of their era."  In addition to marking the group's third consecutive #1 debut on the Billboard Top 200, their sixth full-length album, WE ARE NOT YOUR KIND, bowed at #1 in twelve countries worldwide in 2019. Selling out shows on multiple continents, they deliver an irreplicable multi-sensory experience on tour and through their own festival Knotfest. With their seventh studio album, THE END, SO FAR, Slipknot are back, and nothing will be the same again.
About KNOTFEST: Knotfest is Slipknot's own self-curated, destination festival brand, currently held in eight international locations; the US, Japan, Mexico, Finland, Germany, Colombia, Chile and Brazil. Designed as an immersive, unforgettable, 'dark carnival experience', the event invites you into Slipknot's apocalyptic underworld where stunning visuals, fire breathers and nightmarish creatures on stilts set the stage for an intoxicating and memorable weekend of live music.
Stay up to date on all things KNOTFEST over at https://knotfest.com/australia/ and by following on socials.