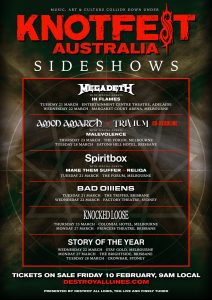 KNOTFEST, the music and counterculture experience destination festival created by the multi-platinum sonic phenomenon SLIPKNOT will be making its Australian debut in March 2023.
KNOTFEST AUSTRALIA has already sold out in Melbourne with Brisbane and Sydney not far behind.
KNOTFEST AUSTRALIA is thrilled to announce the headline sideshows from some of the artists on the jaw-dropping festival line up. This is the first and only sideshow announcement and there will be no more sideshows announced.
Early bird pre-sale tickets on sale Wednesday 8 February @ 9am local time
Register here  https://bit.ly/kf-sideshows
General tickets are on sale Friday 10 February @ 9am local time
destroyalllines.com
Without further adieu, we present to you Knotfest Australia 2023 sideshows…
MEGADETH
WITH SPECIAL GUESTS IN FLAMES
Tuesday 21 March – Entertainment Centre Theatre, Adelaide
Wednesday 22 March – Margaret Court Arena, Melbourne
Few can match the power and complexity that LA metal lords 
Megadeth
 bring in a live setting. Spanning over four decades of existence, 
Megadeth
's legacy pioneering the thrash metal genre into the global zeitgeist has garnered multiple platinum albums, with over 38 million units sold worldwide, as well as a sea of Grammy Award-nominations, including a win in 2017 for Best Metal Performance for their track 
Dystopia
.
The group's 1986 album Peace Sells…but Who's Buying remains a metal masterpiece, while 2022 delivered record #16 for the Californian quartet with The Sick, the dying…and the Dead!. Actively still one of the most successful underground metal bands in history to achieve commercial success.
Also joining Megadeth will be Sweden's In Flames. Formed in the early 90s and playing a key role in the development of melodic death metal and metalcore, In Flames elegantly cleave melodies and brutality in scintillating fashion. In command of 13 studio albums, with a brand-new record Foregone due out this year, In Flames continue to captivate a broad range of ages, genders and music fans. The group have also previously won Metalhammer Golden Gods' Best International Band and snagged multiple Grammis award wins (the Swedish equivalent of the Grammys).
AMON AMARTH + TRIVIUM CO-HEADLINE
WITH SPECIAL GUESTS MALEVOLENCE
Thursday 23 March – The Forum, Melbourne
Tuesday 28 March – Eatons Hill Hotel, Brisbane
The metal gods have smiled upon us, bringing together Viking metal kings 
Amon Amarth 
and Florida heavies 
Trivium
 together for a special co-headline event.
Formed in Sweden in 1992, Amon Amarth have amassed an eye-watering legacy for over three decades, armed with explosive and anthemic metal mixed with the rich imagery of Viking history, folklore and culture. Amon Amarth have consistently forged their sonic wares, with the group now heavily regarded as one of the most fundamental and commanding heavy acts in the metal world. Bringing the adventurous ethos of their Viking forebearers to stages, including headlining festivals across Europe and joining Slayer on their final tour of the US in 2019.
Renowned for their hulking grooves, thunderous rhythms, blistering guitarwork and stadium-ready choruses, Trivium have tirelessly and effortlessly chased evolution and musical brilliance throughout their 22+ year career. With over 1 million units moved worldwide, hundreds of sold out shows in their wake, half a billion streams and a Grammy Award nomination for their hit single Betrayer, Trivium hit double figures in album release territory in 2021, unveiling album #10 In the Court of the Dragon to resounding acclaim.
Joining them are special guests, Malevolence hailing from Sheffield in the north of England.
SPIRITBOX
WITH MAKE THEM SUFFER + RELIQA
Tuesday 21 March – The Forum, Melbourne
Canadian metal four-piece 
Spiritbox
 amassed 66 million streams before they'd dropped a debut album, growing that number to 155 million following the release of first LP 
Eternal Blue
. The elements that make 
Spiritbox
 so unique is their fierce intensity, unwavering emotion and technical splendour. It's their love of experimentation and flamboyant songwriting that makes them stand-out from the crowd.
Eternal Blue topped the rock charts in the United States and Canada, broken the top 10 in Australia and the top 20 in the U.K, Germany. They have a laundry list of accolades including gracing the cover of esteemed rock outlet Kerrang!, Revolver, Poll Star, Metal Hammer and Rock Sound, and garnering support from the likes of Loudwire, Forbes, Billboard, AltPress and Spin.
Joining them are Perth metalcore outfit Make Them Suffer fresh off their huge sold out North American tour supporting Bad Omens and Sydney quartet Reliqa.
BAD OMENS
Tuesday 21 March – The Triffid, Brisbane
Wednesday 22 March – Factory Theatre, Sydney
Bad Omens slither through boundaries, only to ultimately choke convention in the process. The quartet materialize with ghostly atmospherics, striking hooks, and the tingles of sensual high-register harmonies uplifted by cinematic production. Racking up tens of millions of streams and earning acclaim. Along the way, they toured with numerous marquee acts and received tastemaker praise and most recently sold out a North America headline tour.
KNOCKED LOOSE
Thursday 23 March – Colonial Hotel, Melbourne
Monday 27 March – Princess Theatre, Brisbane
Bruised and bloodied, Knocked Loose open the pit with a brutal sound that falls between hardcore punk and metalcore. The Kentucky quartet released their stunning and visionary conceptual six-song EP A Tear in the Fabric of Life in 2021 about grief and isolation that was accompanied by a short, animated film created by Swedish filmmaker Magnus Jonsson. It's their most dynamic and contained offering to date, and a balancing act: a mid-length EP with grand ambitions and scope, one full of new sonic elements and a cohesive aesthetic that hangs onto Knocked Loose's trademark anthemic delivery and have toured consistently since it's release. After their Australian visit, they'll be hitting the stages of prestigious festivals such as Coachella, Bonnaroo, Welcome To Rockville and Bloodstock to name a few.
STORY OF THE YEAR
Wednesday 22 March – Stay Gold, Melbourne
Monday 27 March – The Brightside, Brisbane
Tuesday 28 March – Crowbar, Sydney
Story Of The Year's debut album, Page Avenue, was one of the first of its kind to sell a million copies. Until the Day I Die endures as both an anthem and mission statement. Tours with Linkin Park, My Chemical Romance, Deftones, and The Used cemented Story Of The Year's reputation as a stunning and engaging live act. The connection between the band and audience transformed Story Of The Year from teenagers working in a St. Louis pizza chain franchise into hard rock headliners. They specialize in intense, passionate, confessional compositions that inspire and empower.
KNOTFEST AUSTRALIA 2023
LINE UP:
Slipknot | Parkway Drive | Megadeth | Trivium | Northlane | Amon Amarth
 In Flames Knocked Loose | Spiritbox | Story Of The Year | Alpha Wolf
 Void Of Vision | Bad Omens | Malevolence
DATES AND VENUES:
Friday 24 March 2023 – Flemington Racecourse, Melbourne SOLD OUT
Saturday 25 March 2023 – Centennial Park, Sydney
Sunday 26 March 2023 – RNA Showgrounds, Brisbane
Tickets on sale now for Sydney and Brisbane at https://knotfest.com/australia/