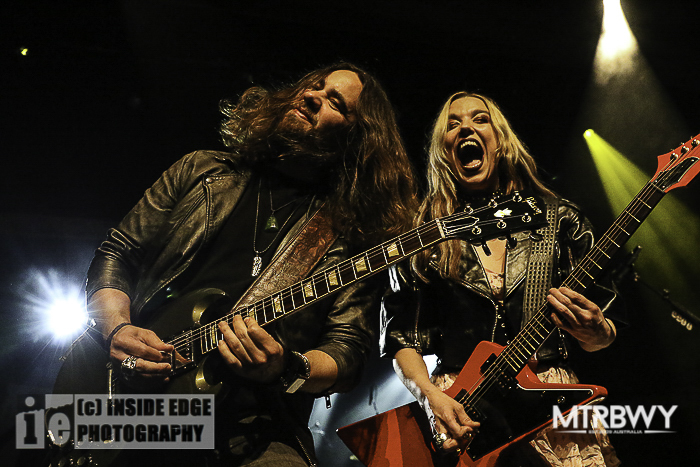 It's been far too long since both Halestorm and their opener Theory of a Deadman have graced Australian shores, and tonight in an awesome pairing both bands return and are ready to give us one hell of a rock show!
Theory are up and straight out of the gate with the catchy as hell 'Lowlife' and you can't help but just get into it instantly, then straight into 'The Bitch Came Back' and these first two songs absolutely rocked, I mean with an opener set you need to just come out and smash it and that's exactly what they're ding. With an intro of current pop culture events Tyler the guitar off for 'Blow' as he uses the stage and then takes it into the big rock ballad for 'Not Meant To Be' which is such a great track. 'History of Violence' killed it but then as Tyler takes to the piano solo he delivers an amazing version of their cover of 'Wicked Game' and the crowd absolutely loved it. To the new we go with the lead single from their forthcoming album 'Dinosaur' and it's great to hear Theory back delivering the big rock sound, they do it so well and this song is an instant favourite. I can't wait to hear the rest of the album. 'Angel' and then the apt and relatable 'Hate My Life' come up before we get 'Rx' which was a little different for the band when it came out but live it shines. We've made it to the closer but before they smash it out they tease us with a little 'Paradise City' and 'Walk' and then into 'Bad Girlfriend' which is the only way they could've closed the set. It's a huge rocker and one that if you weren't converted already as a fan, you are now. Here's hoping we see Theory back in Australia a lot more soon.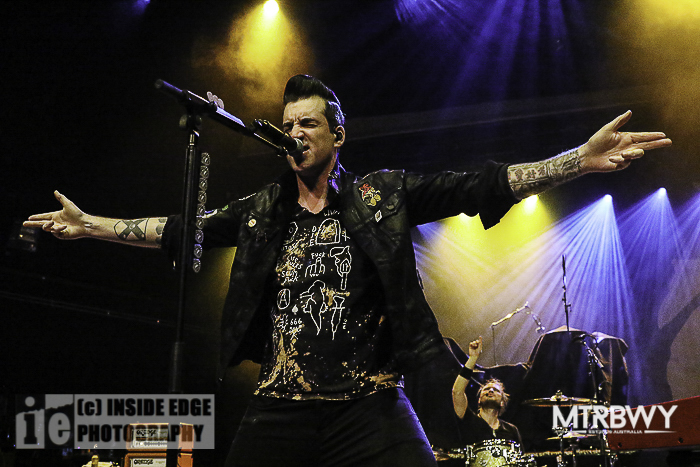 Lights go down and Halestorm hit that big chord as Lzzy Hale screams that she's back from the dead and it is on! Opening with the title track from their newest album it sets the scene for the night and bloody hell the power is insane, like instantly. Four people on stage just playing rock and roll and this is what life is all about. As Arejay takes us into 'Love Bites' this band is tight! A quick band introduction leads into 'Wicked Ways' then let's go back old school with 'I Get Off' as tonight we get to celebrate together according to Lzzy and let's go. She is giving it 110% tonight, she is belting out these songs and it is amazing. Going back to the new record with 'Brightside' which kicked ass and was hoping this one would get a run and here we are. Then into 'Mine' which was and amazing choice considering it only made it onto the deluxe edition of 'Back From The Dead' so hearing this was outstanding. Damn what a track.
As the band leave Lzzy on stage with a piano. Lighting up the place with phones Lzzy leads into 'Break In' followed by an amazing rendition of 'Dear Daughter' then takes us into 'Raise Your Horns' and the power of her voice is just something to behold. It's insane. As Joe, Josh and Arejay return to the stage for 'Familiar Taste of Poison' with an amazing guitar solo by Joe and that was something. The way that song builds gets me every time. The band now leave Arejay on stage for his signature drum solo and the big sticks have come out, there would be a riot if they didn't! As he pounds his way into the next one as the rest of the band return to the stage for Halestorm's almost anthem,  'Freak Like Me' followed by 'Black Vultures' which is a staple in the set now and it's always welcomed. From a staple and back to the new album with 'Steeple' and holy shit that rocked. They have absolutely killed it with this new album and hearing these songs live for the first time just takes them to another level.
They leave the stage for a rest before coming back to thank everyone before a brilliant rendition or 'Here's To Us' which is a real thank you of sorts and what a song it is, especially when you get to yell "Tell them to fuck themselves" really loud back to the stage, it's therapeutic. With a couple more to go. 'Mayhem' is simply that, loud, raucous, and just straight up rock and roll. Then the closer 'I Miss The Misery' with amazing rocked up outro shows everyone just how it's done
Halestorm are one of the best live bands going, like I said at the start, it's the four of them, no bullshit, just straight up rock and roll, and they do it very, very well.
Essential Information
Venue: The Enmore Theatre
Date: February 4, 2023
Presented by: Live Nation Australia
Special Guests: Theory of a Deadman
Website: http://www.halestormrocks.com
Photo by: Peter Coates – Inside Edge Photography – Check out our full gallery here
Set Lists:
Halestorm:
Back From The Dead
Love Bites (So Do I)
Wicked Ways
I Get Off
Brightside
Mine
Break In / Dear Daughter
Raise Your Horns
Familiar Taste of Poison
Drum solo
Freak Like Me
Black Vultures
Steeple
Here's To Us
Mayhem
I Miss The Misery
Theory of a Deadman:
Lowlife
Bitch Came Back
Blow
Not Meant To Be
History of Violence
Wicked Game
Dinosaur
Angel
Hate My Life
Rx
Bad Girlfriend