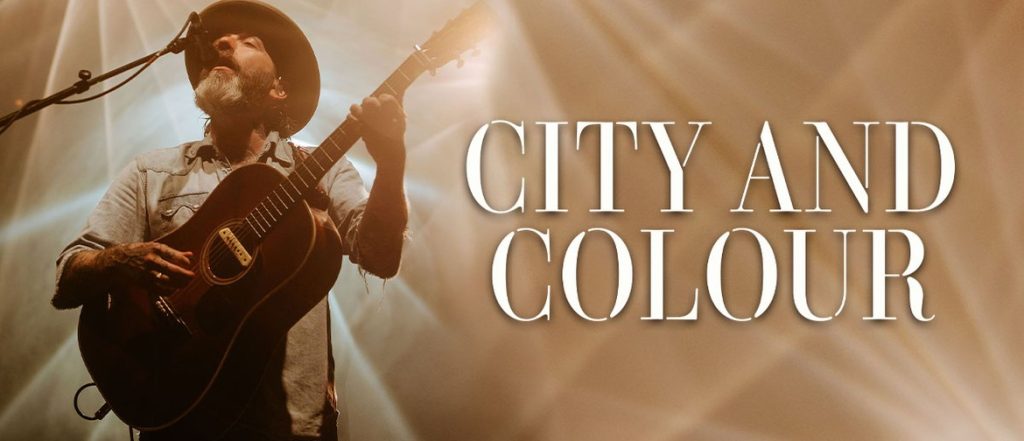 Sometimes I want to just write a review that simply says "that was magic" and leave it at that. This is one of those shows I'd happily do that for, but that wouldn't do it the justice it deserves of me rambling on about it for a bit. So I now give you my review of the magical City and Colour Sydney show…
Fellow bandmate from Alexisonfire, Wade MacNeil fronts Dooms Children who open up tonight's entertainment. They power through their set of doom style rockers and even throw in a Grateful Dead cover for good measure. It was great to see so many people out early to catch their set and it is also awesome that these guys have their own stuff outside of the band. This band would be amazing in a small club, they were tight as hell and I'll have to check out more of their stuff as I was intrigued.
Here we go though, the band everyone is here to see… City and Colour.
Dallas Green and band take to the stage and with a "thank you for coming" they launch straight into the new track 'Meant To Be' and what a way to start. That voice is just another level. It really is hard to explain how amazing this man is. 'Live In Lightning' keeps it sad as the night will be but the good sad, the cathartic sad. The biggest question I have is why is Dallas Green so good at writing about my life? Things get a little louder with 'Thirst' and damn. Three songs in and I'm good. Once again the drums bring us in for 'Northern Blues'  and this groove is just so damn good. The vibe is set and this is one of those nights that you just immerse yourself in the music and let it take you over. Things stay a little up tempo for 'Strangers' as the set continues on with yet another guitar swap and the more somber 'Two Coins' And with an amazingly soulful guitar solo this one is just perfect.
Band introductions are welcomed and with a song about being kinder to one another yet "we're all fucked" is an actual quote from Dallas, he gets it. 'We Found Each Other In The Dark' and damn. Once again he just gets it. What a song. Wow. These are songs that you don't need to know every word to to feel the emotion. These songs just ooze it. And it's truly something to behold. Dallas projects his amazing voice to start 'Weightless' which is another rockier track from the band and I'm ok with this. With a "joyfully sad song about living" as Dallas puts it, 'Waiting…' is an absolute gem of a track and means so much to so many people and is also a favourite and hearing it live it just takes on so much more emotion. It is followed by an oldie 'Hello. I'm Delaware' and this is just beautiful. It truly is. Also it hits you right on the feelings. From the old to the brand new, and this one 'Underground' has just been released as a single and if this is the taste so far of the new album then I'm in. All in. Dang I keep saying it but this man can write a song 'Fragile Bird' is another rockier track and the way they bounce between the styles is just superb. 'As Much As I Ever Could' blends in directly and man that got emotional and powerful. Wow. Then the outro of the band just jamming this out was just outstanding for 'Sorrowing Man'. As the band leave the stage to a rousing and worthy applause.
As Dallas returns to the stage with his keyboard player they share a drink before the two of them start 'Comin' Home' and the shout out for Sydney of course got the expected cheer. Oh man this is a heartbreaking song. Time for a love song with 'The Girl' oh Jesus, Dallas how are you singing about my life?! Although only a partial part of that song, it still hits you right on the feelings, and mine are taking a beating tonight. As the full band return to the stage for a couple more and to start "a song about fucking up" 'Lover Come Back' is just perfect. And once again ouch. What a song. It had to be this late in the set and it makes me sad that we are coming to the end of said set.
One last song and it's 'Sleeping Sickness' as the crowd take over the second verse and that was awesome. It was the perfect way to close the show. This was a show that was needed, it was just everything you want, so this was my very long way of saying… that was magic.
Essential Information
Venue: The Enmore Theatre, Sydney
Date: February 1, 2023
Support: Dooms Children
Presented By: Frontier Touring
Website: www.cityandcolour.com
Set List:
Meant To Be
Living In Lightning
Thirst
Northern Blues
Strangers
Two Coins
We Found Each Other In The Dark
Weightless
Waiting…
Hello. I'm Delaware
Underground
Fragile Bird / As Much As I Ever Could / Sorrowing Man
Comin' Home
The Girl
Lover Come Back
Sleeping Sickness